Education and Vocation as a Pathway to End the Exploitation of Human Trafficking Survivors
The Center for Justice & Reconciliation leads the OnRampsTM initiative, a collective impact modeled project that brings together organizations across our region to provide better access to educational and vocational options for survivors of human trafficking. Understanding that financial security is a key factor for survivors to permanently leave a life of exploitation, the OnRamps Collaborative promotes the holistic support of survivors as they build new lives. For more information about the OnRamps Collaborative view our whitepaper.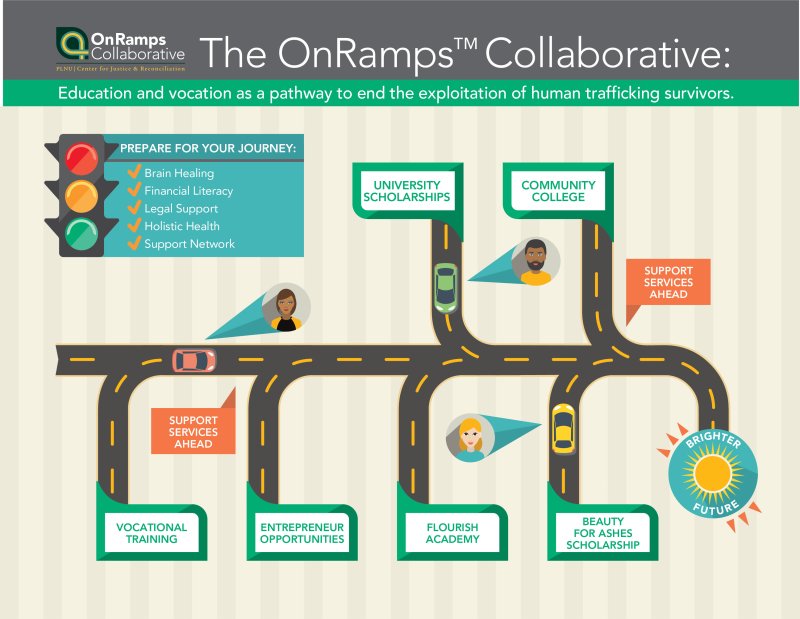 Past Programs
7 Week Free Educational Training Series
Jessica Kim, MSW, Program Director, Educational Pathways and Keelin Washington covered the secrets to college success during this 7-week series! This free educational series equipped survivors who are interested or thinking about pursuing an educational path. Each week covered a different topic of what challenges typically arise and how to overcome them.
Gallup Strengths Finder 3-Week Series
The Gallup Strength Finders is a personal development tool which provides an individual with their top 5 strengths. Participants discovered their natural patterns of thinking, feeling, relationship building, influencing, and behaving and use of their own personal strengths and talents to achieve their ultimate goals.
Future Programs
Flourish Academy
The Kinesiology and Integrated Wellness Master's programs at PLNU have joined with the CJR to develop a new curriculum for survivors of trafficking. Based on a holistic health model, this new program, the Flourish Academy, will give survivors the opportunity to gain important life skills as they build a new future after exploitation. Led by Dr. Jessica Matthews, Masters level students of the Integrated Wellness program are creating the modules and will be completing internships with the CJR as we launch the Flourish Academy a part of the OnRamps Collaborative.