Education and Vocation as a Pathway to End the Exploitation of Human Trafficking Survivors
The Center for Justice & Reconciliation leads the OnRampsTM initiative, a collective impact modeled project that brings together organizations across our region to provide better access to educational and vocational options for survivors of human trafficking. Understanding that financial security is a key factor for survivors to permanently leave a life of exploitation, the OnRamps Collaborative promotes the holistic support of survivors as they build new lives. For more information about the OnRamps Collaborative view our whitepaper.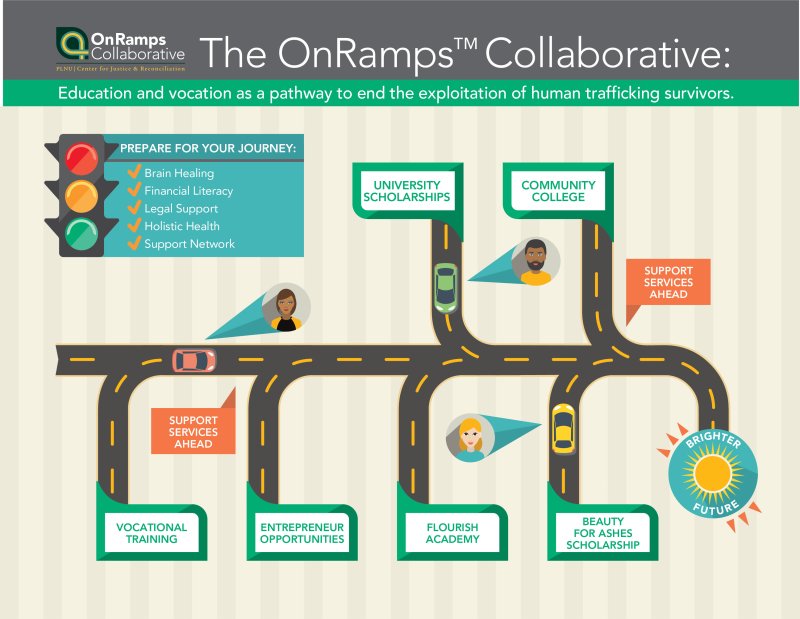 Past Programs
7 Week Free Educational Training Series
Jessica Kim, MSW and Keelin Washington covered the secrets to college success during this 7-week series! This free educational series equipped survivors who are interested or thinking about pursuing an educational path. Each week covered a different topic of what challenges typically arise and how to overcome them.
Gallup Strengths Finder 3-Week Series
The Gallup Strength Finders is a personal development tool which provides an individual with their top 5 strengths. Participants discovered their natural patterns of thinking, feeling, relationship building, influencing, and behaving and use of their own personal strengths and talents to achieve their ultimate goals.