Protect Yourself and Your Community:
PLNU's public health measures can be summarized by the three evidence-based pillars: mitigation, detection, and intervention. As such, the following comprehensive public health guidelines are in place to prevent contracting or spreading COVID-19 in the PLNU community.
As illustrated in the graphic below, no individual defense mechanism is single-handedly impervious to the spread of COVID-19. Rather, layering multiple defensive strategies collectively helps negate any weakness of a single layer. These include mask-wearing, vaccination, screening and testing, quarantine after exposure, isolation after a positive test, and utilizing the Campus Clear and CA Notify apps.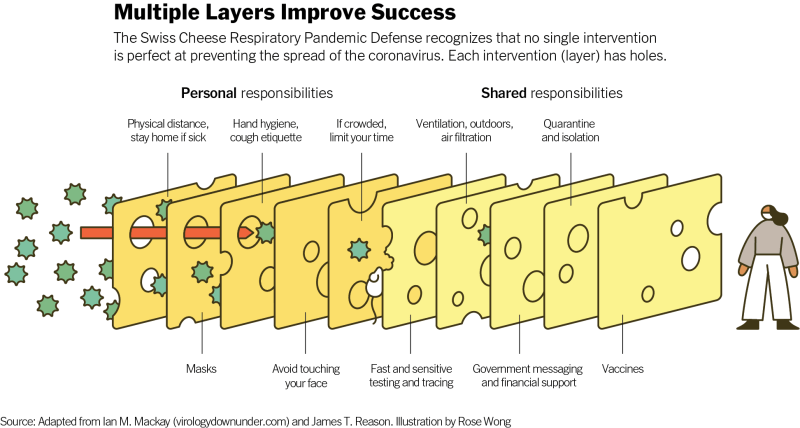 Personal Responsibilities
Vaccination:
Everyone in the U.S. aged 12 or older is eligible to receive a full COVID-19 vaccine free of charge, with millions who have already done so. Intensive studies and close monitoring continue to prove that all vaccines currently authorized in the U.S. (Pfizer, Moderna, and Johnson & Johnson) are both safe and effective against contracting COVID-19 or spreading it to others. In the rare event that you do contract COVID-19 after being fully vaccinated, you will still be highly protected from experiencing severe symptoms, illness, hospitalization, or death. As an example, in San Diego County, the hospital rate for non-fully vaccinated residents is 51 times higher than fully vaccinated.
Mask-wearing:
To prevent contracting or spreading COVID-19 within the PLNU community, all members and visitors on all PLNU campuses, regardless of vaccination status, must have a mask with them at all times. Anyone who does not have a face covering while on campus will be provided with one. Masks are required to be worn in public indoor places regardless of vaccination status, and in crowded outdoor settings or activities in which maintaining 6 feet of distance from others is not possible. 
Proper mask-wearing
When wearing a mask, choose one that: 
Has two or more layers of washable, breathable fabric; 
Completely covers your nose and mouth; and
Fits snugly against the sides of your face without gaps.
A face covering/ mask does not include a scarf, ski mask, balaclava, bandana, gaiter, turtleneck, collar, plastic face shield, or a single layer of fabric.
Wearing (clean) reusable masks is highly encouraged when possible. When storing your mask temporarily — whether to eat or drink or reuse later — be sure to wash your hands or use hand sanitizer before touching your mask, placing it somewhere safe to keep it clean such as your pocket, purse, backpack, or bag, and keeping the same side facing out the next time you put it back on.
Symptom Monitoring:
To remain proactive in preventing the spread of COVID-19 within the PLNU community, it's important to be aware of any and all symptoms. In addition to actively monitoring cases, the PLNU Wellness Center refers to the Campus Clear app for self-screening of temperatures and symptoms for all PLNU students, staff, faculty, and visitors. If you do not pass your self-screening or feel ill in any way, please remain home and contact the PLNU Wellness Center immediately. 
Symptoms of COVID-19:
COVID-19 causes a wide range of symptoms, which generally appear two to 14 days after exposure. While not an exhaustive list, many common symptoms of COVID-19 include:
Fever or chills
Cough
Shortness of breath or difficulty breathing
Fatigue
Muscle or body aches
Headache
Loss of taste or smell
Sore throat
Congestion or runny nose
Nausea or vomiting
Diarrhea
Reminder: If ever in doubt, please protect yourself and your fellow PLNU community members by getting tested and contacting the PLNU Wellness Center for assistance.
Shared Responsibilities
Ventilation and Distancing
While isolating with only members of your household is the safest way to keep virus particles from entering your living environment, when welcoming in others, it's important to maintain good ventilation, bringing in as much fresh, outdoor air as possible through windows and doors. In addition, you can further filter the air in your home through heating, ventilation, and air conditioning (HVAC) systems (which PLNU has upgraded in all campus housing); portable air cleaners; built-in exhaust fans in the kitchen or bathroom; and ceiling fans or portable fans with open windows or doors.
When outside, try to maintain a distance of at least 6 ft. (two arm lengths) between yourself and people who aren't in your household.
Sanitation:
Disinfection to reduce transmission of COVID-19 at home is likely not needed unless someone in your home is sick or if someone who is positive for COVID-19 has been in your home within the last 24 hours.  Out of an abundance of caution, PLNU custodial staff regularly clean campus housing, classrooms, dining facilities, and all other public areas to reduce risk of transmission of COVID-19. You can further support and serve PLNU's custodial staff by cleaning areas you touch or contact when finished with your use.
Regularly cleaning high-touch surfaces (such as doorknobs, tables, handles, fixtures, appliances, and countertops) with a household cleaner containing soap or detergent reduces germs and decreases your risk of infection from contact. In most instances, regular cleaning can remove most virus particles on surfaces and greatly reduce your risk of transmission of COVID-19 at home.
What Does it Look Like to be COVID-Conscious on Campus?
Wear a mask and stay vigilant on your layers of personal responsibility.
Help your fellow community members with the layers of shared responsibility.
Get vaccinated! Reduce your chance of getting the virus or spreading it to others.
Monitor your symptoms daily. If in doubt, play it safe and get tested at the Wellness Center.
Assume the best of your fellow community members and stay positive.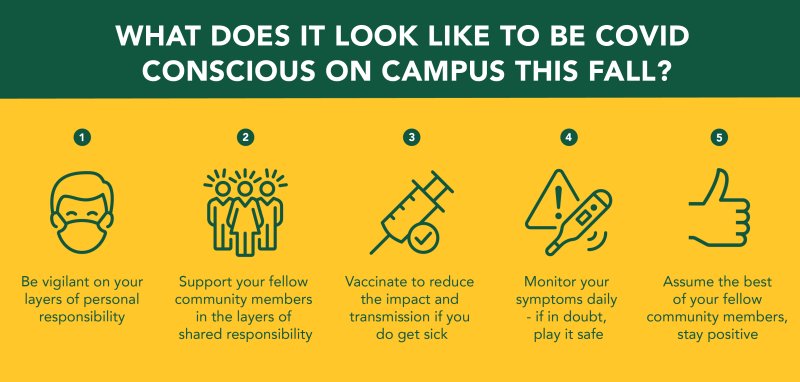 COVID Vaccine Fast Facts:
Which vaccines are fully FDA approved?
As of Aug. 23, 2021, Pfizer was the first COVID-19 vaccine granted full approval by the U.S. Food and Drug Administration (FDA). However, the FDA has still also granted emergency use authorization (EUA) for the Moderna and Johnson & Johnson vaccines. This means that the benefits of both the Moderna and Johnson & Johnson vaccines in combating COVID-19 greatly outweigh any possible risks based on data collected from successful clinical trials as well as regular quality and consistency monitoring and evaluation of their manufacturing processes.
Where can I get vaccinated?
To find a free COVID-19 vaccination near you, visit vaccines.gov/search, call (800) 232-0233, or text your zip code to 438829.
Definition of terms:
Isolation is reserved for individuals who test positive for COVID-19. Isolation is initiated with a positive test result. The isolation period is 10 days from symptom onset or positive test date. Isolation is used to separate those who are infected with the virus from those who are not infected.
Quarantine is for individuals who have been exposed to a person who has tested positive for COVID-19 or who has symptoms that are consistent with COVID-19. Quarantine lasts seven days from exposure with a negative test result or day 10 without a test. (All students/employees placed in quarantine by the Wellness Center are tested three to five days from exposure).
Surveillance testing: All unvaccinated PLNU students and employees will be required to participate in weekly COVID-19 saliva surveillance testing. Fully vaccinated individuals do not need to participate in testing, and proof of vaccination is required to bypass testing.
How do Vaccines Work in General?
Infection occurs when germs like the virus that causes COVID-19 invade the body and begin multiplying and attacking. To fight infection, the body's white blood cells fight infection by attacking the invading germ and virus particles, removing infected cells, and prompting the body to create additional antibodies. This process helps the white blood cells learn how to defend against the virus in the future and begin building immunity. On its own, this process might take several weeks. But with vaccines, the body is able to expedite this process, learning enough about the virus and begin building immunity while also being able to avoid serious harm from the disease itself. 
How Does the COVID Vaccine Work?
The FDA has authorized three different COVID-19 vaccines: Pfizer, Moderna, and Johnson & Johnson. To be fully vaccinated, both the Pfizer and Moderna vaccines require two separate shots, administered typically one month apart, and the Johnson & Johnson vaccine requires only one shot. You may experience minor side effects after receiving a shot, which is normal and a good sign that your vaccine is already beginning to work! It typically takes two weeks after your final shot to be considered fully vaccinated, meaning the body has built immunity against the virus that causes COVID-19.
How does the COVID vaccine affect those who are pregnant or are breastfeeding?
Full COVID-19 vaccination is recommended for all people aged 12 years and older, including anyone who is pregnant, breastfeeding, trying to get pregnant now, or may become pregnant. Growing evidence about the safety and effectiveness of COVID-19 vaccination during pregnancy suggests the benefits of the vaccine outweigh any known or potential risks of vaccination during pregnancy, including no evidence that any COVID-19 or other vaccines cause fertility problems in women or men.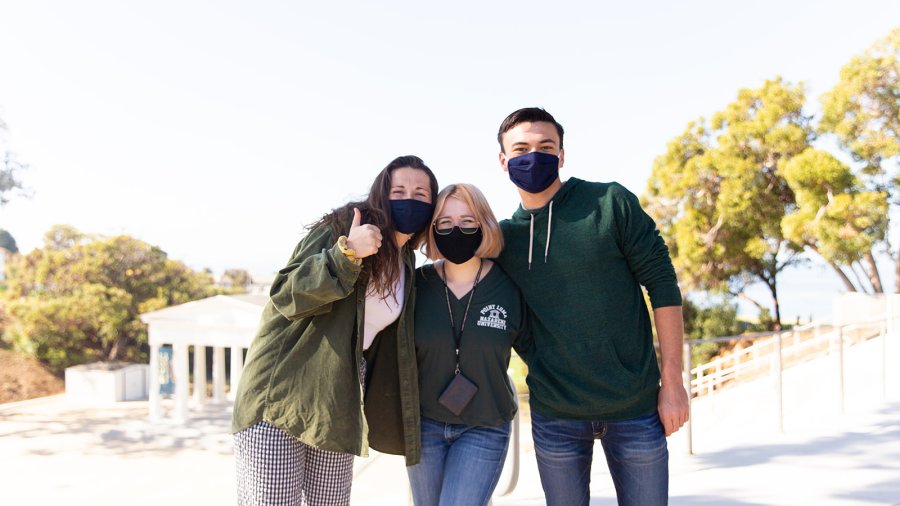 Christian Perspective on Vaccination
Throughout history, Christians have wrestled with the overlap between faith and science, medicine, innovation, and the human body. Again and again, the overwhelming majority of the Christian community continues to side with science in the interest of preserving the health and well-being of others — including the current COVID-19 pandemic. For more discussion about the Christian response to vaccines, we encourage you to explore more at: christiansandthevaccine.com.
Delta Variant Fast Facts
What is the Delta Variant?
The virus that causes COVID-19 is constantly adapting and creating new variants. Delta is the most predominant variant in the U.S., and is more contagious and spreads faster than previous variants. People who are unvaccinated are at the greatest risk of contracting and spreading the virus, including the delta variant. The vaccines approved and authorized in the U.S. are proven to be highly effective against the virus, however, some people who are fully vaccinated can still contract the stronger COVID-19 variant, known as breakthrough infection. That being said, those who are fully vaccinated are still at a much lower risk of contracting the virus in the first place and experience far less severe symptoms. The overwhelming majority of hospitalization and death caused by COVID-19 is in those who are unvaccinated. 
Delta in San Diego
In San Diego County, the hospitalization rate is 51 times higher among the unvaccinated, with Delta being the predominant variant. 
Beyond Delta
As long as there's a sizable population of unvaccinated individuals, COVID-19 will continue to change. Delta is not the first variant and will not be the last. While we cannot predict what will come in the future, the best way to prepare is to be fully vaccinated. Vaccines have proven successful against every variant of COVID-19 so far, and there is every reason to believe they'll remain helpful against future variants. While the currently available vaccines are less effective at blocking transmission of Delta, they're highly effective at preventing serious cases.
Frequently Asked Questions
Is PLNU requiring me to get vaccinated?
PLNU is not requiring vaccines for the fall 2021 semester, though it is strongly encouraged.
What is the practical impact for me if I choose not to vaccinate?
By choosing not to vaccinate, you're putting yourself at much greater risk of contracting COVID-19, as well as spreading it to others with whom you come into contact. Additionally, you'll be required to continue participating in weekly surveillance testing for the foreseeable future.
Do I have to wear a mask on campus?
It is PLNU policy for individuals on all PLNU campuses, regardless of vaccination status, to wear masks indoors. Individuals on all PLNU campuses who are unvaccinated should remain masked outdoors when 6 ft. of distance cannot be maintained. Individuals on all PLNU campuses who are vaccinated may remain unmasked outdoors
Wait, I got vaccinated, do I still need to wear a mask?
Even if you're fully vaccinated, to maximize protection from the Delta variant and prevent possibly spreading it to others, wear a mask indoors in public. You should also wear a mask in crowded outdoor settings and activities when you are in close contact with others who may not be fully vaccinated and 6 ft. of distance may not be maintained. 
I already had COVID-19. Why do I need to get vaccinated?
Even if you've already had COVID-19, you should still get your vaccine. Research has not yet indicated how long you may be protected from getting COVID-19 again after you've recovered. Studies are showing, however, that those who become fully vaccinated after already having COVID-19 are better protected compared with those who remain unvaccinated. One study has even shown that unvaccinated people who already had COVID-19 are more than twice as likely to get COVID-19 than fully vaccinated individuals to get COVID-19 again.
San Diego County Resources
General COVID-19 FAQ
For more information and updates, please visit PLNU's full COVID-19 frequently asked questions.