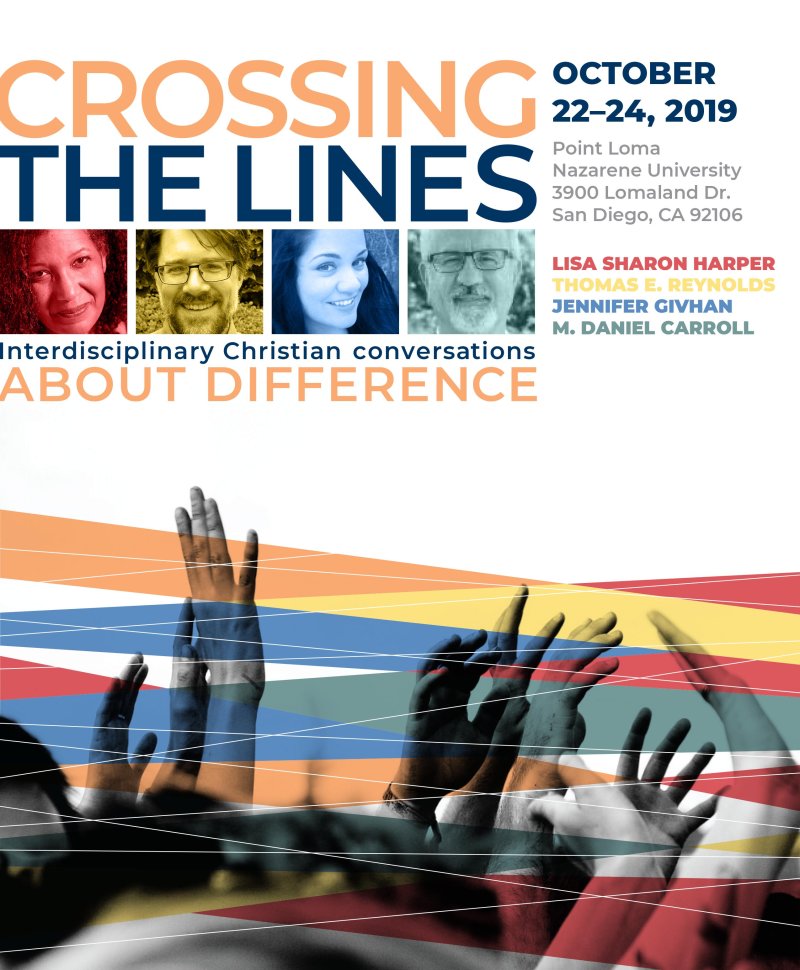 Crossing the Lines Conference: Interdisciplinary, Christian Conversations about Difference
October 22-24, 2019
Point Loma Nazarene University, Location (Google maps)
Registration (coming soon)
The purpose of this conference is to nurture a Christian conversation about the social and other differences that divide people and about the church's calling in the face of those differences. To that end we invite proposals for papers and panels that bring the resources of the Christian tradition to bear on topics related to the conference theme, including (but not limited to):
Race
Gender
Immigration
Disability
We welcome proposals for presentations of all types, including theoretical analyses and practice-based workshops aimed at helping congregations come to terms with the church's call. Proposals are encouraged from every academic area, including the arts.
Send proposals to: spowell@pointloma.edu
Confirmed speakers:
Lisa Sharon Harper, founder and president of FreedomRoad.us, author of The Very Good Gospel: How Everything Wrong can be Made Right and Left, Right & Christ: Evangelical Faith in Politics.
M. Daniel Carroll, Professor of Old Testament at Wheaton College, author of Christians at the Border: Immigration, the Church, and the Bible.
Thomas E. Reynolds, Vice-Principal and Associate Professor of Theology at Emmanuel College of Victoria University, author of Vulnerable Communion: A Theology of Disability and Hospitality.
Jennifer Givhan, poet and novelist, author of Protection Spell (2017) and Lifeline (2017).