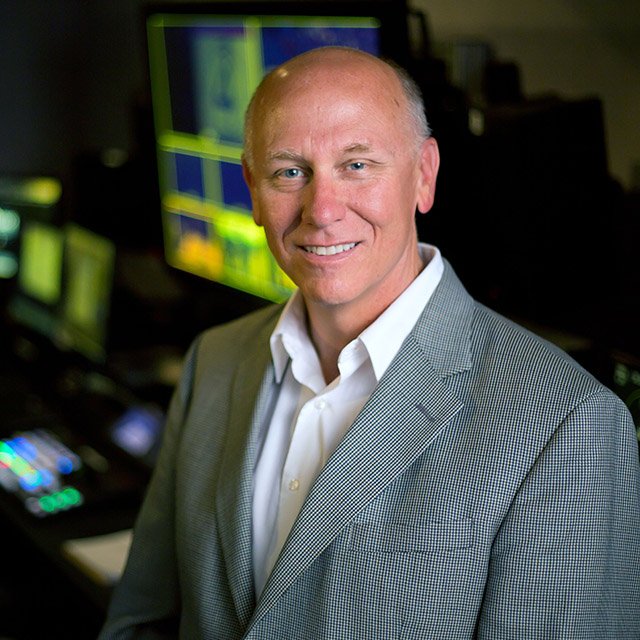 Dr. Alan Hueth, professor of communication, has helped launch PLNU grads into the media since 2002.
Q: Where did your interest in communication and film begin?
A: It started out in high school — being one of the editors for my high school newspaper, the South Pasadena Tiger, and getting some stories published in the local newspaper, the South Pasadena Journal. In college, I explored radio, film, and TV at Cal State Chico, where I did radio news for the local PBS radio station and some film and television work in classes. I produced a PSA that got on broadcast TV, and then upon graduation, I became a program director for a Christian radio station (KCVR) in Lodi, Calif. In 1980, I got a job at a production facility that was a part of George Fox College (now University).
Q: Is that how you moved into teaching?
A: While I was working with students at George Fox, I was one of a few professors who created and taught in the media communication major program. Meanwhile, we continued doing student-assisted contract documentaries, interview shows, and training and educational programs for nonprofits, for-profits, and the college. We also did some music video production that got onto MTV, and some sports — I produced about 25 college basketball games over a five-year period. I wrote, produced, shot, and edited dozens of shows in the '80s — often working with student production assistants — and that was fun. In '89, I started teaching full time at Eastern New Mexico University and then went to the University of Dayton, where I also finished my Ph.D. in 1998. While I was there, several big projects just dropped into my lap. This included writing and producing 50 radio shows called New Rock and Talk that got onto the Galaxy 3 Satellite and a bunch of radio stations in the U.S. and abroad, more educational documentaries, and some corporate media. Then I went to NNU (Northwest Nazarene University) and created their media communication major. It has been great to see these programs take off and thrive to this day. I came to PLNU in '02.
Q: What kinds of careers have your students gone on to pursue?
A: We have had so many phenomenal students over the years, and many have been good at keeping in touch with us. Without naming names — because I know I'd miss many, I'll just share some of the jobs and projects that our students have worked on since I came to PLNU back in 2002:
Production coordinators, lay out artists, and associate editors at DreamWorks animation — for Kung Fu Panda, Bee Movie, Monsters vs. Aliens, Turbo, Boss Baby, DreamWorks' first stereoscopic 3D picture films Shrek Forever After and Puss In Boots, Tangled, and all 3D stereoscopic films from 2011 to 2014 at Walt Disney Studios.
Stereoscopic supervisor at Walt Disney Films from 2011 to 2014
2nd place winner of the Doritos Super Bowl commercial competition
Editing assistant for Prometheus trailer
Producer for DreamWorks television — the Awesomeness TV channel
Editors and production assistants at Universal Studios
Production crew positions in sports and news broadcasting in San Diego (for the San Diego Padres and Chargers) and beyond
Independent writers, producers, directors, editors, and actors for film and internet productions
Corporate media producers
Independent production companies shooting documentaries, commercials, music videos, short films, weddings, etc.
Studio script readers
Producers for Invisible Children
Production leaders in church media ministries
Q: How has our program changed since you've been here?
A: I've tried to expand and round out our curriculum by teaching a couple of classes that PLNU didn't have in the past. One is a narrative and documentary film course that includes seeing all or part of 40+ classical (and other) films that provide a foundation for understanding film history, story, production, and criticism. I also teach a scriptwriting course that prepares students to have basic skills in writing commercials and PSA's, news and sports, documentaries and reality shows, corporate media, and dramatic and comedic short films. The technology has changed quite a bit as we've transitioned from analog television to high definition in the studio, field, and in post-production. Our studio has three robotic cameras — which really help prepare students for the real world of television.
In terms of the curriculum, our cable television internet channel, Point TV, has really made a difference. Since bringing this on back in about '06, students have been shooting many different kinds of films and television shows in our one-unit TV Workshop course. This includes conventional news and sports shows and on-campus sports broadcasts — directed from our control room in the studio, but also short films, comedy shows, commercials, documentaries, and music and interview shows. Also, we've dived into social media for Point TV and Point Radio — and have a presence in many aspects of social media. We also added the bi-annual London summer study program in 2004, where students study documentary and propaganda and produce documentaries, take tours at the BBC and other places, and meet with executives in TV and advertising. We started to expand our students' knowledge of independent film in 2009, and started taking students to the Sundance Film Festival every other year where they take a course and see films and learn about indie filmmaking. Finally, we started an interdisciplinary cinema studies minor that consists of film courses in the literature, philosophy, history, and communication departments; and we worked with the art department to create an interdisciplinary film and art major. It has been quite a ride for me and our great students since 2002!
Q: What makes PLNU's program different?
A: A few things. First, we "do it all." That is, our students have the opportunity to get experience in a variety of mediums (TV, film, radio, and the internet) and have the potential to acquire many skill sets with many different forms of media. And students can focus on what they're most interested in — from a career-goal perspective. Second, our system allows for lots of paid-leadership opportunities and face-to-face mentoring for students from their freshman to senior years. This is closely-related to our third distinctive: the program also allows for lots of formative evaluation. That is, students here are getting lots of practice and feedback all four years of college — without always having their course grades in jeopardy. Finally, and probably most importantly, we are educating students to work in secular and Christian media, and empowering Christian students to know how to navigate their lives in a very challenging and, generally, secular environment. That's an important part of this, too. Every business, every industry, every occupation has its dark side, but the thing with media is that the darkness is so overt and obvious. So that means that in a post-modern, morally-relativistic world, we all have to take stock of ourselves in our walk with the Lord. That should affect what we consume and what we produce … and where we draw the line on these things, and why we draw it there.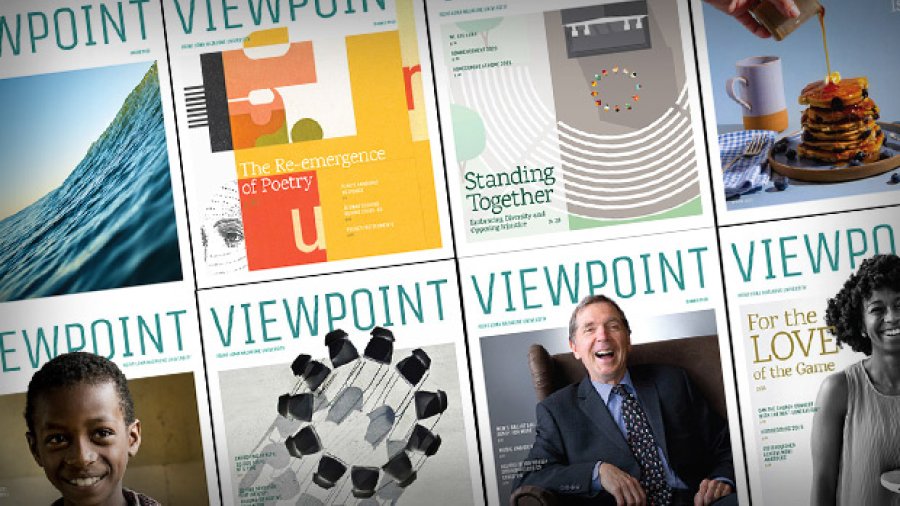 The Viewpoint
PLNU's university publication, the Viewpoint, seeks to contribute relevant and vital stories that grapple with life's profound questions from a uniquely Christian perspective. Through features, profiles, and news updates, the Viewpoint highlights stories of university alumni, staff, faculty, and students who are pursuing who they are called to be.