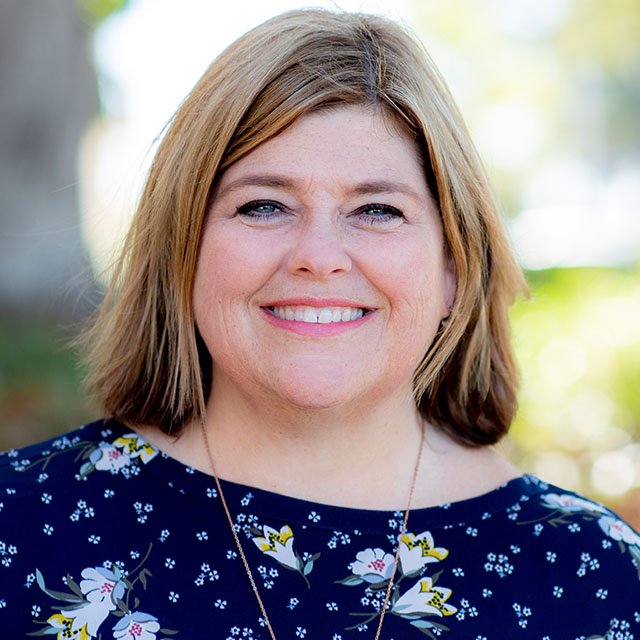 Dr. Jill Hamilton-Bunch graduated from PLNU in 1990 with the desire to be a teacher, and that's exactly what she's done for the past 32 years — plus much more.
Hamilton-Bunch lives in Bakersfield with her husband, Darin (90), and their 8-year-old Queensland shepherd, Franklin, who they rescued from the pound. Also a graduate of PLNU's Department of Literature, Journalism, Writing, and Languages (LJWL), Darin pursued a career in journalism under the guidance of Dr. Dean Nelson. Jill, through the impact of her professors and mentors, specifically Drs. Phil Bowles, Larry Finger, and Dana Walling, found a passion for teaching students at underprivileged schools. Through a campus job fair, Hamilton-Bunch applied and was hired as a junior high English teacher in Delano, Calif., where she was able to put her calling into practice.
Going into the job, Hamilton-Bunch didn't know a soul. She was a first-time teacher in a new area. But her heart and her passion kept her going whenever she felt discouraged.
"I wanted to 'save the world,' and even though my parents developed that fire inside me, PLNU gave me a way to actually do what I had only thought about. PLNU taught me how to live intentionally in my faith and work and how to combine the two," she said.
Hamilton-Bunch served the Delano School District for 12 years before transitioning to a full-time position at PLNU's Bakersfield Regional Center in 2002. With her strong commitment to her students and their families, she admitted it was very difficult to make the decision to leave her public school district for higher education. But through a conversation with a colleague, she realized that this transition would enable her to inspire future teachers to pursue excellence, a passion for teaching, and a dedication to the students and communities they will serve.
Hamilton-Bunch earned her doctorate from the University of California, Santa Barbara, focusing her research on socio-linguistics and teacher behaviors in the classroom. At the Bakersfield Regional Center, Hamilton-Bunch is the center director and teaches courses in literacy and language acquisition. She serves as the associate dean for teacher education across all regional centers. She said the goal of the Bakersfield Regional Center is to "be responsive to our community. We want to work in the context of the community, to serve students in poverty and those who are underrepresented. The program reaches further than professional development and classroom management. We want to prepare our teachers to serve 'the least of these,' to be a light, and to be the hands and feet of Jesus everywhere they go."
The California Association of Teachers of English (CATE) holds a convention each year to ensure the growth and excellence of California's English teachers. This year, Hamilton-Bunch was asked to be a co-chair of the event, along with a colleague from the English department at California State University, Bakersfield. This honor and responsibility is an example of the impact she has had on her students and in her community, as well as the excellence she pushes herself to maintain.
Hamilton-Bunch has worked in the Central Valley for 22 years now and remains a devoted laborer for Christ. As a PLNU grad, she directs the attention away from her own success and gives thanks for her spiritual growth during her undergraduate years. Even though she grew up a Nazarene in the Arizona-Southern Nevada district, went to church camps and Family Camp (at the time, Camp Meeting), and had a solid faith in Christ, she came to a fuller understanding of her faith at PLNU.
"For the first time, in my Old Testament class with Professor Cliff Fisher, I thought about the Bible as a historically significant, intellectually stimulating document," she said. Her eyes filled with tears remembering how she found her faith and her footing during those years. "I came to PLNU with a lot of head knowledge about faith, and heart knowledge, too, but PLNU was where I had the opportunity to marry my faith and my intellect—and that has been so critical to my faith in adulthood."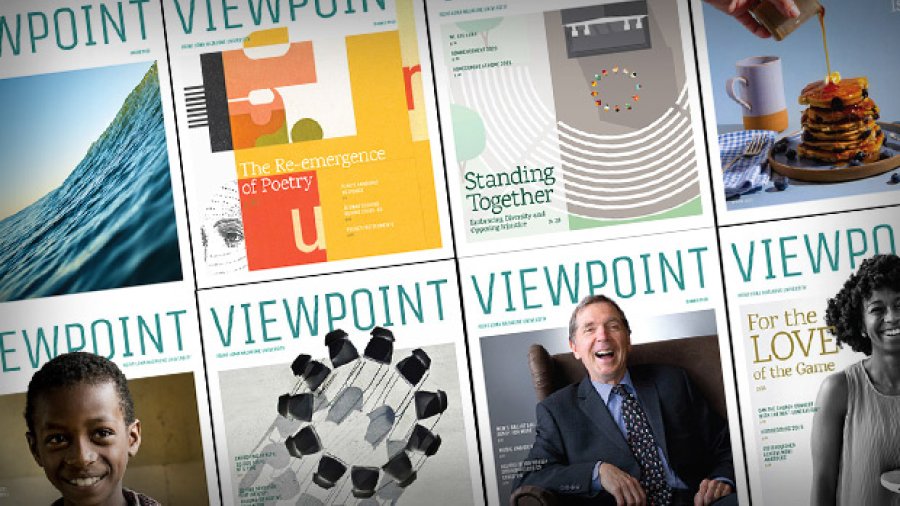 The Viewpoint
PLNU's university publication, the Viewpoint, seeks to contribute relevant and vital stories that grapple with life's profound questions from a uniquely Christian perspective. Through features, profiles, and news updates, the Viewpoint highlights stories of university alumni, staff, faculty, and students who are pursuing who they are called to be.