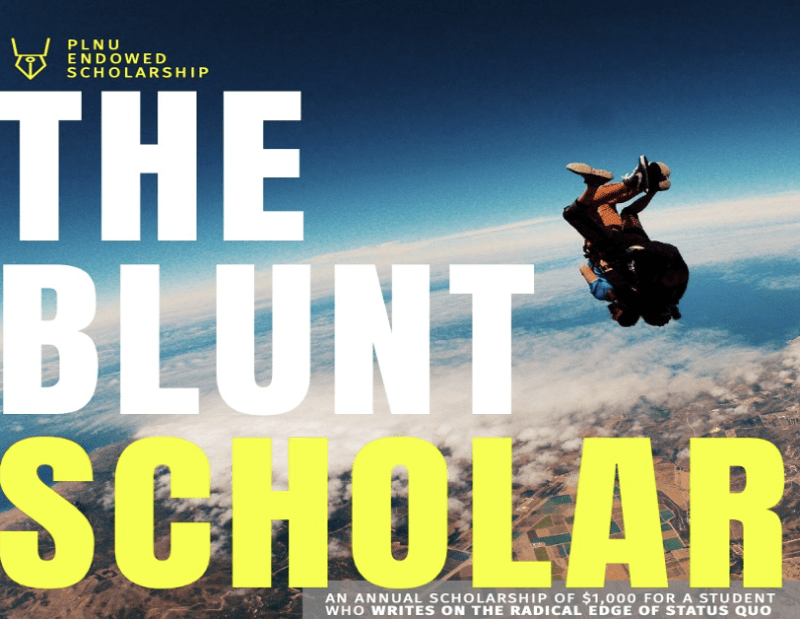 The 2023 Blunt Scholarship is officially open for applications! If you love to write, have at least a 3.5 GPA, and want $1,000, then you should consider applying. 
According to the Blunt Scholarship Agreement 4.b,"The purpose of the Blunt Scholarship is to support witty, gifted, and idealistic students with a radical edge who write and publish their work. The ideal candidate will be someone with intellectual curiosity, who is well read, socially conscious, and who has formed opinions and beliefs that challenge the status quo. Candidates should feel a sense of responsibility to the larger community and have thought about their relationship to it." 
Here is what Tony Le Calvez, Blunt Scholar 2022, has to say about the scholarship: "Receiving the Blunt Scholarship last year was more than just receiving aid for my tuition. It was an opportunity to become involved with fellow students and alumni that share a vision of what a free press should look like at PLNU. Engaging with the Blunt committee and the original Blunt writers was a neat way to connect with an older generation of Point staffers who have remained committed to themselves and their beliefs of equality, inclusiveness, and uncensored wittiness throughout their lives. If you're someone who's worried about selling out, dropping out, or losing your vocation, the Blunt committee is a great group of people to look up to and assuage your fears. It was great to get a scholarship that helps with tuition, but the experience of connecting with these people was priceless. I recommend anyone who wants to write 'off the beaten path' to consider applying for the Blunt scholarship."
Details about the scholarship are included below. The deadline is April 15 at 12pm PST, so be sure to apply today! 
How to Apply: Applicants must submit a published sample of their writing and a 1-3 page personal essay describing with wit and wisdom why they should be selected as a Blunt Scholar. Two letters of recommendation from faculty members, staff, and/or fellow students (who are familiar with the Blunt) must accompany the application. The essay and letters should reveal—with an edge of creativity and sarcasm—why the applicant fits the image of the Blunt Scholar and would fulfill the purpose of the scholarship program. The selection committee considers a published writing sample to be a work published or produced in any non-professional forum, including high school and college works, online publications, and multimedia productions. The venue and date in which the work was published should be referenced. 
Where to Send: Please send applications to Madi Bucci at mbucci@pointloma.edu. She will then pass them along to the alumni Blunt Selection Committee for review. The Blunt Scholar will be announced by May 1, and the scholarship will be applied in the following academic year (2023-24). 
Questions? Email Madi at mbucci@pointloma.edu. Thanks!