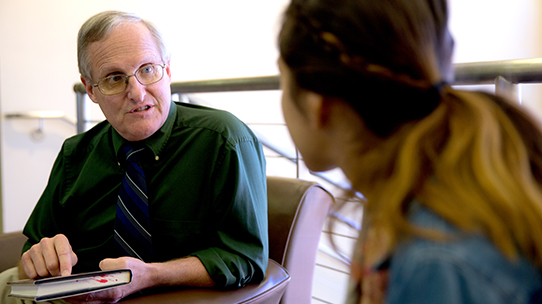 The Wesleyan Center partnered with the Center for Pastoral Leadership (CPL) to host a special event at PLNU called, "Is There a Place for Me: Holy Conversations in the Church," from Nov. 3-5, 2016.

The purpose of the event was to provide an opportunity for intergenerational conversation about the nature, mission, and inclusiveness of the Church, especially as it relates to Millennials. Those present included senior and associate pastors, as well as PLNU students, faculty, and staff.
To achieve the goal of dialogue, the event focused on table-group conversations that followed and were resourced by 10-minute presentations, similar to TED Talks that centered on an overall theme. After each presentation, the table groups, equipped with facilitators, spent 30-45 minutes dialoguing about the presentation and its application. At the end of the conference, each table group gave an account of where its dialogue had taken the group members.
This year, the theme of the conference was "Creative Expressions of Missio Dei." Speakers included Wil Ryland, Marcos Canales, Jennifer Guerra, Daniel Chung, and Jeff Purganan. The main speaker was Cris Zimmermann, a pastor from Frankfurt, Germany, who, along with his brother, is overseeing the ministry of 34 different church plants through Church in Action. Pastor Cris also spoke in chapel.
The event was a huge success. Not only did the CPL and Wesleyan Center accomplish their initial goals for the event, but they were also strengthened as one body under Christ as they worshiped together and prayed for our witness in the world. The CPL and Wesleyan Center plan to host more conversations like this one in the future.