Become a Career Mentor for a Student
Become a Career Mentor for a Student
The Alumni Mentor Program provides opportunities for alumni to serve as career mentors to junior and senior students interested in their career fields.
The Commitment
The alumni mentor and student mentee meet once a month for an hour, January to August. Their meeting may be in person or through Skype. In between meetings, it is up to the mentor and mentee to decide if they'll communicate by email or text, and if so, how often.
The Alumni Office and the Offices of Strengths & Vocation collaborate on this program, with the Alumni Office enlisting alumni mentors and OSV enlisting student mentees who want an alumni career mentor.    
We are looking for enthusiastic mentors who are willing to:
Share professional experiences
Ask questions of the mentee and discuss their plans and aspirations
Critique a resume
Provide introductions to other professionals in their field
Provide opportunities to shadow a professional (if their company or organization allows)
Interested in being an Alumni Career Mentor?

If you have any questions, contact Kendall Lucas at klucas@pointloma.edu or (619) 849-2680.
Nominate Someone for an Alumni Award
Nominate Someone for an Alumni Award
Every year during the Homecoming celebration, the Alumni Association honors several alumni. As these alums are recognized, our entire PLNU community receives inspiration and encouragement hearing their stories and realizing the impact they're having throughout the world.
Alumnus of Point Loma Award (APL Award)
This award is given to recognize significant and outstanding accomplishments in a profession, academics, and/or service to a nonprofit organization. Each year, three or four alumni are selected to receive this award.

Nominate Someone
Distinguished Achievement Award (DA Award)
This is the highest award presented by the Alumni Association. The award will be given for significant and outstanding lifetime accomplishments in a profession, academically, or in service to non-profit organizations, a strong Christian testimony, and an impact on people's lives. The Alumni Association may recognize and honor alumni in the following categories: lay, ministerial, and legacy.
Criteria for Alumni Awards:
Significant impact on the lives of others

A strong Christian testimony

Received a baccalaureate, post-graduate, or honorary degree from our institution

Outstanding accomplishments as detailed above
View all past Alumni Association awardees.
Anyone may nominate a Pasadena/PLNU alum for an alumni award. To nominate an individual, please fill out the online forms above or send a letter or email to our office addressing the above criteria. Please indicate whether the nomination is for the APL or DA award. Nominations are compiled in May, recipients are chosen in July, and the awards are given during Homecoming weekend in November.
Please do not tell the nominee or any of their family members about the nomination.
If you can discreetly obtain a resume or vita without the nominee's knowledge, please include it.
If you can tell us two other people who know the nominee well, please do.
We are able to conduct some research to obtain the resume and additional information, but the more information you can provide, the stronger the nomination.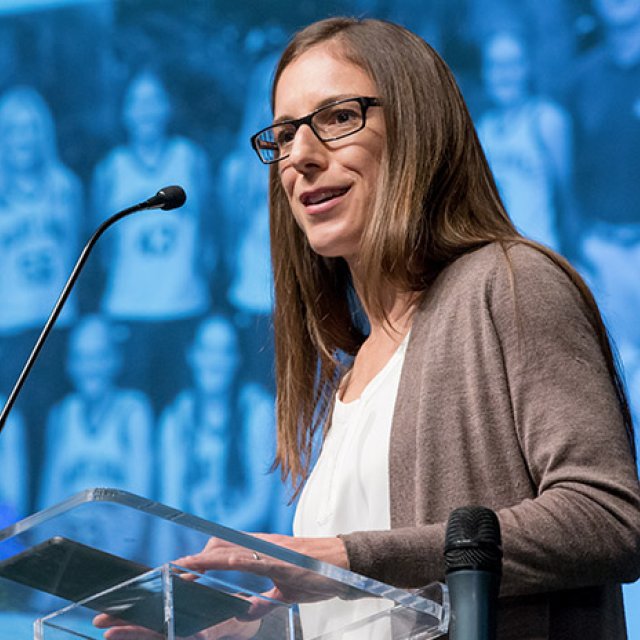 Nell Becker Sweeden
Nell Becker (02) Sweeden has learned that embracing one's calling involves a continual process of discernment throughout life. Read more
Volunteer at Alumni Events or Homecoming
Volunteer at Alumni Events or Homecoming
We look forward to connecting with you at our next PLNU alumni event.
If you would like to volunteer in any of the following events please contact us at alumni@pointloma.edu.
Area Events
The Alumni Association hosts events in various cities throughout the U.S. each year. If you would like to volunteer to help us host an event in your city, let us know!
Auxiliaries Events
Our 13 Alumni Auxiliaries (interest groups) also host events throughout the year. If you'd like to help plan one of these events or you have an idea for an event for a specific Alumni Auxiliary, please email us.
Homecoming
The PLNU Homecoming Celebration includes 55 to 60 events each year — and it takes more than 150 volunteers to create and execute them. If you would like to volunteer, get in touch with our office and tell us the events you'd like to help with. 
Join an Alumni Auxiliary
Join an Alumni Auxiliary
Whatever your degree, occupation, or special interest, we have a variety of Alumni Auxiliaries that allow you to network with alums in your field and get involved in events and projects that support the university. 
A goal of Alumni Auxiliaries is to build scholarship support for a particular department within the university. Visit our Alumni Auxiliaries page to learn how each of our 13 groups are making an impact across PLNU.
Purchase Alumni Merchandise
Purchase Alumni Merchandise
You may have graduated, but that doesn't mean you have lost your school spirit.
Grab yourself some PLNU gear, or leave a lasting legacy by ordering a personalized alumni brick.