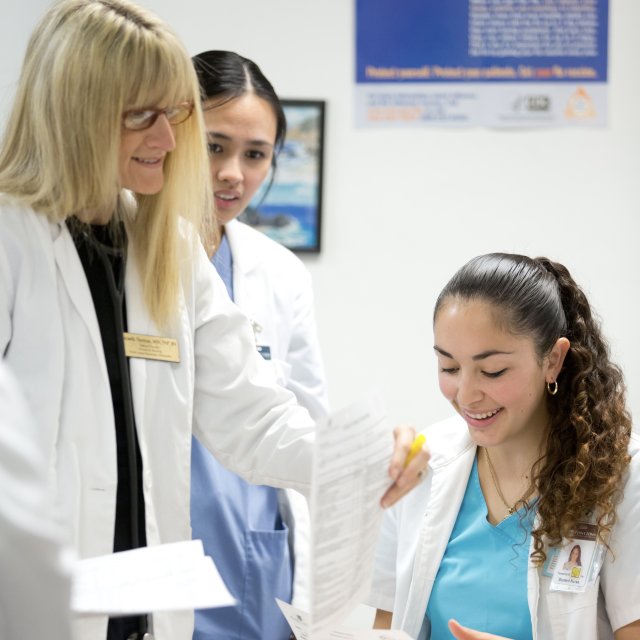 Are you excited by the prospect of using your nursing skills and knowledge to affect the world for good? As a PLNU nursing student, you don't have to wait — you get the opportunity to put your education to work by providing health services to a diverse, underserved community in San Diego. You can serve the poor, the refugees, and the nations of the world right in your backyard, right now.
What is the Health Promotion Center?
The Health Promotion Center (HPC) was established by PLNU's School of Nursing in May 2000 as a way to provide health services for those in the community of City Heights who cannot afford healthcare. This nurse-run facility provides services such as
Vaccinations
Pregnancy Screening
Pap Smears
Complete Physicals
Depression Screenings
Health Education
 
How will I be involved?
The central location of the HPC places nursing students in the heart of one of the most diverse neighborhoods in San Diego. This diversity provides an incredible teaching and learning environment for nursing students to develop skills in cross-culture communication and health, while providing free healthcare to the medically uninsured. Nursing students from PLNU provide community members with health information they can incorporate in their daily lives.
In addition, MSN students have the opportunity to step into leadership roles at HPC and plan the Annual Festival of Health. They also work alongside clinical nurse specialists in community assessment and health planning.
For more information, visit the School of Nursing.
Faculty
Mary Margaret Rowe, MSN, RN, FNP
Director and Adjunct Professor of Nursing