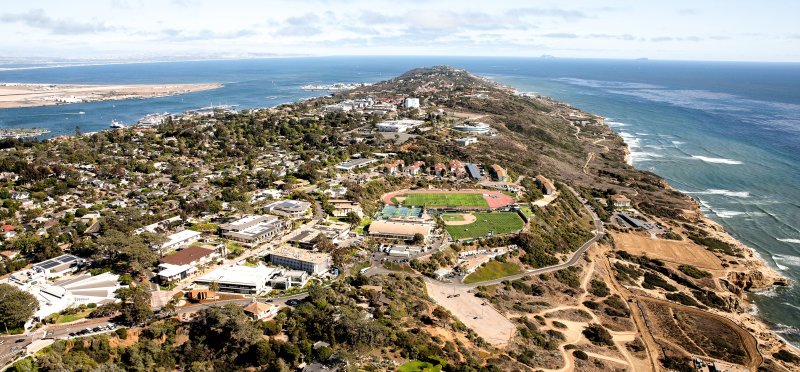 Welcome to San Diego! Where practically perfect weather, miles upon miles of beaches, scenic wilderness areas, and countless places to eat, sip, and explore give us the very best environment possible to have a good time while riding out a tough time.
Below is a list of some of our favorite places and things to do. While this season may look different, there are still a ton of opportunities in San Diego (and close to PLNU) to enjoy yourself and engage in adventures all year long.
__________
Who are you called to be?
Pursue your purpose at PLNU.
__________
Take a Hike
Lace-up your hiking boots and head to one of the countless trails across San Diego. From Cowles Mountain's never-ending view across the city, to the picturesque views and cool ocean breeze of Sunset Cliffs or Torrey Pines State Natural Reserve, there are hiking spots all around for every type of person to enjoy.
Beach + Surf
PLNU has premier access to some of the best surf in San Diego (if you don't believe us, ask Surfer Magazine who ranked as the #3 Top Surf Colleges in America). But even if you venture off-campus you'll always be close to the warm Southern California waters to wet your appetite for surfing, sunbathing, and sand castles.
Restaurants
While some places may be closed or have limited options for serving customers, there are many incredible restaurants and coffee shops still open. Rest assured, if you need a caffeine jolt, a scoop of ice cream, or a California burrito, there are still popular spots available across the city to serve your cravings.
We would recommend calling ahead of your visit or checking a restaurant's website to see what kind of food services they may be offering at that time (dine-in, take-out only, delivery, etc.)
Top Recommendations of PLNU Foodies
Parks for Picnics, Play & Outdoor Workouts
Grassy areas like the Point Loma Community Park offer lots of open space for social distancing picnics, creative activities like painting, or relaxing. If you want to get some jumping jacks in or take a light jog these parks are great places to stay fit (no gym membership required).
Got a couple of hours to spare?
Here are a few more activities that we would recommend for you to explore.