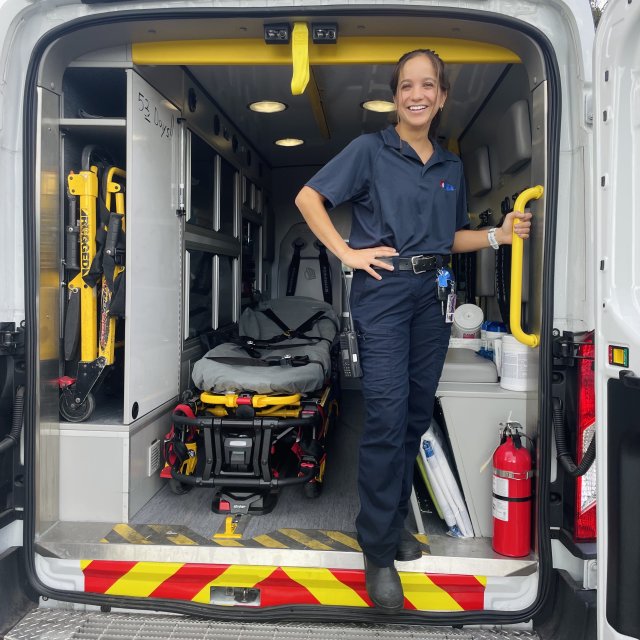 Emergency Medical Technician
Point Loma Nazarene University's EMT program is designed to offer comprehensive education and skills-training in the provision of prehospital emergency care. PLNU offers a quality program with knowledgeable faculty and staff, and a positive environment. Professor Ron Ungar is the program director who brings decades of experience in law enforcement, teaching, and administrating curriculum in emergency medical services. 
The EMT program equips students with the coursework, skills, and clinical hours needed to sit for the Emergency Medical Technicians national registry exam. Coming in above 90%, PLNU boasts the highest first-time pass rate on the national registry exam of any EMT program in San Diego county. EMT certification serves as a great stepping stone for our students seeking careers as Paramedics, Firefighters, Physician Assistants, Physicians, Nurses, and Law Enforcement professionals.
Details of the courses to enroll in 
The EMT program includes two 4-unit quad courses (KIN 1002 and KIN 1003) for a total of 8 units, offered every spring semester. The spring courses meet on Tuesday and Thursday evenings for 4 hours plus 7 Saturday sessions. 
We also offer an accelerated 5 week EMT curriculum each summer in the first summer session. The summer session includes class Monday through Friday 8am to 4pm. If you would like to enroll in our summer session you will need to register for KIN 1002 then contact the records office to be added to KIN 1003 since 8 units is technically above the limit of summer units to be taken at once. The summer session is open to students who are not currently enrolled at PLNU. Outside students should contact admissions@plnu.edu to start the process of enrolling to take these courses. 
Requirements and fees
Before the start of the course all students must have a valid American Heart Association Healthcare Provider CPR Card. Each course (KIN 1002 and KIN 1003) includes a $100 lab fee for a total of $200 in fees. 
EMT Refresher Course
PLNU also offers an EMT refresher course each Fall. The refresher course is for currently certified EMTs only. The course includes 27 hours of contact time including lecture and lab. Please see our course information page for more details. If you are interested in taking our EMT refresher course please contact tbowles@pointloma.edu to let us know of your interest. 
Frequently Asked Questions
Do the courses have any prerequisites?
The only prerequisite is to have a valid healthcare provider CPR card before the class begins.
Do I get my EMT certification after I complete the courses?
The courses give you everything you need to sit for the national registry exam, but you will need to register for the exam and pass it in order to obtain your certification. 
Is the PLNU EMT program accredited by the County of San Diego?
Yes, the EMT program is fully accredited by and keeps up to the standards set by the Department of Health and Human Services at the County of San Diego. 
What do the EMT courses at PLNU entail?
The courses are a mix of lecture, lab, and skills testing. 
Who teaches the EMT courses?
A wonderful team of PLNU faculty with a wide range of healthcare experience teach the courses. Our instructors include: paramedics, EMTs, Physician assistants, athletic trainers, law enforcement officers, firefighters, and experienced emergency medical services instructors. 
Do I get to do ambulance ride along hours as part of the courses?
Yes, all students in the courses engage in 24 hours of ride along in an ambulance with our partner Care Ambulance. 
How many total hours are the courses?
The PLNU EMT courses meet or exceed the County of San Diego requirement of 160 hours of instructional and lab time. 
What is the student to faculty ratio?
Per San Diego County guidelines on lab days there will be no greater than a 6:1 ratio of staff:student. Experienced EMTs who serve as teaching assistants help on lab days.On lecture days one instructor will be present. 
How many students can you take in one cohort?