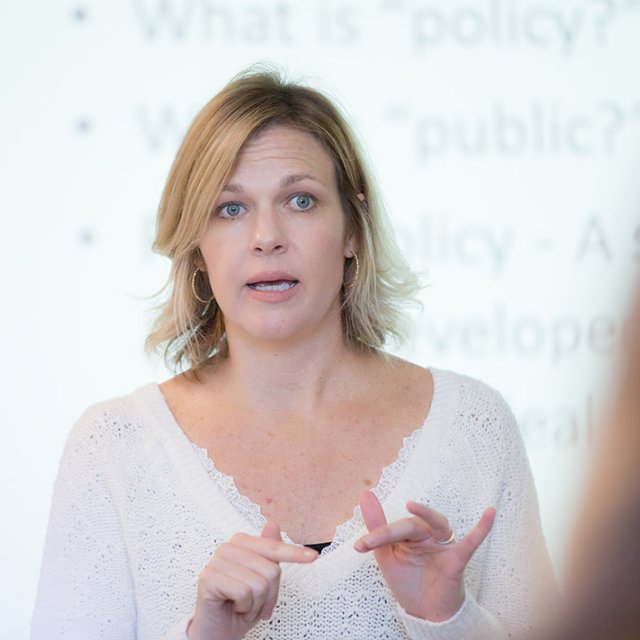 When Lindsey Lupo began her doctoral program in political science, she had no intention of teaching. In fact, a concerned professor pulled her aside one day and advised her to at least pretend she wanted to teach at one of the finest research institutions if she wanted to be taken seriously.
Fast forward a few years when she came on staff at PLNU. "That was the first time I thought, 'I really like the teaching part,'" she recalled. In fact, she often went home and told her husband, "These kids are unreal. I feel like I'm at a school that's not real."
Lupo is still saying that, even now, ten years later: "The students at Point Loma showed themselves to be so engaged and so involved in their learning process that it made me want to be the best teacher that I could absolutely ever be."
It is clear that Lupo cares deeply for her students. She tells stories of meeting up for lunch with alumni as they are on the cusp of making big moves in their careers, or texting a student at 6:30AM to celebrate the news of receiving a Fulbright Scholarship abroad. "It almost felt like my own child was awarded this scholarship," she said.
Truth is, if you want to hear more of her personal achievements, you have to really ask. Despite publishing numerous papers, providing political commentary on radio programs, or being quoted as an expert on some current issue, she is still more keen to tell you about her students' accomplishments.
In addition to teaching, Lupo directs PLNU's Political Science Internship Program where she oversees student internships, and she leads the Institute of Politics and Public Service which seeks to more directly link PLNU's political science program with the world of politics and to inspire students to consider careers in public service.
Lupo's own service and influence can be seen throughout San Diego county. She is a founding member of the San Diego Deliberation Network (SDDN), a regional collaboration of academics from local universities that organizes community forums on difficult political problems with the aim of restoring respect and civility to civic discourse.
"The point of the SDDN is to get groups of people together who have different perspectives," she explained. "We try to get people out of their echo chamber. People tend to surround themselves with those who think and look like them, and who have similar life experiences. There's not any variance in perspective."
Rather than immediately focusing on surface issues, participants in a SDDN forum are guided to first share their values and priorities. "You have to understand that all people want security, equality, liberty and justice, but there are tradeoffs--you can't have everything," said Lupo. "You quickly learn that different life experiences have taught people to prioritize things differently, and it humanizes the other person. It forces people to engage in really hard conversations about policy while drawing on their values."
Essentially no one participant can argue that their preferred solution is flawless. The discussion guide points out the downsides of each option. People have to admit the flaws, while explaining how their values shaped their choice. Said Lupo, "Everybody has to come together and say, 'What are we willing to trade-off? How can we compromise here?' At the end of it we're not actually solving the problem, but people walk away with the tools and the understanding for how to engage in politics on a whole host of other topics. It's sort of a training ground for how to engage in the system in other ways."
Lupo brings this deliberative democracy to the course she teaches on public policy. Her students put it into action by planning and facilitating a forum on campus. They choose the topic, educate the participants, and guide the process.
Lupo has discovered that as a result of participating in deliberative democracy, her students became more optimistic about politics.  She said, "They became more likely to participate politically in the future and to consider a career in public service. They have hope about the political process and see that individuals can engage in respectful conversation even when they disagree at a fundamental level."
Whether students encounter Dr. Lindsey Lupo as a long-term mentor or while passing through a one-semester GE course requirement, she hopes they will engage in politics not simply as their duty, but because they feel it's something they want to do.
"My hope is that they'll learn that their voice does matter," she said, "that democracy is dependent on them being involved, and that their generation needs a larger presence in the political arena."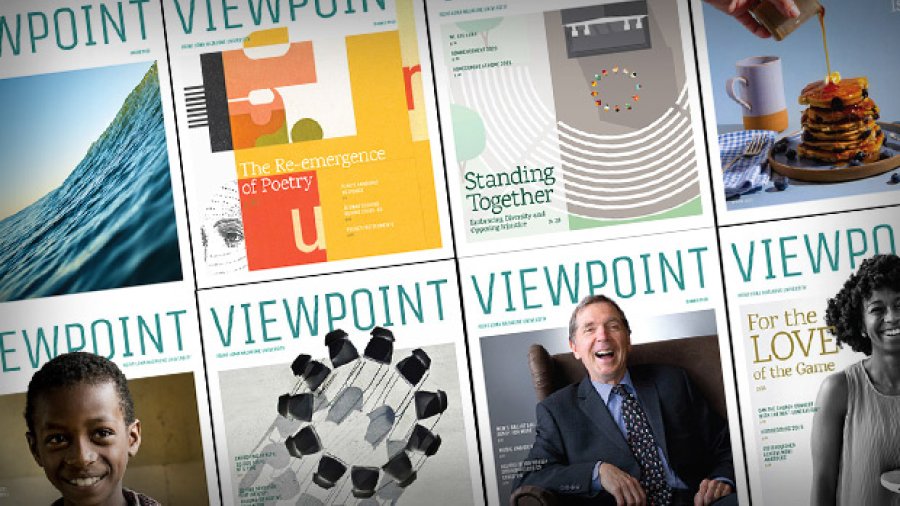 The Viewpoint
PLNU's university publication, the Viewpoint, seeks to contribute relevant and vital stories that grapple with life's profound questions from a uniquely Christian perspective. Through features, profiles, and news updates, the Viewpoint highlights stories of university alumni, staff, faculty, and students who are pursuing who they are called to be.