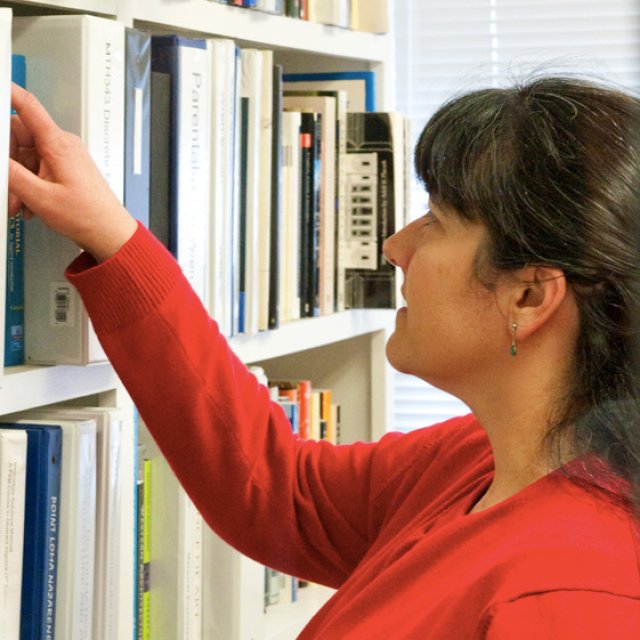 If positive influences on the strategic vision and day-to-day operation of PLNU were charted, one variable would stand out. Around campus, we call her Dr. Maria Zack.
Zack has taught at PLNU for over 20 years. She is a professor of mathematics and chair of the Department of Mathematical, Information & Computer Sciences (MICS).
"Professor, department chair, consultant, researcher, author, data analyzer, problem solver, counselor, and friend are just a handful of the many roles that Dr. Zack fulfills in a week's time at PLNU. Her experiences and organizational perspectives provide useful input and counsel for many university committees and assignments," said President Bob Brower.
Other friends and colleagues at PLNU have similar high praise for Zack. Mike McKinney, Ph.D., professor in the Department of Literature, Journalism & Modern Languages, speaks for many others who commend her.
"I know of no one who gives more of their time and soul to the college. I cannot overemphasize just how greatly the school relies on Maria's mathematical skills and their practical applicability," said McKinney.
Zack's early start in academics began at another San Diego university; she matriculated as an undergraduate student at UCSD when she was 16. She went on to finish writing her doctoral dissertation on her 25th birthday. Since then, Zack has been prolific in her research, publication, nonprofit consulting, teaching, and student mentoring.
Few students graduate from one of the MICS programs without Zack's positive influence. Keith Hubbard, Ph.D., is a great example.
Hubbard said, "I was lucky enough to take several of her classes and then have her mentor me through the process of undergraduate research and applying to graduate school."
Hubbard is now assistant professor of mathematics and statistics at Stephen F. Austin State University. He added of Zack, "She continues to give me support both professionally and spiritually now that I am a professor."
Zack has a passion for nurturing university students in their vocational endeavors. She served as PLNU's liaison with the Network for Vocation and Undergraduate Education (NetVUE), an organization that grew out of work funded by a Lilly Endowment grant to explore the theology of vocation. Zack promotes a multi-faceted view of vocation, in which students might go on to a lifetime of many, varied accomplishments in work and ministry and in which work and ministry overlap. She herself is testimony to this perspective.
In addition, Zack has been involved in medical missions for many years. She has been a trustee of the Medical Benevolence Foundation, an organization that helps impoverished nations such as South Sudan develop thriving indigenous medical services. Zack also consults with other nonprofits, aiding them in vision development and team building. She has been involved with San Diego-based Plant with Purpose since it was founded in 1984.
With all the work she does, it's hard to imagine how Zack finds time for adventure. But she does. She and her husband, Randy, love to travel. Their involvement in mission work provides opportunities to spend time overseas. They also like to get out to just enjoy creation, recently completing a National Geographic-led trip to Alaska. Another favorite adventure was their trip to South Australia's Kangaroo Island.
Zack says she prefers to see all of life, every day, as an opportunity. She's always on an adventure, seeking to analyze and respond to life in a way that honors God and blesses others.
Colleague and professor of history Rick Kennedy, Ph.D., put Zack's blessings into perspective.
"She models the ideal of a Christian college rooted in faculty who are intellectuals in the best sense of the term. To be around Maria is to be inspired by her intellect as it is channeled into service to students, campus issues, and the work of the church. When I listen to Maria, I hear more than the particular words she is speaking. I hear an academic vision for why Christian colleges need to exist."