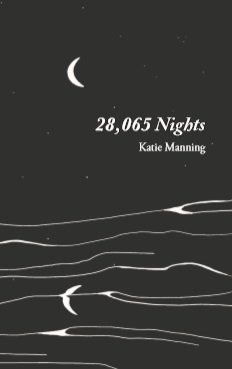 Katie Manning has written a new chapbook, 28,065 Nights. 
This chapbook of prose poems explores the ways stories connect us, even, or maybe especially, after death. 
Manning reflected on her website, "I've been writing a series of prose poems to/about my Granny, and '28,065 Nights' was the first one of them to be published. The title refers to the number of nights my Granny was alive. These poems are hard to write, but I need them."
Katie Manning's 28,065 Nights honors a beloved grandmother after her passing. In this work, the title of which evokes Scheherazade, stories are crucial, providing both a well and a path for the poet. Manning sifts grief and love to uncover a treasure trove of objects, sense memories, and tales that, in effect, resurrect a body for the lost that those who remain can hold on to and keep. Throughout, the poet carves precise and honest lines with perception, grace, and palpable love.
—Marjorie Tesser, editor-in-chief of Mom Egg Review  
The chapbook was published in September 2020 by River Glass Books. To purchase a copy, click here.
---
Katie Manning is a professor of writing at PLNU and the founding editor-in-chief of Whale Road Review.
For more info about Katie Manning, visit her website, katiemanningpoet.com