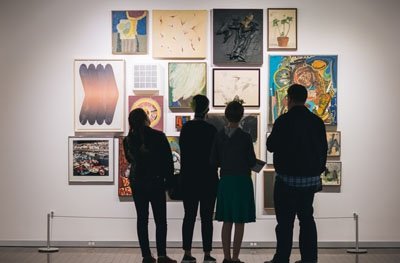 You Are Here
Central Library Art Gallery
February 10–May 6, 2018 | San Diego Central Library Gallery
 
You Are Here exhibit celebrates the creative energy found within San Diego-area higher education art departments and shifts that energy off campus to the Central Public Library. Tweaking the tried-and-true model of an on-campus exhibition gives the general public easy and free access to the talents of local teaching artists and their emerging-artist students.
 
Works on view are as diverse as the studio art practices at the schools, created by instructors and students working in a range of mediums such as painting, mixed media, ceramics, and photography. The show includes 26 artists representing 13 schools.
 
The following artists and schools have participated in "You Are Here": David Avalos and Martha Gil, California State University - San Marcos, David Adey and Matthew J. Mahoney from Point Loma Nazarene University, Matthew Hebert and Liz Koerner from San Diego State University, Monique van Genderen and Maya Grace Misra from University of California, San Diego, Brianna Rigg and Bryan Reid from University of San Diego, Jennifer Anne Bennett and Christian Garcia-Olivo from Grossmont Community College, Xuchi Eggleton and Larissa Lopez from Cuyamaca Community College, Siobhán Arnold and Benjamin Poarch from MiraCosta College, Sasha Koozel Jonestein and Corina Bilandzija from Palomar Community College, Wayne Hulgin and Niki Ito from San Diego City College, Wendell M. Kling and Tim Penney from San Diego Mesa College, Jessica McCambly and Hanna Hunter from San Diego Miramar College and Perry Vasquez and Jorge Mendez from Southwestern College.