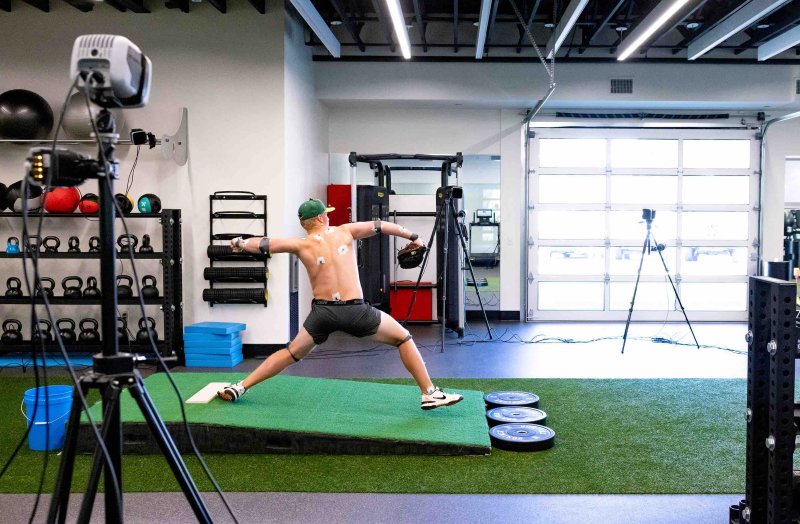 PLNU's pitching lab hosted members of the American Baseball Biomechanics Society (ABBS) as part of Major League Baseball's Winter Meetings in San Diego in December. Attendees witnessed PLNU's biomechanics technology in action with live pitching demos by college athletes. They also met PLNU grad students and faculty, listened to a panel that included biomechanists from MLB teams, and networked over tacos and coffee.
The pitching lab is run by Arnel Aguinaldo, Ph.D., ATC, associate professor of kinesiology at PLNU. Aguinaldo is well known in the rapidly growing field of baseball biomechanics. He and his graduate students study how pitchers' movement patterns can improve performance and reduce the risk of injury. Aguinaldo and his students have published their research and assisted athletes and coaches from college to the professional levels with their analysis.
One of Aguinaldo's graduate students is Taylor La Salle. La Salle came to PLNU for his Master of Science in Kinesiology already having a master's in exercise physiology. What convinced him to return to school for a second master's was the chance to work with Aguinaldo.
"Within weeks of joining the program, we were motion capturing the Point Loma baseball team," he said. "Within months, we were working with Major League Baseball teams." Hosting an open house of the pitching lab for a professional team helped Aguinaldo and La Salle decide to invite teams and members of the ABBS to a similar event during the Winter Meetings.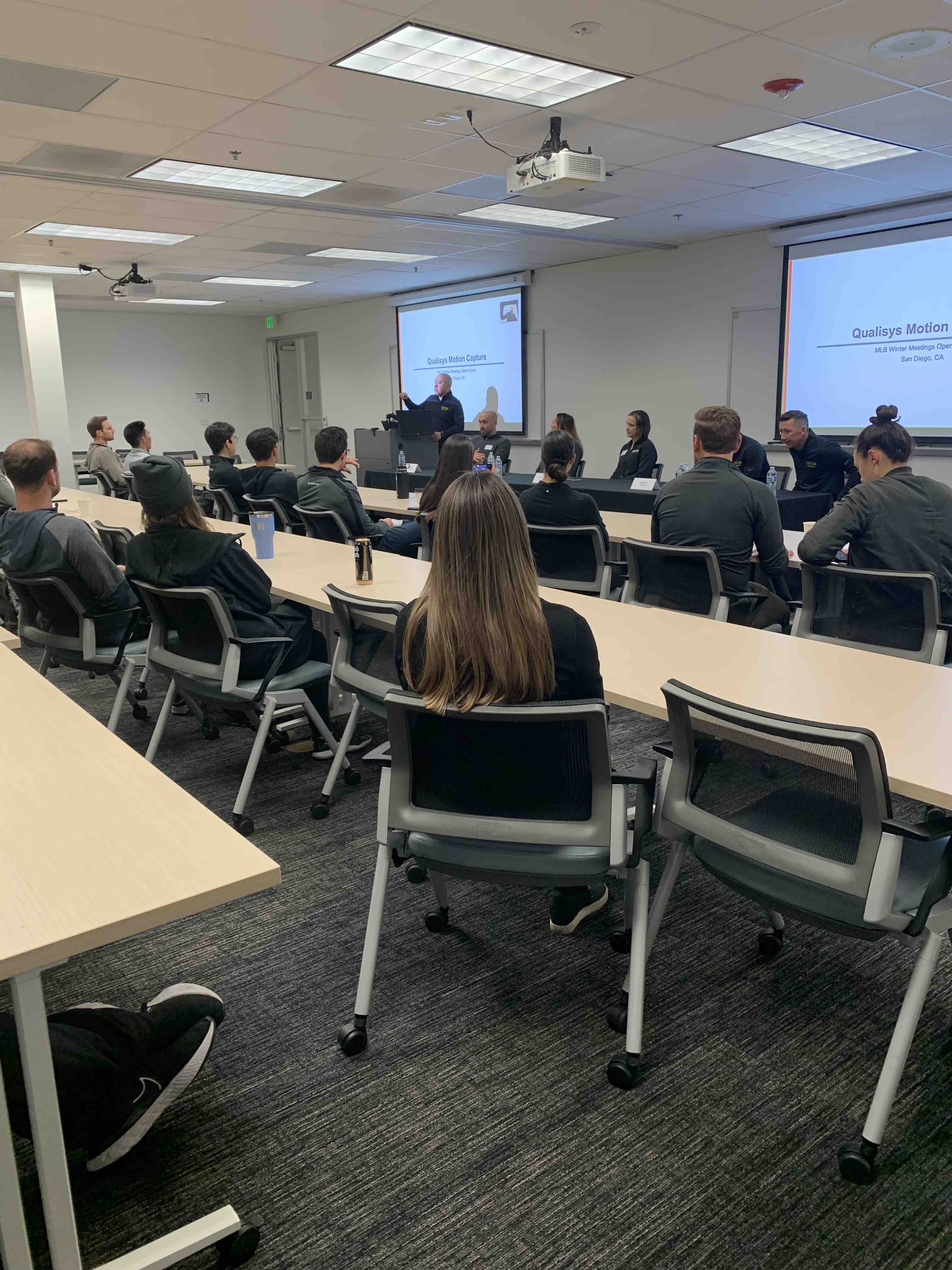 Also working in the pitching lab and at the event as a grad student was Baxter Halligan. After helping take PLNU's baseball team to the NCAA DII College World Series as a pitcher last year, Halligan is working on a master's in sport performance. He is also serving as an assistant coach for PLNU's baseball team.
Having been studied using motion capture technology while he was an undergraduate pitcher, Halligan appreciates the nuances involved in sequencing the feedback from the technology.
"We have an opportunity to get hands-on experience in the lab and doing motion capture post-processing," he said. "Understanding how having each segment of the body firing in the right order can both prevent injuries and improve performance."
Although the ABBS event showcased the way PLNU's technology can help athletes, biomechanics can also be used in many other applications. For example, PLNU alumni Avery Takata (B.S. 20, MSKIN 21) and John Collins (04) are biomechanists at Rady Children's Hospital. In their motion analysis lab, they help children with neuromuscular disorders. They also work with orthopedic surgeons and help young athletes with injury prevention and rehabilitation.
Point Loma's pitching lab is located at PLNU's Balboa Regional Center as part of the College of Health Sciences. The ABBS event was sponsored by Qualisys and AMTI, two companies whose technology helps make the PLNU lab cutting edge. Qualisys makes motion capture sensors and cameras while AMTI provides force plate technology.