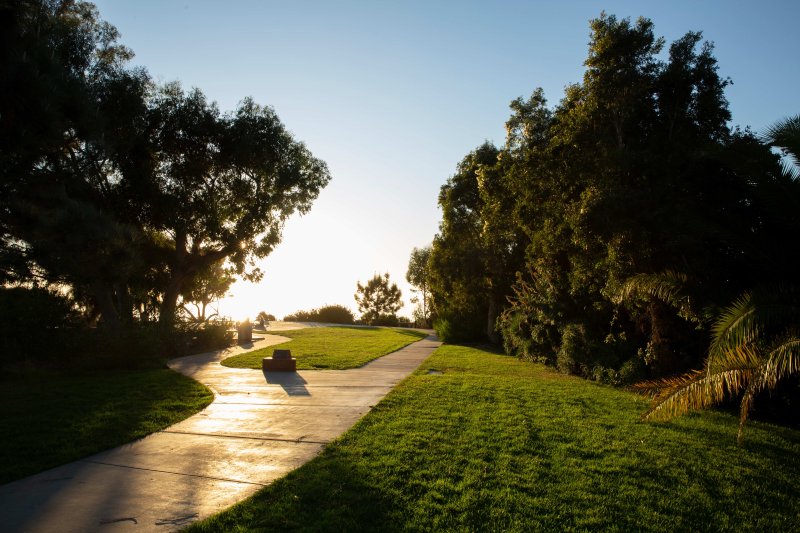 Point Loma Nazarene University has received a $1,000,000 research and development grant from Lilly Endowment Inc. to study and further the practice of pilgrimage among young people. The grant is funding efforts at the university's School of Theology & Christian Ministry and its Pilgrimage Innovation Hub.
This endeavor will (1) give dedicated attention to preparing congregations for youth-centered pilgrimages, (2) provide congregations with guidance and funding to pursue such pilgrimages, (3) conduct practical theological research on pilgrimage experiences, and (4) disseminate tools and resources to further the practice of pilgrimage in congregational life. Directed by Rev. Dr. Montague Williams, The Pilgrimage Innovation Hub at PLNU aims to make the theology and practice of pilgrimage a more accessible and meaningful component of youth and young adult ministry for congregations and Christian organizations across North America.
"Pilgrimage is not a new idea, and many Christian congregations and organizations already engage in some aspects of pilgrimage. However, there is much room to deepen and innovate the way it is done, where it is done, who gets to participate, and how it impacts the overall life of faith communities," says Williams, PLNU Professor of Church, Culture and Society. He adds, "The pilgrimages we curate with congregations will prioritize young people's questions and experiences, and they will emphasize the intergenerational pursuit of what Martin Luther King, Jr. often called the beloved community."
Lilly Endowment made the grant through its national Strengthening Ministries with Youth Initiative, which seeks to encourage and support congregations and other youth ministry organizations in designing and testing new models for ministries with middle and high school youth (ages 12 to 18). 
Building upon the findings introduced in Williams's 2020 book, Church in Color, and his article in the journal Religious Education, "Holy Communion on Canfield Drive," the various pilgrimages will focus on helping young people engage Christian faith in light of complexities related to family stories, congregational origins, neighborhood contexts, identity, race, immigration, poverty, collective social trauma, environmental sustainability, and vocational discernment. In fact, the places engaged can range from well-known international pilgrimage sites to local sites of historical significance to often overlooked places in a congregation's neighborhood. The particularities of each pilgrimage focus will depend on the interests of young people in a given congregation.
Twelve congregations will be invited to participate in the study. Along with receiving training in theology and practices of pilgrimage, the pilgrimage leaders from the congregations will gather together at PLNU and participate in a border pilgrimage that engages questions related to immigration experiences and policies along the San Diego-Tijuana border. 
Each congregation will be guided to create at least one meaningful pilgrimage that connects with one or more of the following categories Williams has developed:
Engaging race, racism, and racial identities
Parents and teens journeying together
Embracing agency in church and society
Marking milestones
Faithful re-membering
Place-making in the neighborhood
This project will narrow in on pilgrimage as a central practice that has the potential to reimagine and strengthen the way youth ministry is done. While the initial beneficiaries of this project will be the twelve participating congregations, The Pilgrimage Innovation Hub will produce tools and resources that can make an impact in many congregations and organizations beyond the research cohorts.
This research is fitting for PLNU, as pilgrimage has become a major interest on campus. There have been several justice-oriented pilgrimage opportunities for students that have emerged over the last decade, including a South African Pilgrimage, a Civil Rights Pilgrimage, and a Border Pilgrimage program. Participants in the The Pilgrimage Innovation Hub will benefit from PLNU's commitment to pilgrimage, and they will help generate a meaning-filled pathway for young people to experience deepened connection to God, community, and a life of purpose.
If you know of a congregation that has interest in being a part of this project, you can contact Dr. Montague Williams at montaguewilliams@pointloma.edu.