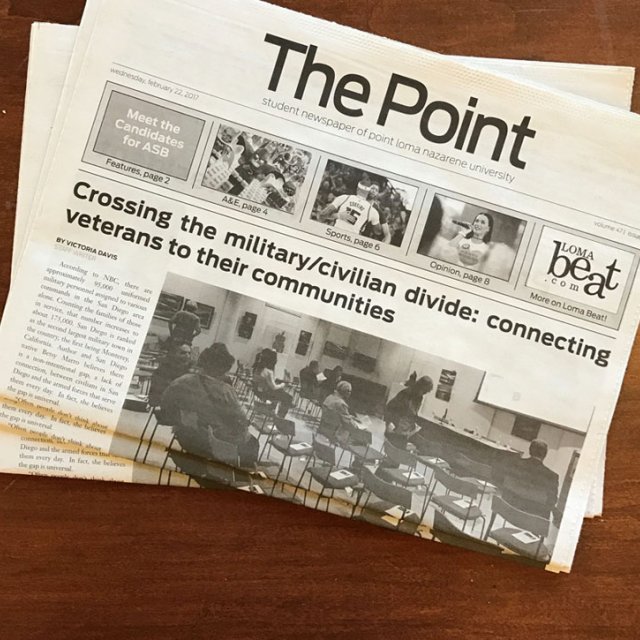 Do you long to see your writing, art, or design printed and published? PLNU boasts several distinct student publications to which you can submit your work for publication. Expand your portfolio and create a conversation on campus with the message your work conveys.
What are the PLNU campus publications?
The Point
The Point, PLNU's campus newspaper and website, is a student-run publication that keeps students, faculty, and staff up-to-date on campus happenings, from the latest on-campus events to the most compelling student stories. It provides a hands-on opportunity for students to inform the campus community. The paper has won several awards from the San Diego Society of Professional Journalists, the San Diego Press Club, the Evangelical Press Association, and the Associated Collegiate Press.
Driftwood
Driftwood is PLNU's creative arts journal, published every spring, that seeks to provide intellectual engagement and creative exploration. Students are encouraged to submit art, film, music, non-fiction, photography, and poetry works for publication.
The Mariner
The Mariner, PLNU's annual yearbook, comes out every spring. Senior ads for the 2019-2020 yearbook can be purchased through The Yearbook Company.
Loma Beat
Loma Beat, PLNU's online news source, combines the efforts of Point TV, The Point, Point Radio, Driftwood, and The Mariner.
Why should you join this on-campus creative community?
Students who get involved will have the benefits of:
Getting your work published
Expanding your portfolio
Communicating a message with your peers
Building relationships with your fellow artists and designers
Kicking back at historical movie nights
Attending discussion dinners where you can present your research and broaden your knowledge of history