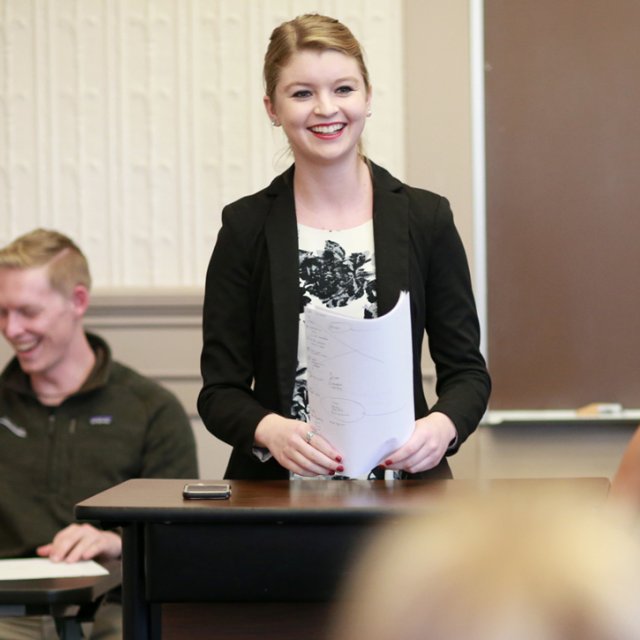 Welcome to PLNU Speech and Debate!
With an overarching goal toward advancing Christian principles and ideals, we strive to develop each student's full potential as a self-confident, organized, critically aware public speaker capable of competent self presentation of original or interpretive concepts and/or material in public or private settings, and to represent PLNU in the intercollegiate speech community in the highest manner possible.
Recent Team Highlights
PLNU continues to excel in the NPDA (National Parliamentary Debate Association) debate format, one of the most widespread and competitive formats in intercollegiate debate.  Through Spring of 2019, Point Loma's debaters have won the National Championship for the Year End, Nationwide Sweepstakes race in 5 of the past 17 years.  The school remains in First Place by a wide margin when counting how each school has fared in this nationwide ranking since the NPDA started keeping such year-end results approximately 25 years ago, frequently finishing in one of the top five spots in the nation.  In 2020, PLNU has consistently been ranked as one of the top three schools in the nation, with a tight race coming down to the end of the year as of the time this note was written.
In 2018-19, Point Loma became more active in a newer format of debate called IPDA  (International Public Debate Association), and though it has not really caught on as much on the West Coast, PLNU finished that year in Fourth and Fifth Place for IPDA in the national sweepstakes race, and for overall Sweepstakes at the National Championship in Shreveport, Louisiana.  We were fortunate enough to have one of our students, a Junior named Nathanial Hosmer, win Top Speaker in the National Championship Tournament in both Individual and Team IPDA divisions for the Senior Debaters, the only two types of competition offered at the tournament. PLNU is enjoying another strong season in IPDA debate in 2020.
Our speech and debate teams have a strong tradition of competitive excellence, and the future is looking bright.  We hope that you will be a part of this life empowering activity. Please contact us for details about the team and scholarship opportunities.
Historical Standings
Latest NPDA Results
PLNU's NPDA Debate Accomplishments Through 2017
For more information about PLNU's Speech and Debate team and forensics scholarships, contact Dr. Skip Rutledge.
Hosted Tournaments and Camps
The PLNU forensics squad will be hosting several tournaments on the PLNU campus in the coming year.
Sunset Cliffs Classic
The PLNU forensics squad is pleased to invite you to our annual Sunset Cliffs Classic 2020 Invitational tournament. The tournament will be held February 8 – 9, 2020. We hope you can come enjoy our beautiful seaside campus and the typically sunny weather.
Point Loma Classic
On Thursday, January 9 through Saturday, January 11, 2020, PLNU welcomes the Christian home school community to the 2020 Point Loma Classic, a Stoa home school forensics speech and debate tournament.