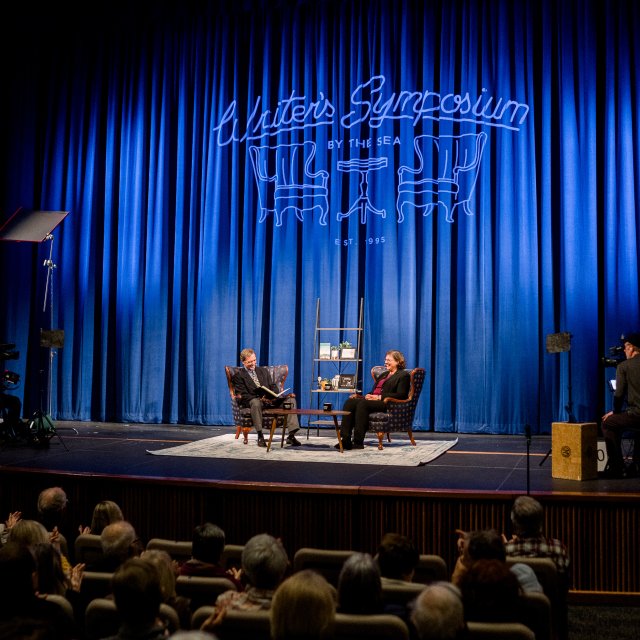 Writer's Symposium by the Sea is an annual event that brings interviews with innovative creators, life stories, examples of great writing, and evocative conversation to PLNU that inspire readers and writers alike. Past guests have included Ray Bradbury, Anne Lamott, Philip Yancey, Dave Eggers, Amy Tan, Bill McKibben, Donald Miller, George Plimpton, and many more.
The evening interviews, conducted by symposium founder Dr. Dean Nelson, feature lively conversations about the stories behind the author's stories. As a member of the audience, you will get to eavesdrop on these exchanges and perhaps even interact with the writer during a Q&A session. Specialized afternoon workshops, conducted by published writers, provide tips and insight into the writing process. You are invited to join us and listen in on what some of today's cutting-edge writers have to say!
27th Annual Writer's Symposium by the Sea
Join us February 22-25 for interviews with award winning writers David Brooks, Nadia Bolz-Weber, and Cornel West. 
For more information about this year's writers and ticket details, click here.
2021 Writer's Symposium by the Sea
2021 events featured writers from Point Loma Nazarene University. Click here to watch interviews, discussions, and workshops from the 2021 Writer's Symposium by the Sea. 
Follow the Symposium on Social Media 
Join the Mailing List
Please join the mailing list for the Writer's Symposium now to stay updated on this year's event!
Become a Friend of the Writer's Symposium!
To maintain the symposium's high-quality programming, we need your help to meet our yearly goal of $50,000 in donations. Please consider partnering with Writer's Symposium by the Sea by giving a tax-deductible donation. Every gift counts, no matter the size. Friends may give a one-time donation or an ongoing monthly gift.
For more information about donating to the Writer's Symposium, please contact giving@pointloma.edu or click here to make your donation today! 
Thank you for your support.
Watch Archived Interviews
Thanks to our partnership with UCSD-TV, you can watch previous interviews from Writer's Symposium by the Sea at ucsd.tv/writers. Interviews include conversations with Alice Walker, Kareem Abdul-Jabbar, Anne Lamott, Rachel Held Evans, Eugene Peterson, and more.
Images of Past Symposiums