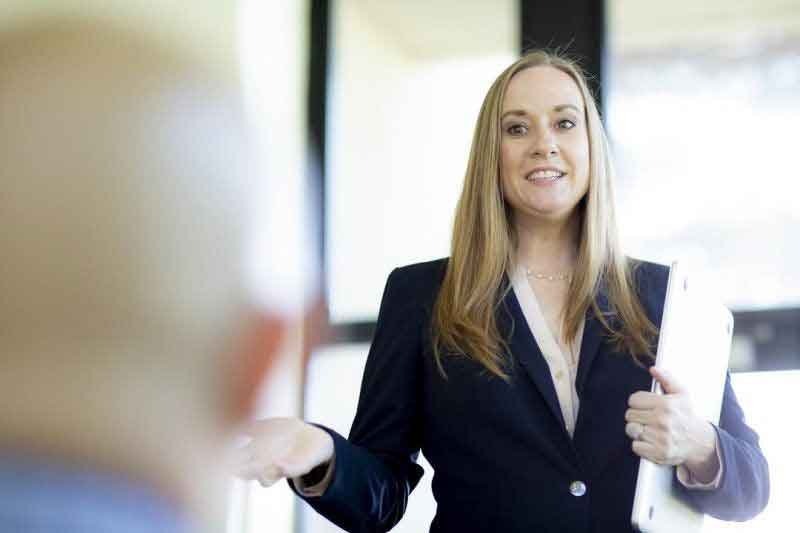 A Bachelor of Arts in Strategic Communication covers one of the most versatile, relevant areas of study in today's workplace. It's the ideal subject for engaging with clients, advancing in your career, and developing a deeper understanding of how people interact in a professional environment.
Whether you're seeking to grow your career in business, qualify for a new role, or diversify your understanding of media and communication, here are some ways a B.A. in Strategic Communication can equip you to succeed.
What is Strategic Communication?
In her TED Talk "It's Not Manipulation, it's Strategic Communication," Keisha Brewer, CEO of the PR Alliance LLC, defined strategic communication as "communicating the best message through the right channels measured against well-considered organizational and communications-specific goals."
In practice, strategic communication involves communicating with purpose while showcasing value in order to achieve a goal. Identifying your goal — determining what message you want to convey — is the first step. Next, it's crucial to conduct research to understand your audience and inform what form and strategies your message should employ. Then you can express the value of your goal and come to a mutual agreement. This form of fine-tuned, tactical communication is clearly useful in advertising and sales, but it also has abundant uses within a business or organization.
Brewer said she uses the same communication skills in life as she does in workplace conversations. She explained that you can create a situation in which the other person can organically express their values, you express your own interests, and then see how they mutually align.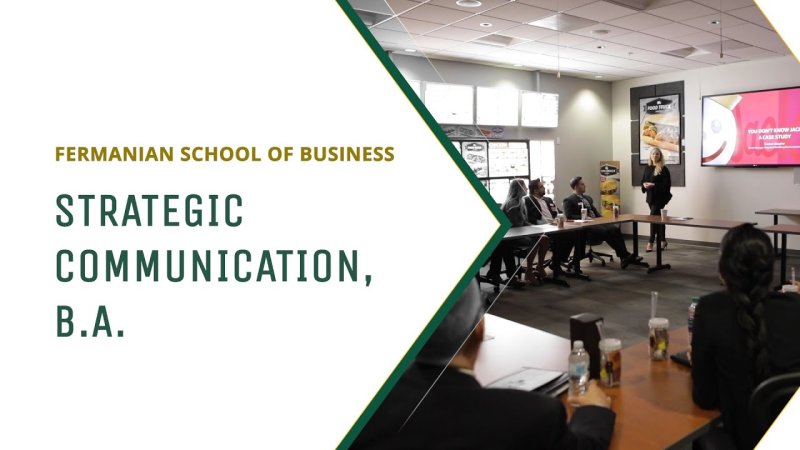 Practicing strategic communication isn't about manipulating potential consumers — rather, it's based on an understanding of needs and creates mutually beneficial situations.
What skills will I learn with Strategic Communication?
The Forbes article "Five Components of a Successful Strategic Communications Plan" explains the key factors involved in a successful plan to communicate with your target audience. Elements of this plan include determining your audience, your purpose for communication, and the forms and platforms you'll be using to reach them.
Although there are many factors to consider while forming your plan for communication, a degree in strategic communication can help you establish and achieve your professional, social, and personal goals.
Navigating the ever-changing digital landscape can be challenging. But in the strategic communication program, you'll learn the foundational theories of communication, how to apply those theories successfully, and how to develop your own communication strategy. Courses like media and society, communication and culture, and digital communication can help you to become more adaptable and well-informed about trends, platforms, and technologies. This will also help you create effective strategies that resonate with a wide viewership.
Classes like gender, public relations, and cross-cultural communication give you the tools to grapple with societal issues and help create a well-rounded, inclusive communication strategy. This also informs public relations career paths and helps communicators broaden their audience.
Topics like interpersonal communication, organizational communication, and persuasion are also vital and versatile skills that any professional could use in nearly any workplace. 
What jobs and salaries can I qualify for? 
Since every business needs communicators, a strategic communication degree can lead to an abundance of professional opportunities. Indeed.com's list of "12 Careers in Strategic Communications" detail several promising career paths.
Entry-Level Positions
Social media managers and communications officers are some of the most accessible positions you can earn with this degree. They create online content that helps shape a company's online brand and advertising, typically through traditional social media platforms. These jobs earn an average of $45,512 to $46,688 per year.
Communications consultants will help advise companies on delivering effective content while maintaining a positive public image. They earn an average of $49,920. 
Specialist Positions
SEO managers, who help ensure companies' digital presence is optimized for search engine visibility (SEO), are seen more as specialists and earn $79,100 on average.
Directors of public relations help shape and distribute materials about an organization's image. Their crucial role includes curating a positive image and supervising others in the organization to help maintain their standards. They earn $60,512 on average.
Digital strategists also help shape a company's image but create online materials and promotions to heighten public awareness and engagement with their brand. Their average salary is $60,854.
Research analysts, analyze and validate data for a variety of uses, including devising ways to expand an organization's reach and evaluate the effectiveness of their communicative efforts. Political analysts similarly research a variety of data and public opinion but also consult with government officials and media agencies to help improve messaging. Their salaries average between $64,750 and $68,180.
Senior Positions
Marketing directors and creative directors are some of the high-seniority positions available. Marketing directors manage and oversee brand identities, accounts, or major departments. They might also manage budgets and analyze market data to plan a successful brand identity. Creative directors also oversee a brand's reach but conceive of creative, in-demand advertising campaigns and marketing materials. The average for these jobs ranges from $84,930 to $92,715.
Strategic Communication degree at PLNU
PLNU's strategic communication program offers a cumulative, ethical understanding of communication while creating essential connections with industry leaders in San Diego. A required internship ensures that you have the opportunity to practice your professional skills while receiving support and advice from PLNU's professors and academic advisors. PLNU's program incorporates a strong attention to ethics in its study of media, which helps students to shape a brighter future for communication. 
This bachelor's degree completion program is perfect for busy, working adults. As the program is 100% online, you can complete the course at your own pace while balancing work commitments, family responsibilities, and every other aspect of your life. There are six start dates year-round, so you can choose the class schedule that works best for you.