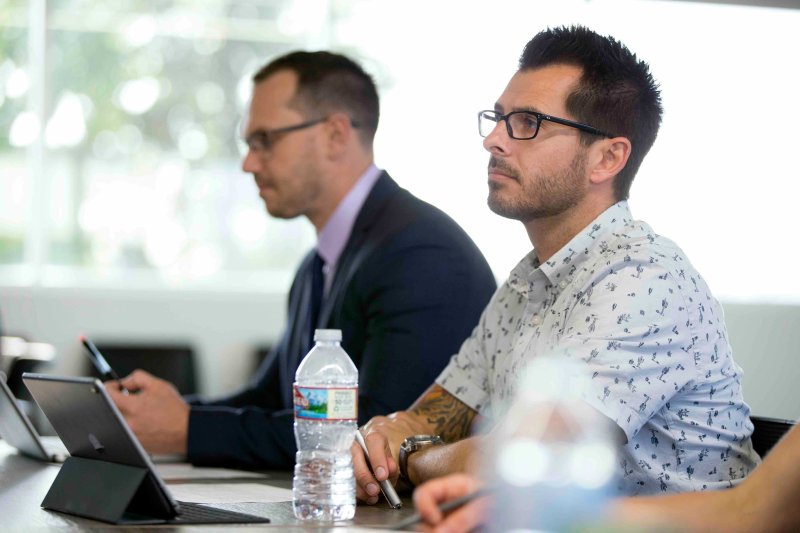 Four-year undergraduate programs have much to offer, but they are certainly not a one-size-fits-all approach to higher education. Whether you're returning to education or looking for an alternative to a traditional undergraduate experience, the adult degree completion (ADC) program at PLNU may be the perfect way to further your education at a pace that works for you.
Erik Ekdahl, who has served as an ADC admissions counselor at PLNU for three years, explained why an adult degree completion program may be the best path to earning your bachelor's degree.
San Diego Community College Partnerships
PLNU's key approach to ADC is investing in partnerships with community colleges. ADC is designed to pick up where community college courses stop.
"Adult degree completion is a way for students comfortable with the community college experience to continue on to get their bachelor's degree," Ekdahl explained.
The adult degree completion program helps students to earn the rest of the units required for a bachelor's degree, whether they're taking the last 36 units with ADC after taking community college lower-division and general education classes, or taking 60 units to complete rewarding programs like the bachelor's in business administration.
PLNU partners with community colleges and offers classes within community college classrooms. These include Cuyamaca College, Grossmont College, MiraCosta College, Palomar College, San Diego City College, and Southwestern College. They also offer classes at PLNU's Mission Valley campus and online.
"PLNU's ADC existing in the same space as the community college really helps students continue in that comfortable environment," Ekdahl said.
__________
Become who are you called to be
Pursue your purpose at PLNU.
__________
These partnerships create a seamless transition between community college and PLNU classes, and PLNU's outreach and collaboration with these locations help ensure students that they're taking the best courses to earn their bachelor's degree.
Affordable Degree Completion Programs at PLNU
One of the largest benefits of adult degree completion is the reduced costs of programs. ADC classes are typically less than half the price per unit of traditional undergraduate classes. "ADC uses a lot of the same professors, and similar experiences as [PLNU's traditional] undergrad [programs]," Ekdahl said. "It's the same faith-based institution and fosters a caring relationship between professors and students."
Most of the professors are from PLNU's undergraduate campus although the ADC program occasionally utilizes the professors from the community college.
For information about tuition and fees for the adult degree completion program, click here.
Who is a Degree Completion Program For?
In addition to more affordability, the adult degree completion program is ideal for people with busy schedules.
"For some, traditional undergrad works really well," Ekdahl said. "For others, ADC provides a flexibility that works better. No five-day weeks of classes, and oftentimes people take only two classes at a time."
For people with lots of family engagements, kids, or strict work schedules, traditional undergraduate schedules just aren't feasible.
ADC offers flexible options. Classes are often on quad schedules; each quad is eight weeks (two quads constitute a semester). Many programs are offered in hybrid format, featuring both in-person and online components. PLNU hosts night classes and special events at the community college locations.
With both in-person and online courses, PLNU stresses interactivity and connectivity.
"I've seen many professors give out their personal emails or phone numbers to students," Ekdahl said. "That personal communication really helps build a sense of community."
"I've seen many PLNU professors give out their personal emails or phone numbers to students. That personal communication really helps build a sense of community."
How to Choose an Adult Degree Completion Program
PLNU's ADC program offers a great variety of majors that suit many different career paths. These bachelor's degree programs include:
Whether you're looking to improve your understanding about your field, earn more, or take a decisive new direction in your career path, ADC is built to help students of all ages find new opportunities.
"I see a lot of entrepreneurs, corporate ladder climbers, and people interested in pursuing teaching through child development," Ekdahl said.
The ADC program pays special attention to the individual needs of each career type. The child development degree features internship and observation hours incorporated into the program, and PLNU's connections help student educators find classroom experience. The RN to BSN program helps practicing nurses earn their bachelor's while working around their demanding shift schedules. The business administration and organizational leadership programs help students apply the course material directly to their current job situations.
Finish Your Bachelor's Degree at PLNU
For many students, an adult degree completion program can be the most practical, affordable and flexible option to earn their bachelor's degree. Take the next step to continue your education and better your career today! To learn more about the PLNU's adult degree completion programs offered, click here or connect with a counselor to ask any questions you have.