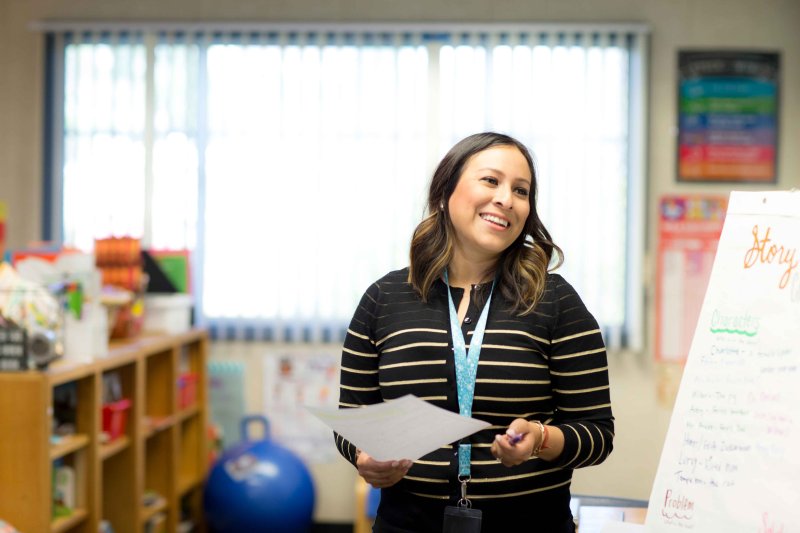 Are you passionate about helping children grow? Are you called to help ensure children are safe, happy, and well-educated? A career in child development can be one of the most rewarding and fulfilling career paths out there. With numerous opportunities in education, social work, and child care, you'll be able to pursue your calling and find a place where you belong.
Whether you're already working with kids or have a heart for helping children learn and develop, a Bachelor of Arts in Child Development can help you achieve new opportunities to make a positive impact on children's lives. Here are some of the reasons why you should consider PLNU's child development program.
What is child development?
Child development consists of children's growth in their educational, emotional, and social lives. Child development professionals take a supportive role for children from infancy to adolescence. It's important to understand children's development both at home and in school for a holistic understanding of a child's growth.
Topics studied include child and adolescent nutrition and health, development of children with exceptionalities, development of infants and toddlers, adolescent social development, and family systems and social change.
The purpose of child development and education
Early childhood education can have a significant impact on cognitive function and foundational social skills. Elementary-aged and adolescent students need guidance on self-regulation and conflict resolution. Children may learn these things at home but need extra support as they enter educational and social spheres.
Susan Rogers, co-chair of the Department of Sociology, Social Work, and Family Sciences at PLNU, explained that the overall goal for child development specialists is to be the "champion for children."
"Parents are the experts on their child," said Rogers, "but you don't really know your child until they're in a group."
As a child development student, you'll learn both typical and atypical development so as to meet the needs of all types of children and family situations. Therefore, you'll be able to encourage children who are developing comfortably, aid those who are struggling, and help find the best environment for each child.
__________
It's never too late to start your journey.
Pursue your purpose at PLNU.
__________
Although there's a large theoretical component, the program emphasizes practical learning and in-person training with children. Each child has complex family and social systems around them, and every child needs individual care and attention.
Why study childhood development?
Rogers explained many child development majors enjoy communicating with children, working with families, or find themselves naturally paying attention to others' parent-child interactions. 
"You'll thrive in this program if children are your people," said Rogers.
This program prepares students for teaching opportunities from early childhood to adolescence. Additionally, family assistance, counseling, sports coaching, social work, and children's ministry are some of the varied positions that would benefit from a B.A. in Child Development.
Child life specialists also benefit greatly from a degree in child development. These specialists are healthcare workers who play an important role in helping kids understand difficult situations. They may explain procedures to children or help them make sense of a family member's illness. Personability, emotional support, and understanding are key to this role.
"You'll thrive in this program if children are your people."
In short, if you want to help kids as a career, PLNU's child development program will give you the tools to successfully support children in whichever environment you end up in.
PLNU has a tight-knit partnership with elementary and secondary schools and districts in the San Diego area. Additionally, the PLNU Early Childhood Learning Center on the main Point Loma campus is a unique, built-in opportunity to work with young children.
The significance and benefits of early childhood education
Early child development is incredibly important to a person's educational, emotional, and social well-being. The Center for Disease Control and Prevention details major development milestones that each child should achieve by the age of 5 years old. With proper training, early childhood educators can provide invaluable support during crucial stages of a child's educational and social development.
Not only can educators encourage children's development, but they can also help to monitor or screen for learning disorders, developmental disabilities, or other exceptionalities. One in six students in the United States aged 3 to 17 has one or more developmental or behavioral disabilities. Often, these issues can be diagnosed late or not at all. Identifying these differences early can help educators, parents, and guardians identify a child's individual needs.
Learning how to recognize and help a child with trauma or at-home conflict can be very influential in their life.
"In my first year, I was able to catch a child with signs of neglect," said Rogers.
How to get a degree in Child Development
The bachelor of arts in child development adult degree completion (ADC) program is offered in both online and hybrid formats. Within the Hybrid formats, professors visit one of PLNU's partnering community college campuses two nights per week: PLNU Mission Valley Regional Center, Cuyamaca College, Southwestern College, and MiraCosta College. Students can take classes at the most convenient locations for them.
The hybrid program can be completed in as few as 15 months, and the online-only format can be completed at your own pace. Both programs are tailored to fit your schedule and aim to transform your passion into a vocation. For information about the similar four-year undergraduate program, the bachelor's in child and adolescent development, click here. 
One assignment tasked to ADC students, Rogers explained, is to create their own statement of ethics, which helps them establish their goals and develop their own professional voice. Students are able to reflect on their goals and experiences in a very personal, passionate presentation. Often, Rogers sees students overcome their initial hardships in the classroom (and their personal lives) and eventually turn them into strengths.
"It's so inspiring to hear their incredible hearts and stories," said Rogers. "It brings me such joy to see how they're going to change the world."
If you're interested in taking the next step in your career to help kids, apply today!
Click here for more information about the Child Development, B.A. 
Click here to learn about financial aid and student support.