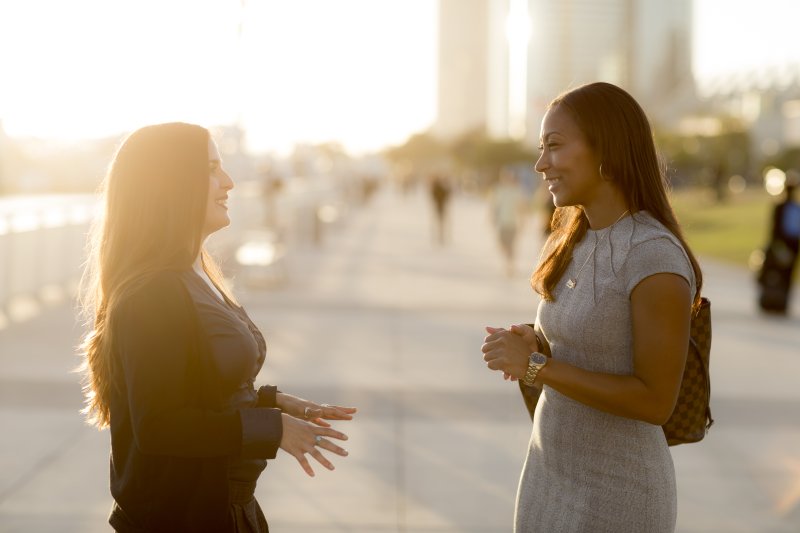 If you aspire to become a leader in the business world, a great way to start is to connect with an experienced working professional. In PLNU's MBA Mentorship program, you will do just that. You'll be paired with a mentor who shares similar career goals and interests as you and who will advocate for you both in and outside of the classroom.
What Is a Mentor?
Mentors are working professionals who guide, support, and advise individuals in the context of a supportive, personal relationship. Commonly established as more experienced members of an industry, these business leaders help their mentees navigate their occupational goals. Mentors assist with resume building, answer mentee questions, give insight into company culture, and much more.
The Value of Mentorship
Mentorship is an impactful way for emerging professionals to develop their talent through personal and relational support from a mentor. In this dyadic relationship, seasoned professionals share their internal expertise, successes, and past mistakes with their mentees. This curates a safe space for curiosity, goal exploration, and career guidance.
According to the National Library of Medicine, there are four primary functions of mentoring:
1. Providing psychosocial support
A mentor serves as a guide for mentees' values, behavior, and attitudes through role modeling.
2. Offering career guidance
Emerging professionals are often provided challenging work to practice newly learned skills. They also facilitate mentees' exploration of and reflection on their interests, abilities, and ideas.
3. Skill development
Mentees will be evaluated and supported through hands-on experience so they can engage in self-directed learning and goal-setting.
4. Sponsorship
Mentors acknowledge the achievements of mentees through advocacy and occupational support. This includes helping mentees network and resume-build.
This professional guidance is valued by both mentors and mentees. A 2021 survey distributed by the HR Research Institute reported that 68% of human resource professionals believe that mentoring is important. While mentors develop leadership skills and can receive tactical advice, mentees obtain professional knowledge and support. Mentors also serve as trusted allies for individuals entering the workforce.
According to a 2019 study conducted by the International Journal of Mentoring and Coaching in Education, individuals who sought mentorship:
Saw a significant increase in job search self-efficacy
Gained a more realistic view of their potential career options and the workforce
Received psychosocial support from their mentor
How to Find a Mentor
Mentorship opportunities are offered in various occupational and educational settings. Over 90% of Fortune 500 companies have mentoring programs. However, a study found that only 37% of employees have mentors. This emphasizes the value of mentorship opportunities offered in academic settings, as students can gain professional development skills in advance.
______
Who are you called to be?
Pursue your purpose at PLNU.
______
What is PLNU's MBA Mentorship Program?
The Master of Business Administration (MBA) Mentorship program at PLNU creates collaborative partnerships between experienced professionals and MBA students. As a graduate student, you'll be offered professional development opportunities from experienced leaders to educate and prepare you for your professional life.
Connecting With a Mentor
There are many PLNU business alumni who want to support current students, and many were once mentees, too! All students enrolled in the Daytime MBA program will be matched with a mentor before the academic school year. Students in the Evening MBA program have the option to be paired with a mentor. Regardless, all mentor-seeking students will be paired with a working professional who aligns with their desired industry, characteristics, and interests.
What You Do in the Program
The MBA Mentorship program corresponds with the academic school year, beginning in the fall and culminating in the following summer. With vocational development as a critical value for both the student and their mentor, PLNU's MBA career services commences the program each year with a welcome lunch followed by professional development events.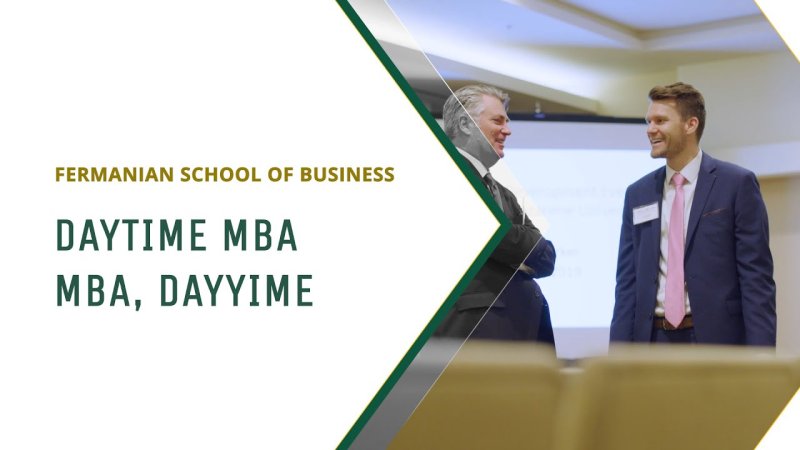 Bi-monthly, the MBA Mentorship program hosts "Mentor Meet-Ups" accompanied by vocational development and networking. These meet-ups provide a structured time to connect while honing career management skills.
MBA Mentorship Program Objectives
The Mentee's Role:
You'll maintain a growth mindset and learning attitude by seeing new opportunities through your mentor's insight. To implement this new knowledge in the classroom, you'll also collaborate with your mentor on class assignments and projects.
"[I get] precious recommendations, a person to go to when I need help, and someone close to me that does the job I'd like to do one day who can tell me what's best for me in that moment of my life."
— Chiara Palanca, Daytime MBA Student and Mentee
The Mentor's Role:
Mentors aim to educate you through strategic growth experiences; honing management and leadership skills. These professionals will guide you through genuine, self-aware and transparent authentic leadership.
"I believe mentorship and industry perspective is important to success. I find collaborating with bright, ambitious students inspiring. The mentorship program provides direction to ensure hardworking, well-prepared people meet opportunities to grow and succeed."
— Erik Rindfleisch (13), Senior Operations Program Manager at Quidel and MBA Mentor since 2018
Together:
This dyadic teamwork will provide a new outlook for both you and your mentor, boosting job satisfaction, confidence, and zeal. Together, you will:
Establish Specific, Measurable, Achievable, Relevant, and Time-Bound (SMART) goals and an action plan to work towards them.
Visit your mentor's office for a tour.
Connect with your mentor's network for informational interviews.
Receive guidance when searching for potential internships and/or job opportunities.
Review your resume, cover letter, and LinkedIn profile.
"PLNU's MBA Mentorship program aligns with what makes PLNU distinct overall, which is the quality relationships. The one thing that I hear consistently from our students is about the close relationships they have with faculty, students, and mentors."
— Jamie McIlwaine, Vice Dean and Professor of Marketing, Fermanian School of Business
Get Connected
If you've been looking for an MBA program in San Diego and seek professional guidance, consider Point Loma Nazarene University's Daytime MBA program or Evening MBA program. Through PLNU's MBA Mentorship program, you'll gain the confidence and skills for your next step in the business industry.