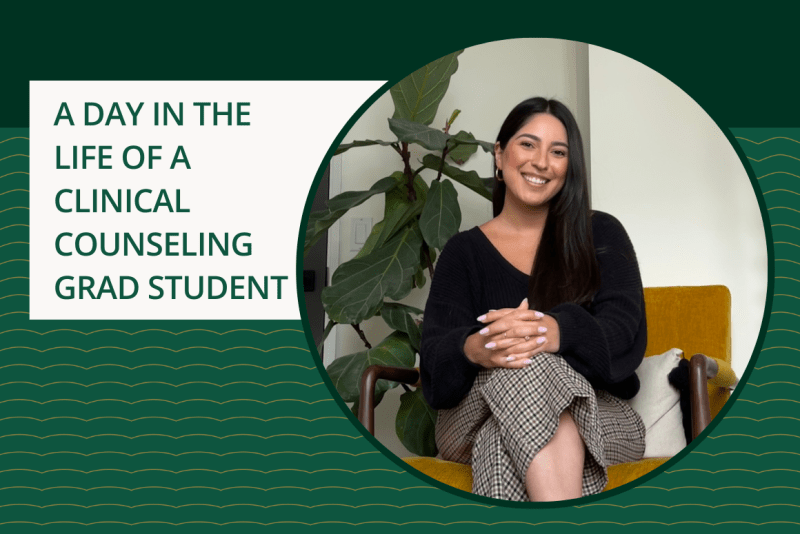 Aarika Sanchez takes us through a day in her life as a graduate student in the PLNU Master of Arts in Clinical Counseling (MACC) program. With start dates in both fall and spring as well as options for completing the program in two or three years, PLNU's MA in Clinical Counseling can be tailored to meet a variety of students' needs.
What is a clinical counselor?
At their core, a clinical counselor is a mental health professional. They enjoy working with patients in one-on-one or group settings in a variety of positions. Clinical counselors who graduate from PLNU's MACC program are immediately qualified to test for their licensure and work in roles like:
Private practice
Crisis centers
School and university wellness centers
University professor
Counselor to other therapists
Academic or career advising
The flexibility in job roles that this master's program offers is part of what attracted Sanchez to apply. After graduating from undergrad with a degree in business marketing from a large university, Sanchez realized she wanted to move into a job that focused on helping people. 
"I had heard of PLNU while I was still in undergrad and I knew it had a really great reputation," Sanchez said. "What I liked about the clinical counseling program is that it offers dual licensure paths in both LMFT and LPCC, and for someone like me going into it who didn't know which track I wanted to choose, it was really helpful."
LMFT and LPCC stand for licensed marriage and family therapist and licensed professional clinical counselor respectively. Many programs require their incoming students to choose which track they want to take classes for prior to starting coursework. With PLNU's program, students like Sanchez who are still figuring out which path they want to take can work towards a degree while making their decision.
For Sanchez, the flexible start dates made it easy for her to shift to a career in counseling even though her undergraduate degree wasn't related to a traditional psychology field. 
What does a typical day look like in the clinical counseling graduate program?
Sanchez has entered the second phase of her program where she is working through clinical hours with real clients. Additionally, she has to balance a full course load of classes, so time management and organization are key for her.
"I am a morning person, so on a typical day I'll wake up around seven or eight and eat breakfast," Sanchez explained. "I try to incorporate some self care in the morning before the day gets busy. It helps me get into the right mindset. And then it's a lot of reading textbooks and doing assignments. I'll take some time for lunch and go for a walk or read a non-academic book to break up the day." 
As a student moves through the MACC program, their academic schedules will vary. The first portion of the program is focused on education and classroom learning, with students in class twice a week. Sanchez noted that during this early portion of the program, many of her classmates were able to maintain part-time jobs or work remotely. After completing this initial coursework, students start pre-practicum work followed by full practicum hours. 
During pre-practicum, Sanchez and her classmates continued with their courses twice per week with the addition of a single therapy client. While working with this client, Sanchez and her cohort are also taking a course where they share about their sessions with their respective clients and discuss best practices with each other to improve the experience.
"For me, the best part of practicum is the application," Sanchez said. "You're learning so much, it's nice to be able to apply it and then talk it over with your professor and classmates who are also going through the same kind of work." 
How do you become a clinical counselor?
In addition to earning a master's in counseling, anyone who is interested in becoming a clinical counselor needs to meet a certain amount of clinical or practicum hours. They vary by state but usually include around 3,000 hours. These hours qualify them to take the licensing exams for both LMFT and LPCC roles. Sanchez and her classmates are currently in this phase of the MACC program, working with clients at clinical sites on a full-time basis. 
Every year PLNU hosts a practicum fair for its MACC students where they can learn more about potential clinical sites and other partnerships that PLNU has connections with. Students are given a list of sites represented ahead of time and encouraged to research which ones they would be interested in. On the day of the fair, students can speak with these sites in person and learn more about what kind of population they serve and the types of therapy theories they support. 
"I loved the way Point Loma set this up for us. I know a lot of people in other programs who have to find sites on their own to fulfill their clinical hours but the way PLNU does it is really great. It took off a lot of the stress," shared Sanchez.
Once Sanchez has met her clinical hour requirements and graduated with her degree she'll be able to decide which track of professional counseling she wants to pursue. 
Take the next steps to become a clinical counselor
While the journey to becoming a clinical counselor looks a little different for everyone, the best place to start for most individuals is with education by earning a degree from an accredited university like PLNU.