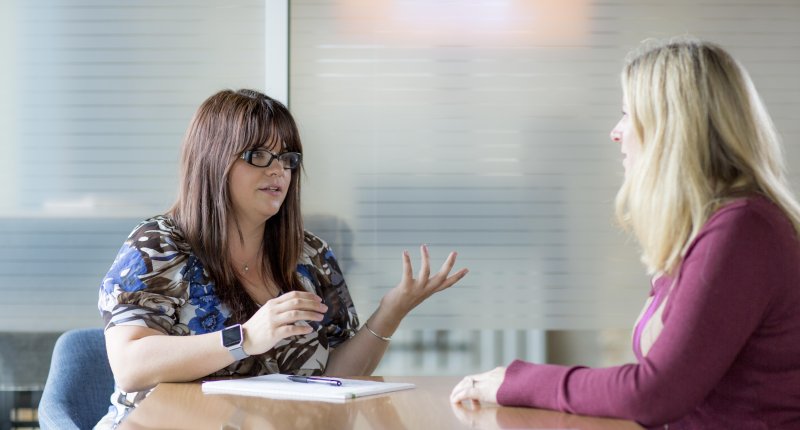 Family is considered the most basic unit of society, thought of as the first form of community and government. Michael Novak, a well-respected philosopher, famously considered family as the first, best, and original Department of Health, Education, and Welfare. 
When a family's behavioral patterns negatively affect an individual member, professional therapy can help a need for support arises. In marriage and family therapy, the treatment plan not only serves the individual but the entire family unit. This is where licensed marriage and family therapists can step in. 
Here's everything you need to know about becoming a licensed marriage and family therapist (LMFT).
What is marriage and family therapy?
Marriage and family therapy uses different types of therapy to support clients. One is solution-focused brief therapy (SBFT) with achievable therapeutic goals, and is customized to fit the "end in mind" meaning a reconciled family unit that works together to solve their problems. 
Another more common therapy MFTs use is Cognitive Behavioral Therapy (CBT). CBT supports patients by identifying unhelpful or harmful patterns or ways of thinking and finding new thinking patterns.   
Marriage and family therapists handle a wide array of serious clinical problems, which include: 
Depression
Anxiety
Marital issues
Individual psychological problems
Complications surrounding the parent-child relationship
And more
Essentially, licensed marriage and family therapists (LMFTs) are mental health professionals and practitioners trained in psychotherapy and family systems, with clinical practice experience averaging 13 years.
LMFTs are licensed to evaluate, diagnose, and treat mental and emotional disorders, health issues, behavioral issues, and a wide range of relationship dynamics within the context of couples, marriage, and family systems. Their training enables them to use the lens and context of family dynamics to understand people. 
__________
Who are you called to be?
Pursue your purpose at PLNU.
__________
In some cases, studies show that marriage and family therapy poses better results than individual therapy for mental health problems such as:
Adult schizophrenia
Affective or mood disorder
Adult alcoholism
Drug abuse in adolescents and adults
Conduct disorders in children
Anorexia in young adult women
Childhood autism
Chronic physical illness in adults and children
Marital distress disputes
Why do we need marriage and family therapists?
Several studies indicate marriage and family therapy's success and effectiveness in treating various mental, emotional, and health disorders, such as adolescent drug abuse, alcoholism, depression, obesity, dementia, and marital conflicts.
Research also suggests that clients were highly pleased with the services of their marriage and family therapists. Almost 90% of clients report a significant improvement in their emotional health, and nearly two-thirds attribute it to developments in their overall physical health. 
Over three-fourths of clients undergoing marital/couples therapy reported an improvement in the couple's relationship. And nearly 74% of parents with children identified as patients also reported an enhancement in their behavior, sociability, and overall school performance. 
Studies repeatedly indicate marriage and family therapy's success and effectiveness in treating various mental, emotional, and health disorders. 
The treatment even showed effectiveness beyond the family's confines as clients reported a significant improvement in work productivity, work relationships, social life, community involvement, and overall well-being.
In another study, over 98% of past clients rated therapy services as good or excellent, and reported that they would recommend marriage and family therapists to friends. Due to the brief, solution-focused, family-centered approach and its demonstrated effectiveness, marriage and family therapy continues to develop and mark its prominence in the field of mental health.
Today, the field of marriage and family therapy continues to grow, with more than 60,000 professionals treating individuals, couples, and families nationwide. 
How to Become a Licensed Marriage and Family Therapist
Becoming a licensed marriage and family therapist depends on the state where you wish to practice. The following are the qualifications or credentials most states require candidates to have:
Hold a minimum of master's degree in marriage and family therapy, or relevant mental health fields such as psychology.
Complete a supervised internship that meets the required number of hours of experience and types of practice in the field — typically about 3,000 hours.
Pass the MFT exam created and assessed by the AMFTRB (Association of Marriage and Family Therapy Regulatory Boards), or equivalent state-mandated examination.
Obtain a state-issued license by applying to the relevant state board of examiners.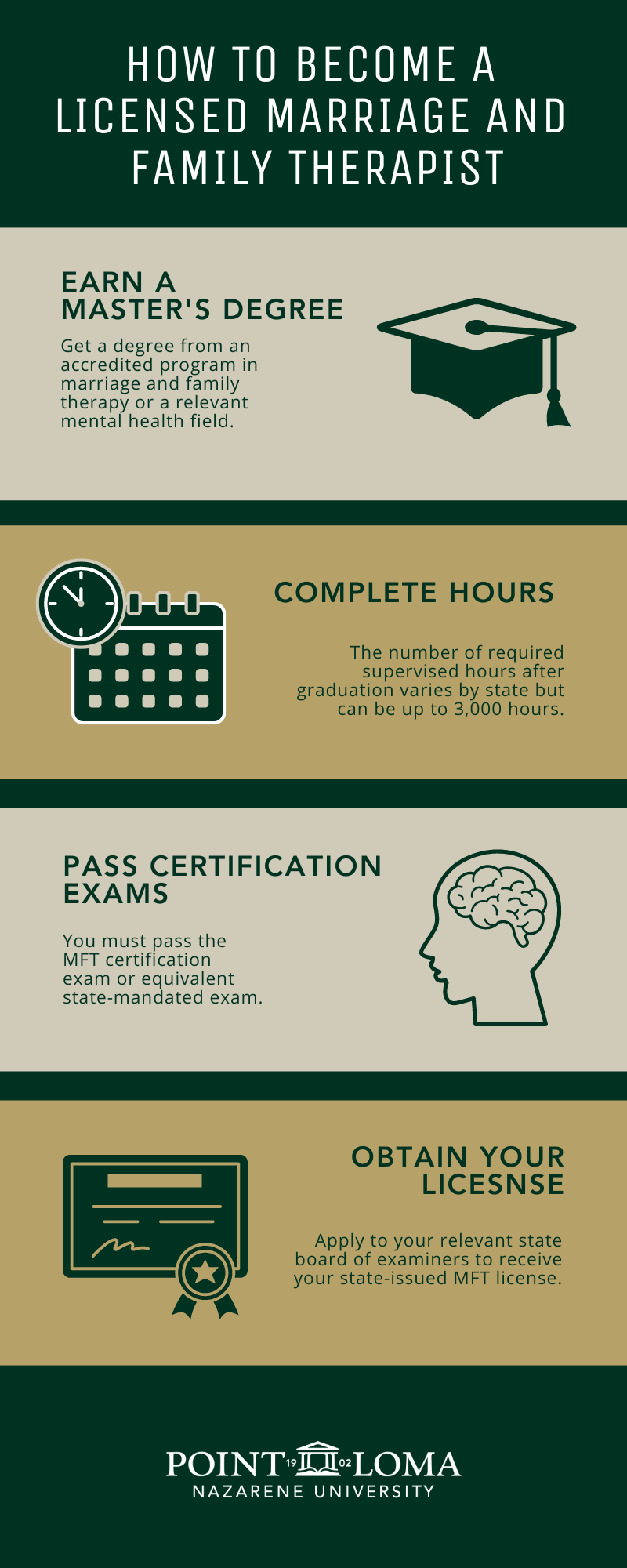 It's worth noting that the process of becoming a licensed marriage and family therapist usually takes four years of full-time study, from pursuing a master's program in marriage and family therapy program to finally obtaining a license. However, the duration may be longer or shorter depending on the licensing state's clinical hour requirements.
It's also important to note that preparing for and passing a state-required licensing examination may require additional time. Case in point, if you do not pass the MFT Exam on your first try, the soonest allowable time to register and retake the exam is three months later.
Marriage and Family Therapist Certification Requirements By State
As now established, each state has its standards for certifying and licensing marriage and family therapists. Although some of these discrepancies are subtle, others are significant enough to note. The significant differences among permitting and licensing standards of different states likely fall into the following categories:
1. Number of Post-Degree Client Contact Hours
Some states require a total of 1,000 hours of direct client contact. Others need over 1,500 hours. Idaho, for example, requires 2,000 hours of post-degree direct client contact within a two-year window. Some have specific requirements for different therapeutic settings as well.
2. The Ratio of Supervised to Non-Supervised Clinical Hours
While it's imperative to document all post-degree direct client contact hours, they do not necessarily need to be supervised directly. The difference in the supervision requirement as part of the marriage and family therapy clinical experience is dependent on each state.
3. Who Qualifies as a Supervisor 
Some states impose stringent qualifications as to what constitutes an acceptable supervisor for Marriage and Family therapy. Some states impose more relaxed qualifications. It is up to the candidates for MFT certification to conduct their background checks to ensure that their chosen supervisor meets the standard of experience and credentials.
4. Fees
Each state is free to set its price from the issuance to the renewal of an MFT license.
Marriage and family therapist job opportunities
A degree in marriage and family therapy exposes you to different environments that eventually hone the skills needed to work in various diverse settings such as mental health clinics, hospitals, social service departments, and even schools. Licensed marriage and family therapists may also opt to practice privately.
The Bureau of Labor Statistics (BLS) forecasts that marriage and family therapy professionals' employment will increase by 14% from 2021 to 2031.
The following are a few job opportunities awaiting individuals who wish to pursue a career in marriage and family therapy:
1. School Counselor
School counselors primarily work with school administrators to address the psychological needs of the student body. Specifically, they:
Engage with the students, evaluating their needs and providing them with proper mental and emotional support.
Create counseling programs to improve student performance and evaluate the programs' effectiveness.
Provide counseling to parents of children who are undergoing challenging circumstances at school.
School counselors with a background in marriage and family therapy can use their knowledge base to better grasp their students' psychological issues and offer adequate solutions.
2. Marriage and family counselor
A marriage and family counselor works with couples or specific family members to help them cope with interpersonal conflicts or challenges, or emotional disorders such as anxiety, depression, bipolar disorder, among many more.
More specifically, marriage and family counselors:
Conduct both individual and group sessions to diagnose disorders and provide necessary treatment and interventions.
Mediate conflicts within families and promote better communication.
Manage a private practice, but still in conjunction with social service agencies, medical centers, mental health facilities, and other related establishments.
3. Clinical Director
As clinical directors, LMFTs will be responsible for managing the daily tasks of a clinical counseling department. More specifically, clinical directors:
Ensure all administrative activities run smoothly and efficiently, and at all times, promote top-quality care for patients.
Evaluate staff performance and hire and train new staff as needed.
Determine budgets and prepare financial reports.
May be responsible for managing a department or an entire facility, depending on the hospital or facility's size.
Students who complete post-graduate degrees in marriage and family therapy prepare with hands-on knowledge of clinical practices that are translatable to various, diverse environments or settings. 
This experience could also prepare them to manage and oversee staff and ensure the quality of training and smooth day-to-day operations.
Start Your LMFT Career in San Diego
Becoming a licensed marriage and family therapist isn't necessarily easy, but it can be a fulfilling career path in a growing field that supports people with their most significant relationships. The profession includes a commitment to ongoing education; a reassuring and encouraging sign that the field will continue to progress and thrive in providing the best service to future clients and society in general.
If you have the desire to help mend families and strengthen marriages, you can start your progress toward becoming a licensed marriage and family therapist with PLNU's Clinical Counseling, M.A. program.
PLNU is ready to jumpstart your career as a licensed marriage and family therapist with our highly-rated program, which includes on-site practice, internship placements, multicultural training, strong partnerships throughout San Diego and Southern California, and more!