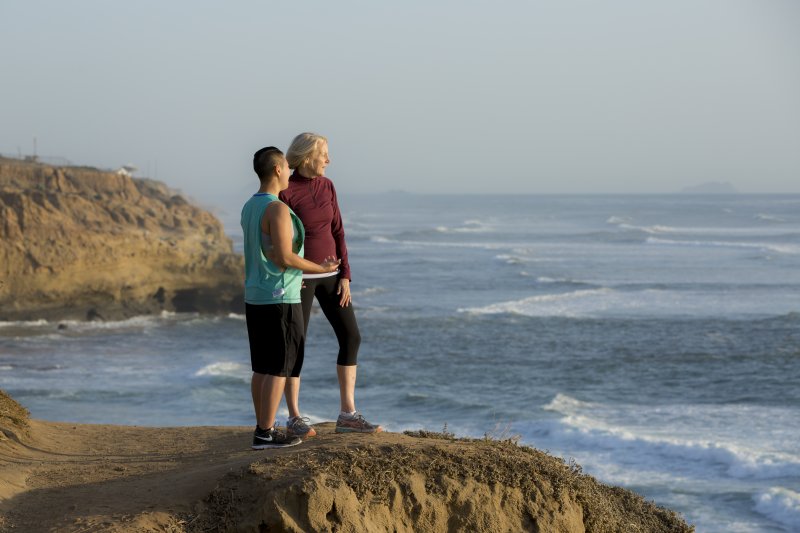 As Western society becomes increasingly aware of the benefits of preventative healthcare, there is a rising demand for health professionals who understand and employ the interconnectivity of body, mind, and spirit in their respective fields. 
Through teaching evidence-based coaching, behavior change techniques, and lifestyle interventions that promote whole-body wellness, PLNU's Integrative Wellness Master's program will equip you for a wide range of careers that focus on helping people proactively pursue holistic well-being.
The salary ranges listed below reflect estimates for these professions in the state of California. 
1. Health Promotion Specialist

Salary Range: $47,621 – $67,063
Health promotion is an interdisciplinary field drawing from the biological, environmental, psychological, physical, and medical sciences. Through facilitating healthier public policies and education-based well-being interventions, health promotion specialists help governments, nonprofits, individuals, and the wider community cope with health-related challenges and engage in healthy behavior change. 
Depending on where they work, health promotion specialists' jobs can have a social justice component; they often work to promote health literacy, inspire healthier lifestyle choices, and improve access to preventative care in historically marginalized areas. Their work has the power to reduce premature deaths and reduce the financial and emotional burden of reactive medical treatment for the communities they serve.
2. Health Coach

Salary Range: $61,794 – $79,485
Health coaches take an integrative approach to help their clients achieve healthier lifestyles. This often begins with an initial evaluation, during which they assess a client's lifestyle and any imbalances or barriers that they have to optimal health. These could include the following:
Poor nutrition
Poor sleep
Relationship conflict
Addictions
Pre-existing medical conditions
Based on this assessment, health coaches will create a treatment plan and meet with their clients regularly to follow up on their wellness goals. Health coaches are often employed by corporate businesses, wellness spas, colleges and universities, and training centers; others are self-employed.
3. Personal Trainer

Salary Range: $52,894 – $90,065
Personal trainers work with their clients to help them achieve their fitness and wellness goals. This often looks like small group or one-on-one coaching, where the personal trainer completes assessments, creates workout plans unique to their clients' needs, provides guidance on the correct and safe way to complete exercises, and helps motivate their clients through any mental and physical barriers to effective exercise. 
PLNU's integrative wellness degree prepares future or current personal trainers to deeply engage with and motivate their clients with a mind-to-whole-body approach.
______
Who are you called to be?
Pursue your purpose at PLNU.
______
4. Corporate Wellness Director

Salary Range: $77,909 – $103,892
A day in the life of a corporate wellness director entails developing and implementing a variety of programs that help people in a workspace to thrive. This can range from teaching seminars on nutrition and stress reduction to advocating for more comprehensive wellness benefits to identifying and addressing health disparities within a workspace.
Their work often includes a creative component as they design and market their many initiatives, or work on a team to do so. Corporate wellness directors often work in the following locations, albeit under varying titles:
Community health clinics
Corporations
Governmental agencies
Nonprofit organizations 
5. Health Educator

Salary Range: $68,100 – $87,600
The role of a health educator often involves working with kids or adults, in group or one-on-one settings, to impart knowledge that helps people access care and lead healthier lifestyles. This can include referring people to the appropriate services for their pre-existing health conditions, developing and teaching wellness workshops, consulting with other health professionals in the community, and sharing wellness-related information to the people who need it most. 
Health educators often use interviews, surveys, and data analysis to get to know the needs of the population they serve, and work to meet those needs via the programs they develop. The locations where health educators work are as varied as the communities they represent, with their time often split between the office, the community they serve, and meeting with other health service providers. 
Through their empathy, cultural awareness, and professional knowledge of preventive and reactive healthcare interventions, health educators serve as important conduits between the community and the wellness services available to them.
6. Exercise Physiologist

Salary Range: $56,506 – $72,292
Exercise physiologists are healthcare professionals with specialized training. They help their patients achieve their exercise goals by developing individualized exercise plans catered to each patient's needs. Using a range of evaluative tools and analyses to determine the best intervention for each patient, they often work with people with chronic illnesses, like diabetes or heart conditions, who are looking to improve their quality of life through exercise. Exercise physiologists also work with professional athletes looking to build endurance or strength.
To become an exercise physiologist, you must have a degree in exercise physiology and/or be certified by the American Society of Exercise Physiologists. The PLNU Master's in Integrative Wellness is ideal for the current or aspiring exercise physiologist who is looking to broaden the scope of their work and cater more completely to patients through developing a holistic approach. 
7. Holistic Nutritionist or Registered Dietician

Salary Range: $42,543 – $61,207
Holistic nutritionists help their clients pursue whole-body wellness and vibrancy through the types of foods they eat. With a focus on encouraging healthy lifestyle choices, holistic nutritionists work to alleviate the symptoms and causes of poor health by creating custom meal plans that rebalance a person's intake of necessary vitamins, minerals, proteins, and so on. Becoming a holistic nutritionist requires at least a bachelor's degree in nutrition or a related field.
Similarly to a nutritionist, registered dieticians (RDs) educate and encourage health in their patients by advocating a healthy diet. However, RDs differ in the extent of their training and their certification as nutrition professionals through the Academy of Nutrition and Dietetics. 
While holistic nutritionists predominantly focus on changing the lifestyle of their clients, clinical RDs often treat people's medical conditions and acute complaints in settings such as hospitals and long-term care facilities. Whether you are looking to pursue holistic nutrition or dietetics, the PLNU Integrative Wellness degree prepares you to become a more effective and holistically-minded practitioner who considers the whole patient.
8. Integrative Pain Management

Salary Range: $343,142 – $544,732
Sometimes called non-pharmaceutical pain management, the field of integrative pain management centers on improving the function and quality of life for chronic pain patients. Through comprehensive medical, nutritional, occupational, and mind-body evaluations, physicians specializing in pain management can diagnose and treat issues such as the following:
Chronic back pain
Neuropathic pain
Post-surgical pain
Migraines
Fibromyalgia
Osteoarthritis
While the salary range listed above reflects that of a physician specializing in pain management, other professions within the category of integrative pain management include practitioners of mind-body practice like yoga or meditation, acupuncture, massage therapy, nutrition consultation, holistic psychotherapy, and music therapy, among many others. 
Depending on your prior education, the PLNU Integrative Wellness degree prepares you to either work in a pain-treatment clinic in your chosen therapeutic modality or to pursue further education toward becoming a holistically-minded medical physician. 
Ready to Take the Next Steps?
As you can see from the list above, career options for our Master's in Integrative Wellness graduates span the gamut of the healthcare, health education, and health promotion fields. What all of these careers have in common is that they share an upward job-growth trajectory: wellness-support jobs are projected to grow between 4% and 26% from 2021 to 2031 depending on the position, with most having higher-than-median wages according to the Bureau of Labor Statistics.
Regardless of where your professional interests lie, be it the corporate world or traditional health and fitness fields, the Master's in Integrative Wellness will prepare you to effectively promote well-being and resilience and make a lasting impact in the lives of those you serve.