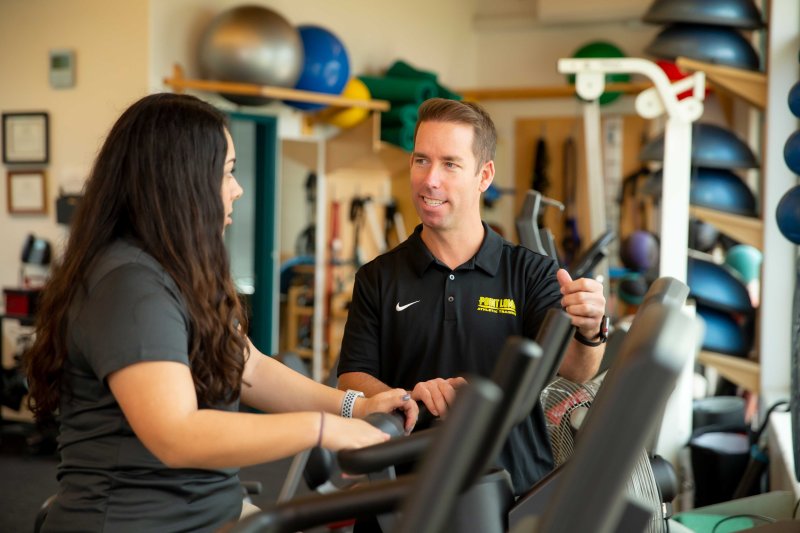 Earning your master's degree in kinesiology allows you to pursue your passion for sports, health, wellness, and rehabilitation in a growing and thriving industry. Kinesiology, the study of body movement, is a growing field.
According to Data USA, there has been a 12.1 percent jump in recent graduates who have entered the kinesiology workforce from 2017-18. By getting your master's degree in kinesiology, you will be able to promote whole-person wellness in a variety of settings.
As the study of physical activity and its effects on a person's health, Kinesiologists work closely with the human body and must be dedicated to analyzing, understanding, and attempting to heal or strengthen it. Kinesiology requires one to know vast amounts of biological systems and behavioral theories, but if you are passionate about the health of others and find yourself drawn towards a hands-on approach to work, you may find that a kinesiology program is the perfect fit for you.
Kinesiologists and exercise physiologists are considered part of the allied health professions, meaning health professions that are distinct from medicine and nursing. While these roles do not require a doctor of medicine, in order to be employed for these jobs one must have acquired a specialized degree and extensive training.
There are plenty of opportunities under the umbrella of kinesiology. Graduates go on to have successful careers in exercise science, sports performance and sports management fields. Also, becoming a college professor is another great option for those earning a master's in kinesiology to assist in educating the future of the kinesiology workforce. 
The following is a list of jobs that a degree in kinesiology can help you prosper in, along with the responsibilities, 2020 median annual salary, and projected outlook of the careers.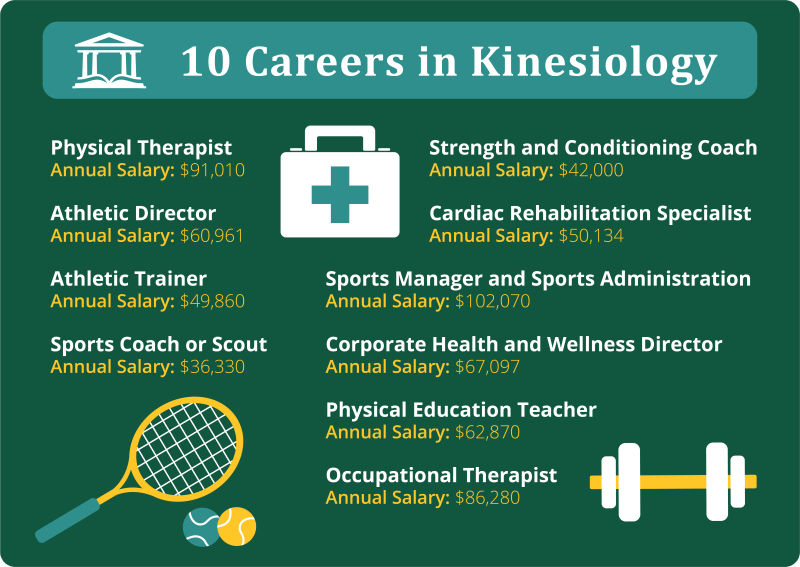 10 Kinesiology Jobs You Can Pursue With a Kinesiology Master's Degree
1. Physical Therapist 
2020 Median Annual Salary: $91,010
Projected Growth: 21% from 2020 to 2030
As a physical therapist, you help patients manage their condition while also providing the best practices to achieve long-term healthy habits. Physical therapists look at each person individually, develop a plan of action and assist their clients with the proper ways to reach their goals.
Data USA found that graduates pursue the specialty of physical therapy at the highest rate. With a master's in kinesiology, you'll be able to equip individuals with the knowledge to go on and live a happy and healthy lifestyle. Techniques could include improving mobility, reducing soreness, re-establishing function to specific areas, and preventing future disabilities.
2. Cardiac Rehabilitation Specialist
2020 Median Annual Salary: $50,134 
Projected Growth: 10% from 2020 to 2030
This specialist helps patients with heart issues strengthen their hearts with exercises and thorough nutrition guidelines. As a cardiac rehabilitation specialist your responsibilities would include, but not be limited to, monitoring a patient's heart rate for arrhythmias, motivating them to exercise, and pinpointing any unique risk factors in their personal treatment plan.
Your patients could be diagnosed with coronary artery disease, heart attack, asthma, emphysema, angina, chronic obstructive pulmonary disease, and other conditions. The job outlook in this career field is excellent; take your master's degree and help people live longer and do more.
3. Athletic Trainer
2020 Median Annual Salary: $49,860
Projected Growth: 23% from 2020 to 2030
Wouldn't it be surreal to work with the top athletes of the world? From the NBA to the NFL to the NCAA, athletic trainers play an important role in the development of athletic institutions, making sure athletes are their healthiest selves. Put your master's in kinesiology to work by coming equipped with the knowledge of nutrition, anatomy, biology, and physiology to swing into action when an athlete needs your immediate assistance.
As an athletic trainer, you could work with an injured athlete throughout their rehab period, put preventative exercises into place for a team, keep up with a team's injury report, and fit athletes for protective gear like braces or sleeves. 
ATs at the pro level are the most visible, but the truth is, athletic trainers are needed at all levels. Elementary, middle, and high schools often use athletic trainers, as do colleges and universities. Hospitals, fitness centers, performing arts centers, physicians' offices, and even law enforcement and military institutions employ ATs, too.
__________
Who are you called to be?
Pursue your purpose at PLNU.
__________
4. Strength and Conditioning Coach
2020 Median Annual Salary: $42,000
Projected Growth: 39% from 2020 to 2030
Yes, those top athletes need athletic trainers to stay injury-free, but strength and conditioning coaches make sure that they're making their muscles stronger to prevent said injuries year-round. How do you think LeBron James has the power to jump high and dunk on opponents? Why do you think Tom Brady has lasted in the NFL for over 20 seasons? Strength and conditioning coaches motivate even the greatest athletes in the world to stay in top shape by detailing proven training methods with effective communication.
As a strength and conditioning coach, you would design and implement fitness programs, demonstrate proper technique and safety precautions, and inspire athletes to reach their full potential. Local gyms and fitness centers also need coaches; teaching a person the importance of strengthening muscles for injury prevention is vital.
5. Physical Education Teacher
2020 Median Annual Salary: ​$62,870
Projected Growth: 3-4% through 2028
If gym class was your favorite period throughout school, then this career is made for you. Utilize your master's in kinesiology to pay it forward; as a sports education teacher, you're sharing your knowledge with the children of the future. Lesson plans would include topics on physical development, health, proper nutrition, and the importance of teamwork in sports.
You'd be at the helm of keeping young minds healthy and their bodies active. Your passion for health, fitness, and kids will come into play as a P.E. teacher. At the elementary level, teachers work with children to improve their coordination and plant the seed for a love of physical activity. Secondary and high school levels allow students to expand their horizons of sports; classes typically include basketball and soccer but can also introduce diverse activities such as rock climbing, ultimate frisbee, dance, and aerobics.
Fitness testing and monitoring your student's progress is an important role of the job. In addition to your master's degree, you also need to obtain a teaching credential or certificate to be a P.E. teacher. 
There are incredible benefits to providing kids with a break from the school day to partake in physical activity. According to the CDC, P.E. builds strong bones, reduces symptoms of anxiety and depression, and begins reducing the risk of developing health conditions such as Type 2 diabetes and heart disease. As a physical education teacher, you play a crucial role in a child's life by bridging the gap between school and health; you educate students on how to take care of their bodies and set them up for a healthy lifestyle well into adulthood.
6. Sports Manager and Sports Administration
2020 Median Annual Salary: $102,070
Projected Growth: 8% from 2020 to 2030
Sports are rooted in health and fitness, but it's also a business. As a sports manager or sports admin, you'd take care of all the business aspects of sports and recreation, including facility management, promotions and marketing, and event management. You'd be needed at every level of sport—high school, college, amateur, and professional.
As a sports manager, you could organize scheduling, seek endorsements, handle and negotiate contracts, be the public relations point person for the athletic team, and ensure policies and compliance rules are being met. The U.S. Bureau of Labor Statistics (BLS) noted that these professionals made an average annual salary of $90,930 in 2018, with those in management of companies and enterprises making the highest average salary that year at $109,010.
7. Athletic Director
2020 Median Annual Salary: $60,961
Projected Growth: 8% from 2020 to 2030
Athletic directors, or ADs, oversee the athletic programs at primary schools, colleges, and universities. As an AD, you'd be responsible for hiring coaches, scheduling practices and games for all sports teams, preparing the institution's budget, promotion, compliance and facilities management—you'd be like the head coach of the athletic program.
In this leadership role, multiple people would look to you to make decisions on the overall direction of the program. Are the players following NCAA rules? Is the weight room up to safety code? Is there enough money in the travel budget? Having a strong passion for organization, planning, leadership, and upholding a solid rapport with the student-athletes is a necessity of becoming an athletic director. You'd typically work alongside principals or the school board to make sure the goals of the institution's program are met.
8. Corporate Health and Wellness Director
2020 Median Annual Salary: $67,097
Projected Growth: 32% from 2020 to 2030
While getting your master's in kinesiology, there are options to explore an integrative wellness concentration. As a corporate health and wellness director, you'd be responsible for the company or organization's planning and execution of programs that center around health, safety and wellbeing. You'd be the go-to person for promotion of overall health—mental and physical wellness—of all staffers, and ultimately save your company money. At its root, integrative wellness aims to apply evidence-based practices into behavioral changes that last.
9. Sports Coach or Scout
2020 Median Annual Salary: $36,330 
Projected Growth: 26% over 2020 to 2030
Coaches work with amateur or professional athletes and teach them to hone in the skills they need to succeed at their sport. Coaches must be extremely knowledgeable about their sport and must also understand the workings of the human body so they can assign workouts that will strengthen players bodies so they can excel in the sport they play.
Many coaches are aware of this knowledge through previously playing the sport at some level, but this is typically not a requirement. Many coaches also act as scouts for their teams as they are looking for the best assets that their teams need. Because there are extensive recruiting rules and requirements, scouts and coaches must be aware of the regulations and details that surround the recruitment process.
10. Occupational Therapist 
2020 Median Annual Salary: $86,280
Projected Growth: 17% from 2020 to 2030
Occupational therapists work with patients who have been injured or have illnesses or disabilities. The main responsibility of an occupational therapist (OT) is to facilitate the development and rehabilitation of patients by providing occupational therapy through the use of everyday activities. OT's are meant to assess and create patient treatment plans alongside physicians that will help their patients develop or regain physical or mental functioning or adjust to disabilities.
Occupational therapists must be personable and patient while they work with people who are relearning things they may have previously been able to do easily. OT's are responsible for observing and evaluating their patient's progress so that they can develop treatment adjustments and modifications that they can then pass onto physicians, family members, and the patients themselves by the time of discharge.
Using Your Master's in Kinesiology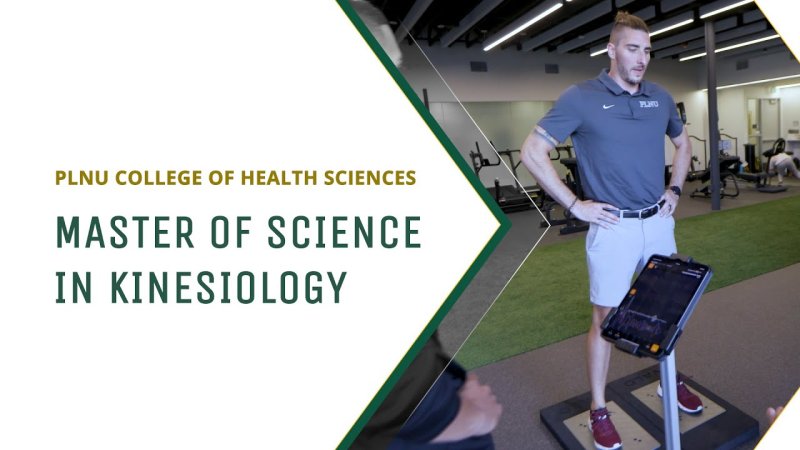 Some kinesiology graduates choose to further their education by enrolling in medical or physical therapy school. On the other hand, many graduates choose to become researchers or teachers in hopes of advancing our society's understanding of human movement. Regardless of the path you choose, earning your master's in kinesiology can lead to endless possibilities.
Next Steps – Get a Master's Degree in Kinesiology
An ideal next step for you may be to learn more about Point Loma Nazarene University's Master's in Kinesiology Program, including the types of courses you'll be taking and what specialties the program offers.