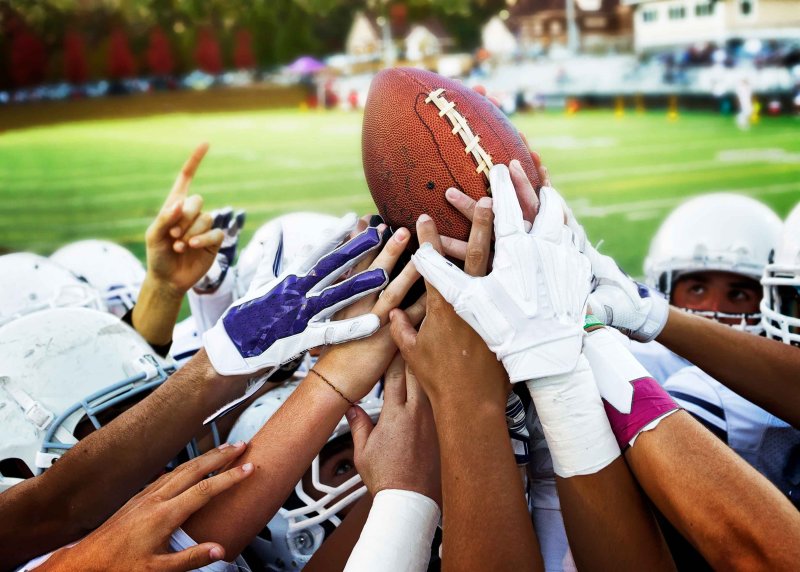 Pursuing a career as a football coach takes drive, passion, and experience. You'll need to take full advantage of opportunities coaching at various levels to gain the experience required to succeed in this job. Pursuing a secondary degree program can also help you make the connections you'll need to further your skills as a coach.
What steps should you take to get into coaching
A football coach at any level is expected to have skills in leadership, decision-making, organization, and communication. As a prospective coach, you should first consider tailoring your education before moving on to experience as an assistant or position coach and finally a head coach.
You should consider earning a bachelor's degree in kinesiology, sports studies, coaching, exercise science, sports medicine, or sports administration as a foundation for your career. Many coaches at higher levels also have secondary degrees in kinesiology, sports management, sports performance, or leadership. 
You'll also need to gain practical experience by either coaching at a lower level or working as a team manager, graduate assistant, or graduate intern. Most of these positions are unpaid and will expect you to devote a fair amount of time and energy to them, so be prepared to spend long hours working with the athletes and coaches with little free time during breaks or holidays.
From there be ready to apply to coaching jobs at any schools that interest you. The college sports network is vast and operates via networking and personal recommendations. It's a good idea to ask the coach or manager you've worked for to put a good word in for you with other coaches in their network. Your first position might also involve moving to a new area.
Becoming a head football coach requires skill and experience. But above all, it requires a deep love for the game and the players. Keep in mind this is a grueling career path filled with difficult moments where only your passion for the sport will keep you going.
__________
Become who are you called to be
Pursue your purpose at PLNU.
__________
What degree do you need to be a football coach?
The degree requirements to become a coach differ based on the level you're interested in achieving. At the college level, most schools require at least a bachelor's degree with many candidates pursuing a master's degree as well to set themselves apart from other applicants. PLNU's Master of Science in Kinesiology, Sport Management offers a post-undergraduate degree program in one of the suggested degree fields for football coaches looking to gain a position at the college level. And while a secondary degree can be extremely helpful in boosting a resume, it's equally if not more important to have the right amount of coaching experience prior to applying to any positions.
Football coaching requirements at different levels
Coaching in the NFL
Coaching in the NFL is the highest level of play you can pursue as a coach. Most NFL coaches are older and have two decades of seasons under their belt. And while it's not a requirement to have played at the college level before coaching, most NFL coaches have coached at the college level successfully with an established winning record before they move into the NFL.
Coaching in the NCAA
At the college level, most coaches are expected to have at least a bachelor's degree. Sports management and athletic training are among the top degrees coaches acquire before beginning their careers. From here you can pursue a position as a graduate assistant or team manager to gain hands-on experience working with a team before applying to full-time coaching positions. Establish yourself as a successful assistant or position coach and you'll have a better chance of becoming a head coach at the college level.
Read More: PLNU alum Decker Davis' job is centered around keeping star quarterback Russell Wilson healthy and on the field.
Coaching at the college level also differs from the NFL or high school because it involves recruiting during a unique time in an athlete's career. NFL coaches will recruit from colleges and combines but that's usually after a player's had a successful season or gone through a grueling training process. Recruiting from the high school level for college requires a much more practiced eye at spotting potential talent due to the age and skill level of the players. Recruiting from high schools for college is also fairly unique to football. Other college-level coaches will often recruit from both high school and club teams, however, football is almost exclusively recruited from varsity high school teams.
Coaching in High School
High school football coaching positions are most often combined with teaching positions. As a result, if you're interested in coaching at the high school level, you might need to get your teaching credential and pass certain state licensing exams before you're allowed to teach and coach high school athletes. 
This is also the level where you help prepare athletes to pursue college athletic careers. You may be expected to help with recruiting letters, videos, and official visits as your athletes reach out to coaches and football programs. A good working knowledge of the college recruiting process and connections with college coaches around the country is necessary to be successful in helping your athletes at this level.
Master's degrees in kinesiology for coaches
Pursuing any master's program with the goal of becoming a football coach means finding time to apply, commit, and engage with a cohort and the class material. Popular secondary degree programs for those interested in coaching in football include kinesiology, exercise science, leadership development, sport management, and sport performance. These programs range from one to three years and can be full-time in person, online only, or hybrid programs. 
As a prospective coach of a high-impact sport, there are benefits to pursuing a secondary degree with a focus in kinesiology or sports medicine. Coaches with experience in understanding physiology and integrative wellness practices can be beneficial with a team. Experience in these fields will better prepare you to work with athletic trainers, wellness staff, and your athletes. Discover more about PLNU's Master of Science in Kinesiology, Sport Management or apply here.