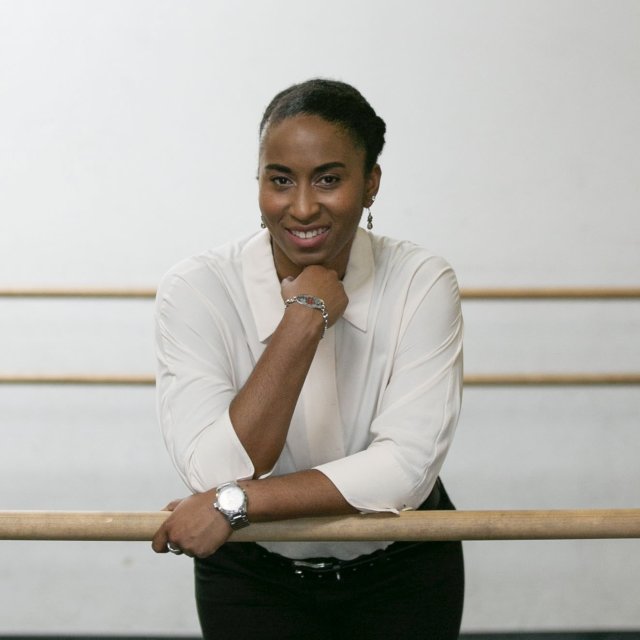 Miah Nwosu began her career at the Scripps Performing Arts Academy when she returned to San Diego from New York City. She began seriously studying ballet at The Scripps Performing Arts Centre (now Academy) when she was 8 years old, training there for seven years, continuing her studies at City Ballet of San Diego in the highest level of their pre-professional division.
She performed with the company in the Nutcracker, their premiere of "Don Quixote," and various other productions and spent a summer training at The Ailey School in New York City. Miah later attended Fordham University in New York City. Upon her return to San Diego, while pursuing her degree, Miah joined C. Anthony Cole Repertory Theatre and later La Diego Dance Theatre for its inaugural season. While dancing with La Diego, she was also rehearsal coach and dancer representative for LaDiego and has had the pleasure of teaching audition classes for both companies.
Serving as head choreographer for SPAA, she has successfully mounted original productions and set full-length classical ballets including an annual all-youth production of The Nutcracker for the past 19 years, all while simultaneously pursuing and eventually earning a Bachelor of Arts degree from PLNU.
Miah founded Scripps Ballet Theatre to provide pre-professional students with the opportunities necessary to grow technically and artistically in performance and has provided students with the springboard and support system to launch them successfully into collegiate and professional dance programs including Estonia National Ballet, the National Ballet School of Cuba, San Francisco Ballet School, Nevada Ballet Theatre, Indiana University, The Boston Conservatory, UCI and multiple summer intensive acceptances (several with scholarships) to prestigious programs across the nation.
Most recently, she was named a 2022 Celebrating Women, Woman of the Year finalist.
What have you learned in this current season of your work that will fuel your hope for the future? 
I've learned that all challenges can be navigated with collaboration and faith. The last three years have forced all of us to think outside the box, proving that creative applications of the visual and performing arts can have lasting, positive impacts on all who experience them. This fuels my hope for the future as I am even more confident that the next generation of creatives will continue to look for new and innovative ways to artistically engage and inspire.