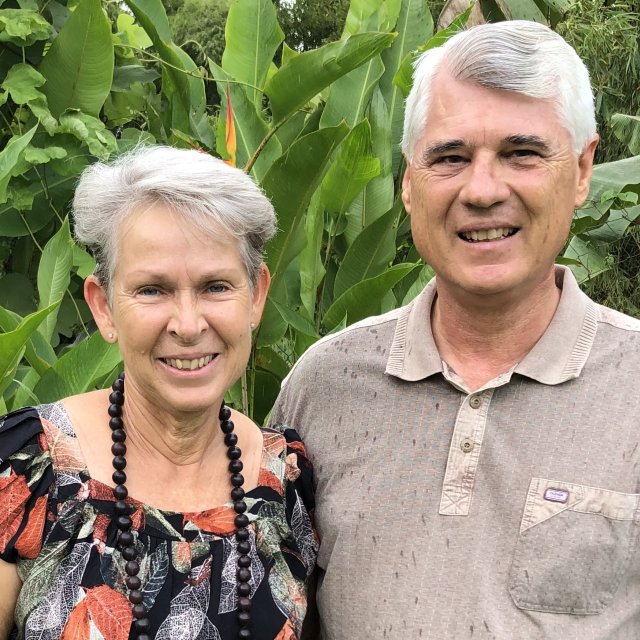 David and Sylvia Potter have served as global missionaries for the Church of the Nazarene on the Melanesia/South Pacific Field since 1992. For the first 11 years they were involved in training nurses at the Nazarene College of Nursing at Kudjip in Papua New Guinea, as well as assisting with church development.  For the last 19 years they served in Vanuatu and were involved in training and equipping pastors and leaders for the church. In both assignments, it has been their delight to help others embrace Christ and become strong, equipped missional leaders for the church.
David first experienced God's call to missions as a 5-year-old growing up in the Nazarene Church. He met Sylvia while attending Point Loma Nazarene University and informed her early on about his missionary call. They were married in 1980 and continued to seek God's direction. They describe their experience as missionaries as a fulfilling and exciting adventure with God.
Both David (79) and Sylvia  (80) received their B.S. in Nursing from Point Loma Nazarene University in San Diego, California. David received a Master of Arts in Missiology from Nazarene Theological Seminary in 1990. He was ordained as an elder in 1997. Sylvia received her Master of Arts in Spiritual Formation from Northwest Nazarene University in 2010 and was ordained as an elder in July 2013.
While serving at the Nazarene College of Nursing, David was able to help assist in nationalizing the college. During their years in Vanuatu, David was able to establish the Vanuatu campus of the South Pacific Nazarene Theological College, and he was honored to work together with the educational leaders of the 3 other campuses, Samoa, Fiji, and Solomon Islands, while the college was being formed.
David and Sylvia are anticipating their retirement from Global Mission in November 2022 and will make their home in southwest Michigan. They look forward to being available to assist Sylvia's elderly parents and to get better acquainted with their 7 grandchildren. Though they are retiring as global missionaries, they will continue to be on God's mission.
The Potters have three adult sons: Joel, Jeffrey, and Wesley. Joel and his wife Rebekah live in Alaska with their three daughters. Jeffrey and his wife Kristen live in northeast Michigan with their 4 children. Wesley lives and works in southwest Michigan.
What is the impact you'd like to make on the world? 
David:
I desire that the love that I have for Christ and others will be abundantly evident in all I do and say. It is my prayer that the continued effective training of nurses and pastors will significantly impact the South Pacific for Christ. 
Sylvia:
My hope is that Christ's love in me would make a difference everywhere I am and in every relationship. I'm filled with joy at what God has done through us in the countries where we've served, and now in retirement I look forward to opportunities to love and serve my family and those God gives me to love along the way.