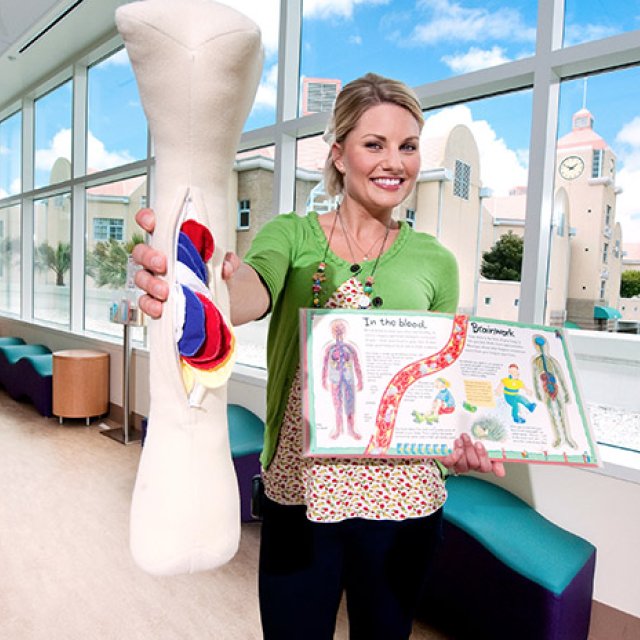 Pediatric doctors and nurses treat children and adolescents when they are in the hospital, but as a Child Life Specialist, Andie Sherman helps patients and families in the hematology and oncology unit at Rady Children's Hospital cope with the physical and emotional challenges that come with a medical diagnosis.
Andie graduated from PLNU in 2008 with a B.A. in child and adolescent development and  minor is psychology.
Child life specialists work in different settings throughout the medical field educating pediatric patients about their medical procedures and diagnoses in ways that correlate with their developmental stage; you wouldn't explain cancer to a three-year-old the same way as a sixteen-year-old.
On a normal work day, Andie may show her patients picture books on medical procedures, teach them about different medical supplies, talk about what they may see, hear, smell or feel, or offer some relaxation techniques through deep breathing and meditation exercises. Emotionally, she supports her patients dealing with body-image issues or who feel depressed because they are missing out on their time with friends and school.
While Andie's job is very instrumental in a patient's recovery, Andie is also heavily involved in helping her patients and their families with end of life care. She may work with a patient in creating books of memories or legacy project. She helps her patients communicate what they may want to leave to friends and relatives and what they would want at their funeral. Understanding child and adolescent development is just as critical in this role as it is in the treatment process. Andie doesn't say that this is easy work, but she says she feels it's her calling and God gave her the heart to do it.
As a profession, the child life specialist field is growing significantly, but Andie says it's still not a well-known career. Andie's older sister had a childhood illness that required a child life specialist to visit their home, which was her introduction to the career.
She started at PLNU with the mindset that was the career she was going to pursue. It engulfed her. Andie says that all of her class projects became centered on her career path, whether it was a research paper in her writing class or an informative speech in her introduction to communications class. She jokes about it now that her professors probably used to get tired hearing about the subject, but is grateful her professors all supported her in pursuing her passion.
"I'm glad that I pushed for my passion and didn't let go of my dream. Explore your passion and live it out. That is an opportunity you get to have at Point Loma. The doors are always open."
Andie says she had always thought about going into the medical field, but her heart wasn't in being a doctor or a nurse. To get an idea if she was heading in the right direction with her career choice, she volunteered in the playroom in the oncology unit at Loma Linda Children's  hospital while she was a student. There she met a young girl who was fighting cancer. Andie says the girl's strength and spirit captivated her and that sold her on becoming a child life specialist. During her summer breaks she continued volunteering and working at the Ronald McDonald House in her hometown.
After graduating, Andie started working towards becoming a certified child life specialist, which required completing 480 hours of an internship and then passing the Child Life Exam.
Andie started her career at Rady Children's hospital as a child life assistant, managing the playroom. Now, more than eight years later, she manages the child life specialist intern program, in which several PLNU students have taken part.
When she wasn't studying or volunteering in the hospital, she was active on campus working in the Early Childhood Development Center, and helping coordinate Special Olympics.