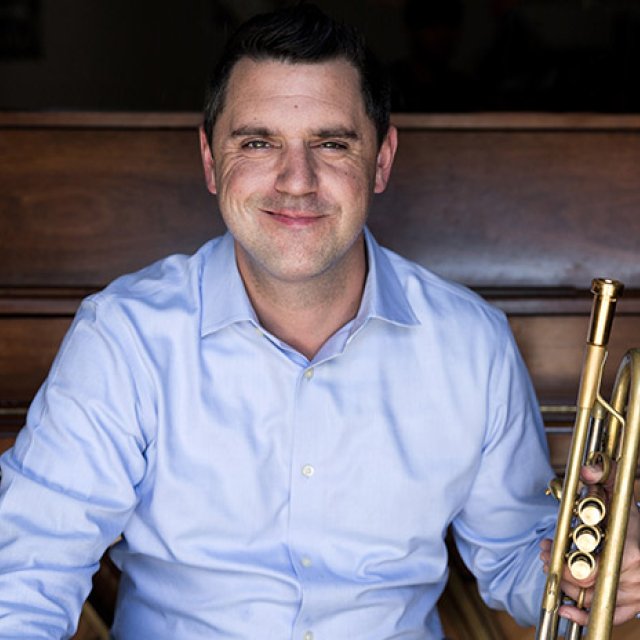 When he was 17, Dr. John Reynolds (03) waited eagerly backstage in a venue in Santa Rosa after a performance by the Jazz at Lincoln Center Orchestra. He stood in a line of fellow trumpet players about to meet Wynton Marsalis, the famed trumpeter, composer, and teacher. When it was finally his turn to have Marsalis share his autograph, Reynolds took the opportunity to wrest a bit of advice on playing his instrument more effectively, not exactly sure what to expect.
"Marsalis hands me his trumpet, which at that time probably cost $15,000, maybe $20,000," Reynolds said. "And then he's like, go ahead and put the horn up to your face and let me see what you're doing."
This 10-minute lesson from one of his heroes — not to mention a nine-time Grammy and Pulitzer Prize winner — is one of the key moments that cemented Reynolds' passion for the trumpet, and to a greater extent, the art of music.
"I was born into a musical family," Reynolds shared. "Both my mom and dad are very accomplished pianists."
As he grew older, his affinity for music only intensified. He went on to earn a degree in music education at PLNU (where he later served as an adjunct music professor), a master of music in jazz studies at San Diego State University, and eventually a doctorate of musical arts from the University of Southern California. Music became a serious, life-long vocation for Reynolds.
"There's nothing else that I would be happy doing," he said.
In addition to performing regularly with his own groups, the Gaslamp Quarter Jazz Orchestra and the John Reynolds Jazz Quintet, and as a freelance trumpeter all over Southern California, Reynolds is currently serving as the director of the music program at the San Diego School of Creative and Performing Arts (SCPA). He teaches a total of six classes at the public arts magnet school in southeastern San Diego, which focuses on the rigorous development of students in the areas of arts and academics.
This spring, one of the jazz ensembles he teaches and directs at SCPA was selected to compete in one of the most competitive high school jazz band competitions in the world, the prestigious Essentially Ellington Jazz Band Competition at New York's Lincoln Center. The jazz ensemble was one of 15 bands in the country that were invited — and the only one from California.
For Reynolds, this is a serendipitous occurrence. In May, he was able to take his students to Jazz at Lincoln Center in New York, home of the Jazz at Lincoln Center Orchestra — the same orchestra he saw in Santa Rosa when he met his hero, Marsalis, all those years ago.
While there, students had the opportunity to participate in clinics and master classes with some of the greatest jazz musicians today in addition to performing for a panel of the competition's judges.
"It was really eye-opening for our students to witness the Jazz at Lincoln Center Orchestra doing what's called an 'open rehearsal,'" Reynolds said. "The students asked questions about certain things and saw how professionals rehearse and come together to share musical ideas."
Students had the opportunity to meet some of the greatest musicians alive today, an incredible reward for their determination and willingness to get better despite very difficult obstacles for some.
He believes if artists don't risk revealing an intrinsic aspect of their humanity, what they create lacks the marrow to touch the mind, heart, and soul or others.
Though SCPA clearly attracts some of the most talented artists and musicians in San Diego, over half of its students come from lower income families. As a result, Reynolds teaches many students in the midst of difficult, and in some cases, drastic living situations.
"One of my students is effectively homeless right now," Reynolds said in a grave tone. "His dad is a drug addict and is having serious issues. So, those kinds of things are going on outside of a normal day of class."
And while Reynolds doesn't sugarcoat the hard realities that some of his students endure outside of school, he is keenly aware of the role he can play for many of them.
"What I've found is that for a lot of these kids — especially those who are really struggling — music is a way out," Reynolds said.
One student in particular has received significant scholarships to universities due to his talent and dedication to music, opening the door to a brighter and more promising future.
In addition to the more obvious benefits music offers, Reynolds notes that it also provides deep and meaningful opportunities for personal growth. To perform music — as with every artistic endeavor — a level of vulnerability is required.
Reynolds understands that for all committed artists, it's necessary to put a part of themselves into the craft. He believes if artists don't risk revealing an intrinsic aspect of their humanity, what they create lacks the marrow to touch the mind, heart, and soul of others.
"It's interesting being a music teacher because my students and I share an artistic endeavor together, and I think it makes them able to be more vulnerable with me," he said. "The continuous experience of being vulnerable and making mistakes when working on the music allows for a specific degree of comfort that I think you develop with other musicians."
Music brings about a level of openness between Reynolds and his students, especially those who may not have access to many encouraging mentors and advocates. It also serves to help his students learn to communicate.
"Jazz, when it's done right, is really about collective improvisation," he mused. "You're navigating your way through chord changes and you're communicating, not just to the audience, but with one another in real time."
Like a conversation between friends, the unique fluidity of jazz allows for performers and the audience to never have the same experience twice. Instead, students must learn to listen with undivided and unified attention to each other, playing off the slowing cadence, augmented tone, or peppered grace notes.
"That is the biggest part about being a musician," he said. "It's something that I don't think we do nearly enough as humans — listening to others. We like to talk and we like to get our thoughts out there, but the act of listening is not a passive thing; it has to be active."
Music can help foster bridges of communication and openness for Reynolds' students, allowing them to not only appreciate what others have to say and share — through music or otherwise — but discover how to express their own individuality, passions, and hopes.
Still, Reynolds knows there is even more to music — something fundamentally soothing and sacred — that offers grace to his students in the midst of suffering.
"There's something about music, particularly the blues form, that says: this is happening, and it's not good right now, but someday it will be good," he said.
Reynolds views music as a gift from God that can be used not only to communicate with each other and Him in a way that transcends words and symbols, but also as a vessel of hope.
He has found a great sense of purpose and mission in using music, especially jazz, to help his students become better musicians and find encouragement, connection, and hope from this beautiful and sacred language of God.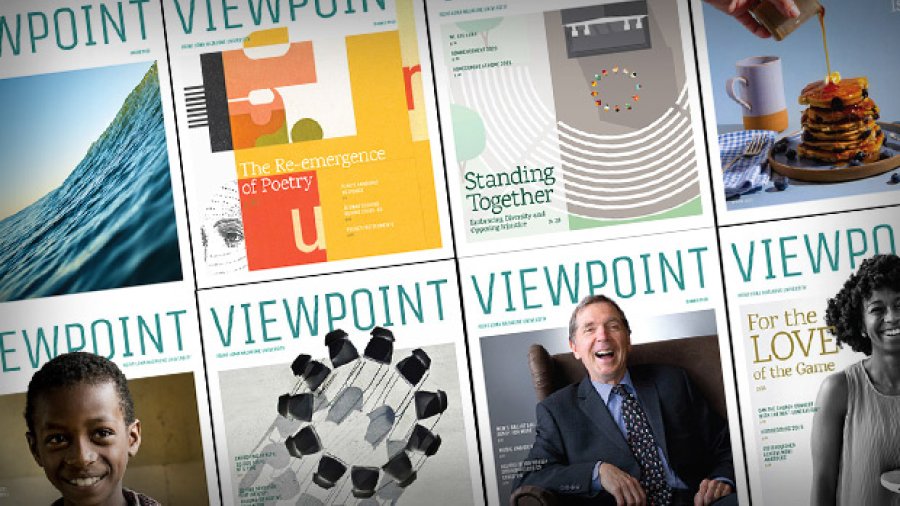 The Viewpoint
PLNU's university publication, the Viewpoint, seeks to contribute relevant and vital stories that grapple with life's profound questions from a uniquely Christian perspective. Through features, profiles, and news updates, the Viewpoint highlights stories of university alumni, staff, faculty, and students who are pursuing who they are called to be.