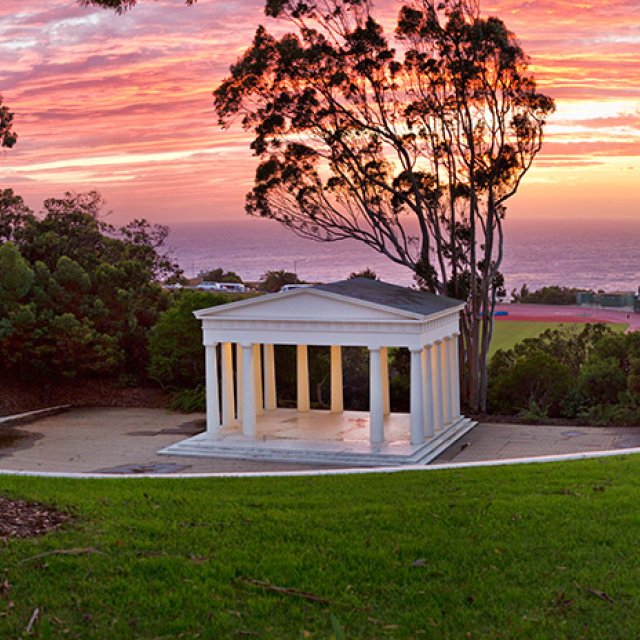 PLNU alumni Wes Bruce (07) and Joel P. West (06) each received one of the first 15 Creative Catalyst: Individual Artist Fellowship grants ever awarded by the San Diego Foundation. The Creative Catalyst fund is intended to advance the careers of San Diego artists and musicians by partnering grant winners with nonprofit organizations for specially funded projects. Each of their projects challenges traditional boundaries of their genre in compelling ways.
Wes Bruce is building his reputation in the art community by building forts. For the duration of 2012, Bruce will be working on a new, experimental installation entitled "StructuresPoetryHumans" with the Lux Art Institute that will deeply explore the relationship between people and structures.
How he got here has little to do with pillows and blankets or wood and backyards. His are highly intellectual endeavors. This will be no ordinary fort. "I like working with the metaphor of inner architecture," Bruce explained. "A majority of people have some sort of connection to a structure – whether it be a home, workplace, hospital, displacement camp, etc. In our human experience, there is a minor character of structure."
Bruce's reputation in the art field has been steadily increasing since he graduated with his degree in art education. At first, he did his own art on the side while serving as a summer camp director in Yosemite and in the education department of the Museum of Contemporary Art. Although he enjoyed the combination of curriculum development, teaching, and outdoor experiences, he eventually decided to pursue art full time in 2009. Living as inexpensively as possible, Bruce began honing his craft and creating "a lot of art that had to do with humans' search for meaning and purpose."
"In 2009, I was asked to be in an outdoor art show in a grove of eucalyptus trees. I had needed to shed some old art practices, and the thought that art isn't art unless it questions the nature of art came to mind. So I built a fort. It felt like a rebellious thing to do – it wasn't just painting or drawing," he said.
His bold move paid off, and exhibitions at the Museum of Contemporary Art San Diego and the California Center for the Arts in Escondido followed.
"My first significant professional exhibition was up in Escondido in August 2010," he said. "I wanted to do something really aesthetically interesting using free materials. I was given between 1,800 and 2,000 square feet and had full trust from the curator and director, so I built a huge structure with 25 different rooms in it representing a fictitious woman's home. It was almost voyeuristic. The rooms contained random gifts, including someone's wisdom teeth and poetry snippets reminiscent of journal entries. I wanted to explore the idea of vulnerability. If one side opens up, the other will often reciprocate. My hope was for people to open a cavity, illuminate a memory, start a conversation with the person they were with, or be inspired to be creative at home."
It was this exhibition that formed the foundation for Bruce's Creative Catalyst grant proposal. To receive the grant, he had to choose a nonprofit from a list of 19 options and pitch them his idea. He chose nonprofit gallery Lux Art Institute.
"I wanted to work with Lux, which had never worked with a San Diego artist before," said Bruce. "I was interested because they had a good reputation, and they are LEED certified [LEED is an environmental certification for buildings]. I also wanted to connect with a new group of people. Once Lux chose me, we were able to apply for the grant together."
StructuresPoetryHumans will include an online presence and a physical structure that will be constructed at Lux in August. People will be able to contribute their experiences with structures to the project at structurespoetryhumans.com. Bruce emphasized that once again one of his primary goals is to conjure feelings and ideas through vulnerability, thus the participatory element.
"The personal is often the most universal," he said. "A lot of what I'm doing now is story gathering. The project will ultimately contain a lot of illustration and poetry and all types of media, including a 'sound cloud,' videos or short films, photography, shadows on buildings with words, and so on. The exciting part is that it is a very nonlinear project."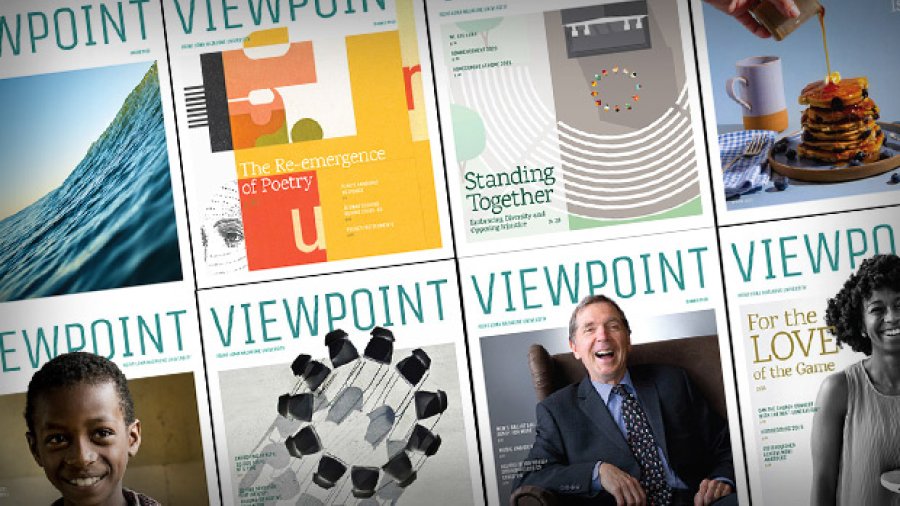 The Viewpoint
PLNU's university publication, the Viewpoint, seeks to contribute relevant and vital stories that grapple with life's profound questions from a uniquely Christian perspective. Through features, profiles, and news updates, the Viewpoint highlights stories of university alumni, staff, faculty, and students who are pursuing who they are called to be.