Are you fascinated by human development and relationships? Do you want to help children reach their full potential? If you have college credits but haven't fully earned your bachelor's degree, PLNU's child development degree completion program is designed for you. We'll partner with you and together help make a meaningful difference for families of all types, including yours.
Completing your bachelor's degree in child development (CDEV) at PLNU will give you a strong understanding of typical and atypical development and how to help meet the needs of children and families. You'll become the best possible champion for children by understanding the complex family and social systems that surround them. PLNU offers a convenient online format tailored to accommodate your work and life commitments — so you can earn your child development degree in as few as 15 months.
Study Child Development in an engaging online format
This flexible online format is designed for busy professionals to continue their education in a tight-knit, supportive online community while allowing them to manage their own schedules.
Learn to help children succeed on your terms
This online program gives you the flexibility to learn when and where you want. You can complete coursework in the comfort of your home, favorite coffee shop, or local library while choosing a study schedule that works best for you. 
Online learning is perfect for those who learn in ways that aren't often found in traditional classrooms — watching instructional videos, listening to audio lectures at your preferred speed, or dedicating extra study time to tricky topics. You can always connect with professors to help find the best ways to absorb and apply your learning.
Help other families while taking time for yours
Learning shouldn't prevent you from doing what you love. Coursework is designed to be flexible to your needs and help you balance your other life commitments. 
While completing this program, you'll still be able to continue spending time with family, thriving at your full- or part-time workplace, or leisure time. 
Community without commuting
Commuting can be stressful and time-consuming — especially in San Diego. Thankfully, you can learn online while still benefiting from PLNU's strong focus on community. In this program, you'll meaningfully connect with other students online as you learn and grow in your leadership expertise.
You'll also have access to top-tier mentorship from professors and advisors. They'll help you to leverage your strengths to expand your connections and career opportunities. You'll be able to access resources tailored to you and your career goals.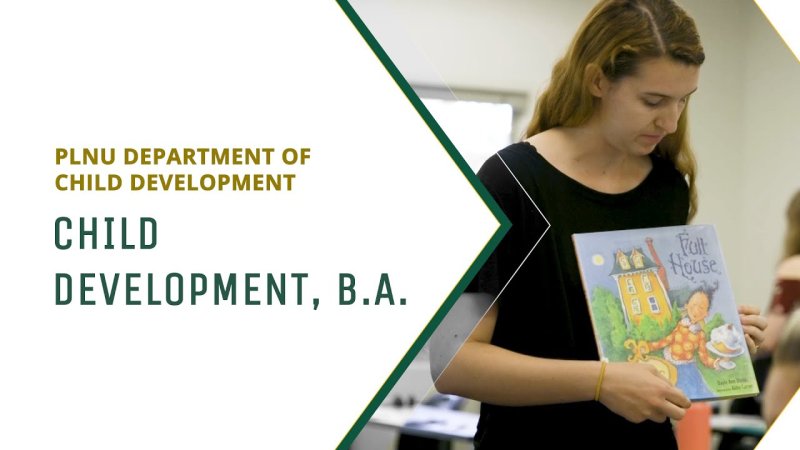 Transition seamlessly into CDEV
A counselor and coordinator will work with you through every step of your journey to complete your bachelor's, from helping you transfer previously-earned credit to working alongside you with care and encouragement as you earn your degree. You won't feel like you're starting a brand-new program — rather, it will be a natural continuation of your previous education experience.
If you haven't completed any college classes, don't worry. Students applying for this program can also start with as few as zero college credits completed — a feature exclusive to the online format. In the online format, PLNU offers all general education, elective, and prerequisite courses needed for completion of the CDEV program. With entry points every eight weeks, you can start whenever you're ready!
Which program is right for me?
You might be wondering whether the online or hybrid CDEV program is best for you. Here's a quick overview to help you connect with your ideal learning environment:
 
CDEV, Online
CDEV, Hybrid
Who is it for?
Busy working professionals who prefer independence.
For those who enjoy in-person learning
Program start
Six start dates year-round
Fall, Spring, Summer
Program Structure
100% online and asynchronous
Face-to-face one night a week with online coursework.
Location(s)
Online — flexible
Various locations
International Students
Eligible?
No
Yes
Prepare for your dream job
By covering the full cycle of development from birth through adolescence, PLNU's degree completion program offers you career flexibility, as well as a deep understanding of children and families that isn't limited to a single age group.
"With this degree, you will be uniquely prepared to meet the needs of children, adolescents, and families. You will be equipped with practical application skills to address needs in a wide variety of professional settings." 

Susan Decristofaro Rogers, M.A.
Co-Chair, Department of Sociology, Social Work, and Family Sciences