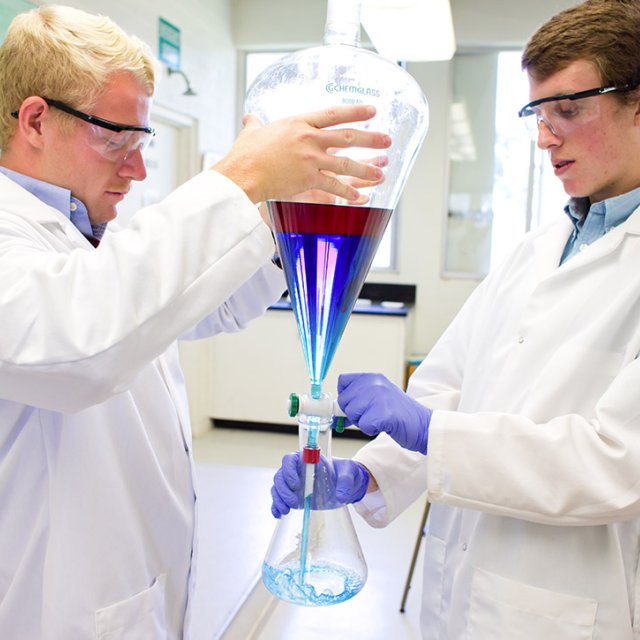 The chemistry department offers undergraduate research under the direction of experienced faculty in a variety of fields within chemistry and biochemistry. Each summer, PLNU students have the opportunity to work in our state-of-the-art laboratory facility, studying subjects ranging from organic and inorganic synthesis to drug discovery, natural products chemistry, and structural biology.
Each summer, students in PLNU's chemistry department have the opportunity for hands-on research experience in the area of expertise of their faculty advisor. You will take on an active role in projects, using sophisticated instrumentation and computational resources to gain practical skills and experience as you rejoice in the triumphs and learn from the failures of original research. Many of the students who participate in our summer research program have the opportunity to present their research at the nationwide American Chemical Society conference during their senior year. In addition, students involved in summer research projects have the potential to be included as co-authors on publications put forth by their specific research mentor.
The variety of summer research opportunities available to you as an undergraduate is a rare commodity. Since the inclusion of undergraduate research in the mid-1970s, PLNU has been committed to providing students the advanced laboratory setting to study a wide variety of subjects within the field of chemistry. Many of our faculty members also have ongoing collaborations with local research institutions such as UCSD, SDSU, and the Scripps Research Institute. Participation in the undergraduate research program is instrumental to prepare you for the research aspects of graduate and medical school, and increases the likelihood of acceptance into such programs. If you are planning on working immediately after graduation, undergraduate research provides unique experience and expertise that will help you stand out as you pursue employment.
"The most valuable part of my undergraduate experience was summer research. Not only did I learn an enormous amount about conducting research, but I developed lasting friendships and I believe that it gave me a competitive edge when applying for graduate programs."

- Daphne Figueroa
Chemistry, B.S.
Ongoing Summer Research Projects
 
Laurance Beauvais, Ph.D.
Research in Beauvais' lab is focused on the directed synthesis of functional materials. They are investigating new routes for preparing heterogeneous catalysts and electronic nanomaterials.
Ariane Jansma, Ph.D.
Jansma's research lab uses NMR spectroscopy to investigate the interactions between viral proteins and host cell PDZ domains. They are currently focused on the structural properties of the interaction between the PDZ-1 domain of the Zonula Occludens Protein-1 and a regulatory protein from Tick Born Encephalitis Virus (TBEV) and Dengue Virus (DENV).
Katherine Maloney, Ph.D.
Research in Maloney's lab focuses on the isolation and structure elucidation of natural products that inhibit plant pathogenic bacteria. In another project, she is exploring the secondary metabolites produced by cryptic species of the soft coral Sarcophyton glaucum.
Marc Perry, Ph.D.
Perry's research interests lie in the broad area of methodology development in the field of organometallic chemistry. Specifically, his current research is developing iron and cobalt catalysts as lower-cost alternatives to known palladium catalysts. He is also collaborating with Beauvais on making reactive materials.
Matthieu Rouffet, Ph.D.
Rouffet conducts a medicinal chemistry research program. More specifically, his laboratory develops inhibitors of two biologically relevant zinc metalloenzymes involved in anthrax, malaria, and tuberculosis. Recently, his lab started a collaborative project related to the synthesis of a methotrexate derivative for the treatment of glioblastoma.
Dale Shellhamer, Ph.D.
Shellhamer and his students are studying the influence vinyl fluorine atoms have on the regiochemistry and stereochemistry of electrophilic additions to fluorosubstituted alkenes. The electrophile they are studying at the present time is chlorosulfonyl isocyanate (CSI).
Lane Votapka, Ph.D.
The Votapka lab combines the speed of computers with mathematical theory to solve biology and chemistry problems. Our current research primarily involves predicting the kinetics of chemical reactions between proteins and other molecules.