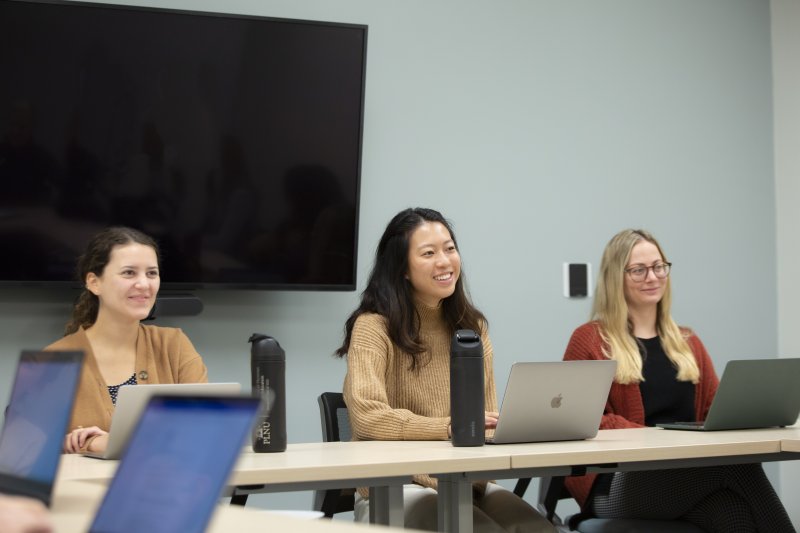 Everyone has a learner inside of them.
From an early age many people around the world attend school and perhaps even go on to pursue higher education. But a life of learning does not necessarily stop after completing an undergraduate degree.
In fact, it is possible to continue learning through various means well into adulthood. The act of pursuing knowledge and mastering skills throughout life is called lifelong learning. 
A lifelong learner is someone who considers learning to be an integral part of one's life and experience. Lifelong learners intentionally seek out ways to continue learning, both formally and informally. 
Lifelong learning has clear benefits, aiding mental and physical health as well as improving your career progression. Here is an overview of what lifelong learning is and some tips on how you can implement it into your daily life. 
What is lifelong learning?
With increased globalization and technological advances, every adult has to acquire new skills in order to adapt to modern life both in their careers and personal lives. As a result, it has become increasingly important to develop a learning mindset.
According to Indeed.com, a lifelong learner is "a person who continues to learn new skills and competencies long after they have completed their formal education." It involves nurturing a curious mind about the world and a willingness to pursue knowledge about whatever areas or subjects that interest you. 
According to a review article from the journal Procedia - Social and Behavioral Sciences, there are three main types of learning: formal, non-formal and informal.
Formal learning "consists of learning that occurs within an organized and structured context (formal education, in-company training)."
Non-formal learning "consists of learning embedded in planned activities that are not explicitly designed as learning, but which contain an important learning element such as vocational skills acquired at the workplace."
Informal learning is "defined as learning resulting from daily life activities related to family, work or leisure."
Embedded in the concept of lifelong learning is the idea that learning continues on regardless of one's stage in life and that anyone at any age can seek out new information, knowledge, and skills through formal or informal means.
Professionally, lifelong learning may involve seeking further education and specialization like a graduate degree or completing a certification program. It could also mean acquiring new skills through some form of specialized training.
Lifelong learning does not have to involve your career, however, but rather any subject that interests you. Perhaps, you'd like to learn a new language and seek out a language learning app to do so. Maybe you'd like to increase your knowledge of filmmaking so you set aside time to watch award-winning films or sign up for an online filmmaking course. 
Whatever the area may be, lifelong learning involves a commitment to exploring new subjects and doing so with a positive mindset.
What are the benefits of lifelong learning?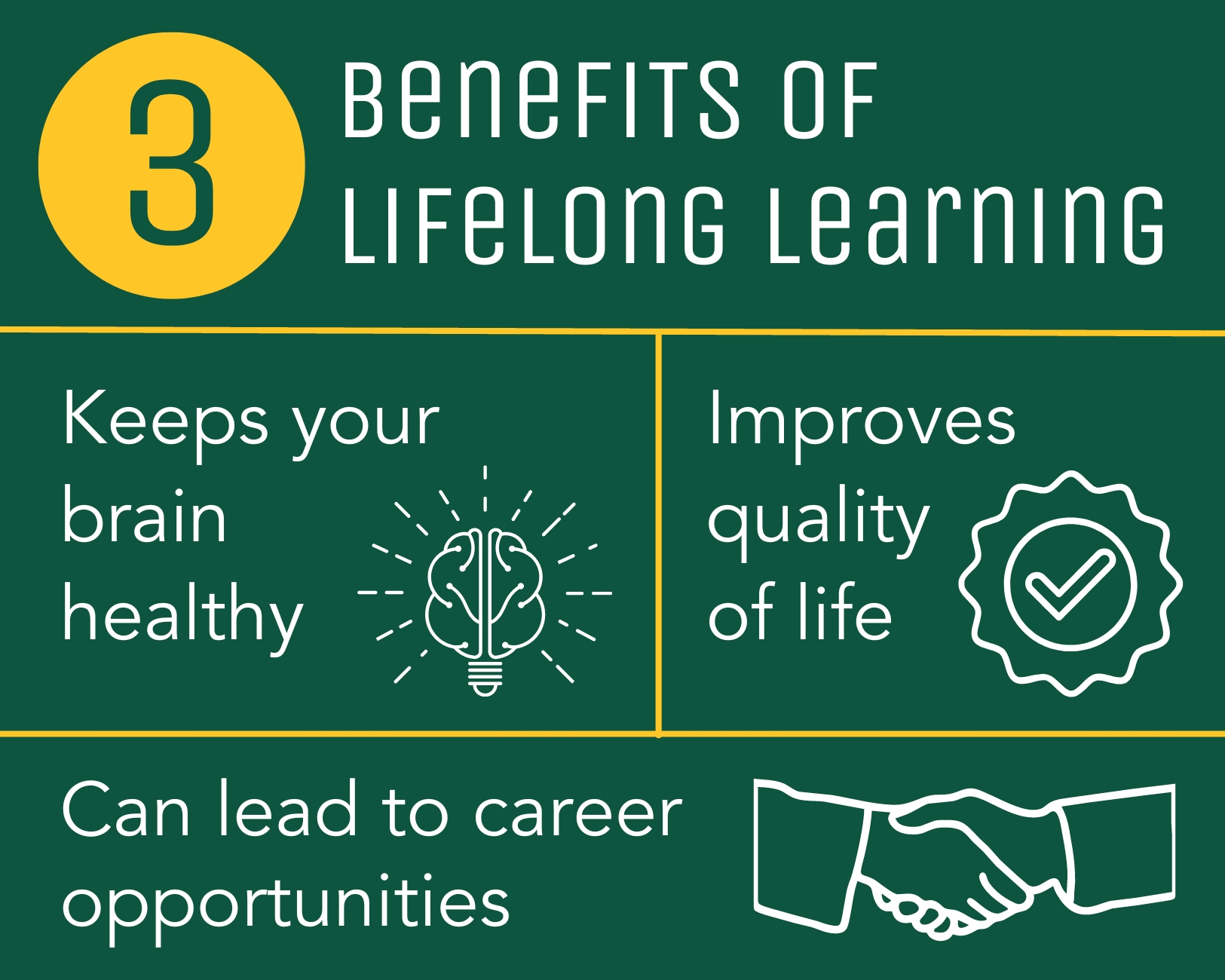 There are many benefits to lifelong learning. Let's look into three. 
Lifelong learning keeps your brain healthy
The first benefit is that lifelong learning can help keep your brain and mind healthy. 
Several studies have shown that mental stimulation is associated with a "reduction in dementia risk" and can stimulate your brain in such a way as to delay the onset of cognitive disorders that lead to memory loss and other issues. Dedicating yourself to lifelong learning can help keep your brain alert, active and healthy.
Lifelong learning can lead to career opportunities
The second benefit of lifelong learning is that it can lead to advancements in your career.
Very few career paths remain the same for very long, especially in the digital age. Professionals have often found themselves in need of constantly updating their knowledge base in order to more effectively do their jobs. Committing yourself to lifelong learning can give you the tools and skills you need to give yourself a leg up in your career and may even lead to significant promotions or other opportunities.  
Lifelong learning improves quality of life
The third benefit of lifelong learning is that it can lead to contentment and an increase in self-confidence. The act of learning can be empowering for you, and it can provide you with a new outlook on life and even a new vision for how beautiful and expansive the human experience can be. Whether it's through playing trivia quizzes or reading new books, lifelong learning can increase your quality of life, adding something new and stimulating to the everyday experience. 
10 habits of a lifelong learner
To successfully become a lifelong learner, it's important to incorporate several healthy habits into your daily routine. Here are a few that may be helpful for you:
1. Nurture a growth mindset 
Lifelong learning is just as much about your mindset as it is about particular actions you take. That's why it is important to nurture a growth mindset and see your life through the lens of self-development. 
Intentionally seek out opportunities for learning as you go through life. This will help establish you as an active participant in your learning journey.
2. Don't be afraid to welcome new challenges
Learning can be beneficial but it is not always easy. It most often involves embracing new challenges and discomfort. However, it can also lead to great rewards. 
Successful lifelong learners embrace those challenges and are not afraid to seek out opportunities to expand their skills and knowledge. They actively embrace change and refuse to hold onto only what's familiar, always seeking opportunities to challenge themselves.
You too can nurture a mindset that is open to change and take up a new challenge from time to time. This will help keep your mind alert and increase your perseverance.
3. Take ownership of your future 
Lifelong learning also involves being proactive about your future and taking full responsibility for it. As an adult, no one is really going to tell you what to do or where to go. You have to be one to take ownership of your goals and aspirations for your future as well as your quality of life in the present. Lifelong learners take this matter into their own hands and seek out learning opportunities that will better help them reach their goals. 
4. Incorporate reading into your daily routine
Incorporating reading into your daily routine is an easy and convenient way to gain access to new knowledge. Depending on your subject of interest, reading can be a way for you to challenge previously held mindsets or update your knowledge base regarding a particular subject. 
5. Develop your time management skills 
Let's face it, life can get pretty busy sometimes with work, family and social responsibilities. It can be difficult to carve out time to dedicate to learning. That's why time management skills are so important to nurture and develop.
Perhaps it means waking up 30 minutes earlier so you can spend some time completing that course you signed up for. Or maybe you can plan to go to bed 15 minutes earlier than usual so you can get some reading done. Creating a detailed schedule and committing to dedicating a certain amount of time to learning each week will go a long way towards improving your quality of life.
__________
Become who you are called to be
Pursue your purpose at PLNU.
__________
6. Nurture your passions
Lifelong learners seek to learn more about themselves, their desires and goals and they take action towards pursuing them. They are not afraid to pursue a passion even if it is for a limited amount of time. Nurturing your passions is a great way for you to get some well-deserved off-time to do something you enjoy.
To do so, first reflect on activities you like to do outside of work or that you are particularly passionate about. Next, get together with people who love the same activities and try to do it with them. This is a great way to nurture your passion and keep it active as well as learn from others who may know more about a topic than you.
If you don't have friends who enjoy the same things,  do a quick Google search to find local communities with similar interests.
Do you enjoy running? Join a running group. Are you into anime, k-dramas, or reality TV? Join communities online with which you can discuss your favorite series. Do you enjoy music, art or woodworking? Whatever it is, there are people in your city and around the world who have the same passions as you and would love to connect.
The cool thing about embracing your passions is that you often might find that you have a variety of things you are interested in! This can be of great benefit, as it allows you to have a variety of rich and meaningful experiences.
7. Embrace your curiosity 
As a lifelong learner it's important that you nurture your sense of curiosity and keep an open mind about the world. Be open to brand new experiences and don't be afraid to go through the uncomfortable process of learning something new. Constantly seek out knowledge to help satiate your curiosity. 
8. Understand the need for rest and self-care
Life can't just be about being busy or productive. It is important for lifelong learners to know when it is time to take a good break and take care of themselves. This could be through regular physical activity, meditation or sometimes simply doing nothing for an hour or two. 
It's also important to get some well-deserved sleep as your brain will have a harder time processing new information if it is not well rested.
9. Understand that learning must be pursued with intention
As we grow into adulthood and acquire more knowledge it can be easy to rest on what you already know and become complacent.  That's why it's important to understand that learning must be pursued with purpose and intention. 
You can do so by setting certain learning goals for your day, week, month or year. Make a list of activities you'd like to pursue or habits you'd like to implement and add those to your schedule. Even if you don't keep up with these habits perfectly, adding a little extra learning time each day can go a long way towards a better life.
10. Take courses regularly
With the internet, there are now countless online courses that people can take if they want to expand their skillset or learn something new. There are free options offered through various education services online or certificate courses that are available for a small price.
Continue your learning at PLNU
For lifelong learners that choose to go even deeper in their learning, they can invest in a continuation of their formal education by acquiring a graduate degree or completing a professional studies program offered through a university. 
PLNU offers graduate degrees, certificates and credentials and adult degree completion programs for working adults who want to expand their knowledge base and skillset. There are part-time or full-time options for a variety of programs. Based in San Diego, many of the programs offer hybrid, in-person or fully online options for students. 
Whether you are seeking a career change or an enhancement to your skill set, PLNU offers you a diverse set of courses that will help you achieve your career goals.