PLNU's fully online Bachelor of Arts in Public Administration is designed to build your expertise in grant writing, policy, planning, management, and finance while equipping you to make a difference in your community. Earning your B.A. in Public Administration can help you advance your career, increase your salary, and gain greater opportunities for leadership positions.
Learn skills for leadership sectors you're passionate about
PLNU offers one of the few online public administration programs that include a budgets and grants writing course in order to uniquely position you as a more marketable hire after graduation.  Learn this and many other in-demand skills at your own pace. 
Classroom discussions focus on topics and themes such as leading and managing public governance, addressing pressing societal issues, social stratification, state and local policy, administrative law, understanding the workings of government, and more. 
As part of the curriculum, each student completes a capstone course that weaves together what you've learned through a proposed partnership with organizations from other sectors to address a pressing societal issue of interest. Students will assess all aspects of their proposed partnership and produce a final project. The capstone can be used in collaboration with a current employer or it can be created with a prospective or future employer in mind. 
Fully online leadership learning
Through this flexible online program, you can become a thoughtful, innovative, and effective leader in administration. Whether you're new to the field or have first-hand experience working in various degrees of government or the public sector, our degree program supports you to take the next step in pursuing your calling. 
Become a fine-tuned administrator on your terms
This online program gives you the flexibility to learn when and where you want. You can complete coursework in the comfort of your home, favorite coffee shop, or local library while choosing a study schedule that works best for you. 
Online learning is perfect for those who learn in ways that aren't often found in traditional classrooms — watching instructional videos, listening to audio lectures at your preferred speed, or dedicating extra study time to tricky topics. You can always connect with professors to help find the best ways to absorb and apply your learning.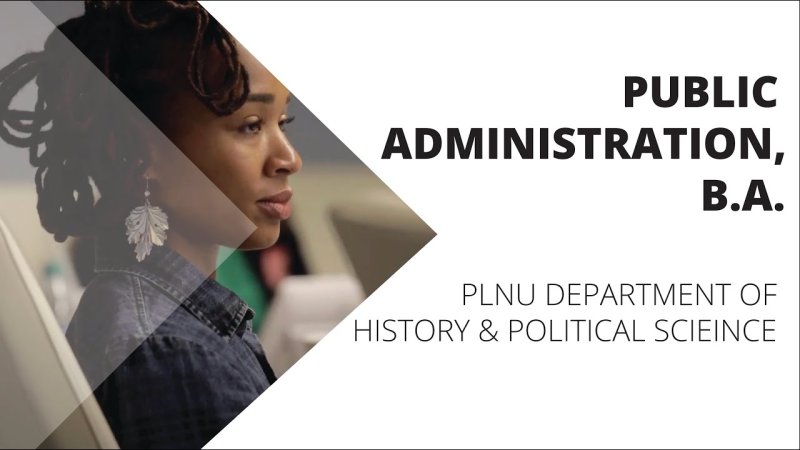 Save time for life's professional and personal commitments
Learning shouldn't prevent you from doing what you love. Coursework is designed to be flexible to your needs and help you balance your other life commitments. 
While completing this program, you'll still be able to continue spending time with family, thriving at your full- or part-time workplace, or leisure time. 
Mentorship and community without commuting
Commuting can be stressful and time-consuming — especially in San Diego. Thankfully, you can learn online while still benefiting from PLNU's strong focus on community. In this program, you'll meaningfully connect with other students online as you learn and grow in your leadership expertise.
You'll also have access to top-tier mentorship from advisors and professors with experience in the public sector. They'll help you to leverage your strengths to expand your connections and career opportunities. You'll be able to access resources tailored to you and your career goals.
Public Administration Learning Outcomes 
Students who complete the public administration program will be able to:
Demonstrate critical skills to lead and manage in public governance.

Appraise pressing problems using critical thinking, ethical thinking, and analytics to consider solutions and apply best practices.

Articulate and apply a public service perspective to their role in their institution.

Evaluate the role of public administration officials as participants in the public-policy-making and implementation process.

Demonstrate the ability to communicate and interact productively with a diverse population with varying needs.
Online Format 
PLNU's online public administration program offers the flexibility of online learning and the ability to set your own schedule while also providing the benefit of participating within community. Make your schedule and add the unit course load that works best for you. 
All courses are three units spanning eight weeks with the exception of the Biblical Perspectives course, which is four units.
| | |
| --- | --- |
| Who is it for? | Busy working adults who prefer independence. |
| Program Start | Six start dates year-round. |
| Program Structure | 100% online and asynchronous |
| Location | Online – flexible |