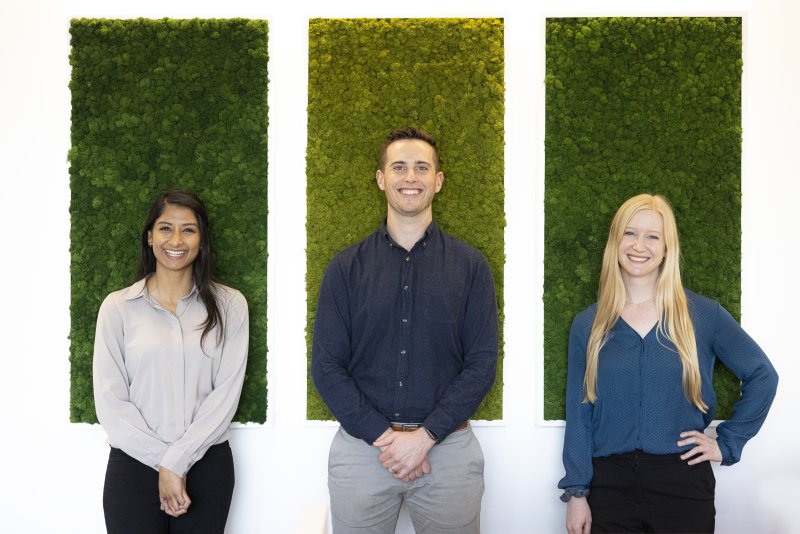 The idea of going back to college as an adult may seem daunting. However, investing in yourself and your future has many benefits and can open up incredible opportunities. And with more and more hybrid and online courses available, it's never been easier to go back to school and earn your degree. Navigating college as an adult is different from going right after high school and getting the full 'college experience', but this article will guide you to going back to school and how to prep.
Is it too late to start college?
During this process, you may be questioning if it is too late to start college but the answer is that it's never too late to start college. All you need is the proper mindset, discipline, goals, and motivation. 
Returning to college may come as an advantage as you are more mature, have more life experiences, work experiences, and can understand the importance of finishing your degree. This can lead to you taking away much more knowledge from your professors and courses. More often than not, people are glad they returned to college because of all the benefits it has brought to their lives and careers.
While deciding if going back to school as an adult is the right decision, the first thing you need to understand is, your why. Why are you going back to college? For many, the reward is receiving a job promotion, transitioning to a new field, accepting greater responsibilities, finishing your degree, and more. Once you discover and understand your purpose, you must move forward with confidence in finding a college that will support you.
I have credits, but is it worth returning to school?
If you are someone who had to stop school and haven't had the chance to return you may be able to skip some classes and use your past credits. The best thing you can do is communicate with the admissions counselors at your intended college because they are eager to help and ensure you take only the classes necessary.
For example, at PLNU academic advisors will take a look at your old credits, see how they transfer over, and help set you up with the best Adult Degree Completion (ADC) program. Depending on how many credits transfer over, you can finish earning your degree in a shorter amount of time. 
Once you're enrolled, connect with your academic advisor to make sure you're on the right path, and taking the right courses. They may have different perspectives, insights, and tips that can help you along your journey. 
In addition to communicating with your admissions counselor, you may want to look into financial aid. One reason why some may postpone college is they do not want hefty student loans. When you are balancing a job, family, kids, and more, student loans are always an important consideration. 
During your research phase, consider scheduling appointments with financial aid offices, and see how they can set up a payment system for you. You should also look into scholarships, and ask about the types of financial aid available to you.
How do I juggle life and school?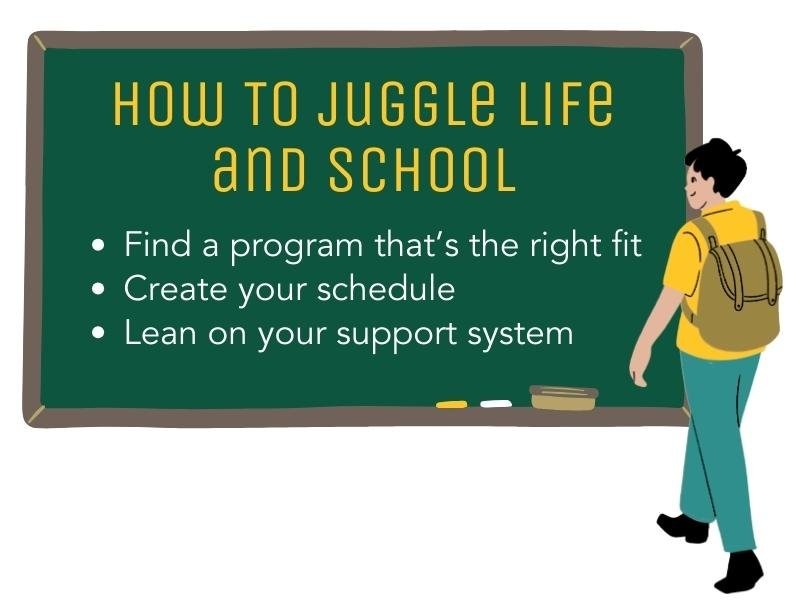 1. Find a program that's the right fit
As an adult student, you may be figuring out how to juggle school and life. Luckily, there are many resources and guides to follow. 
First and foremost, research colleges that have flexibility and will work with your schedule. Whether this is entirely online, hybrid, part-time, or an evening program this needs to be a priority. From there, look at the majors offered and see if the university offers the program you're looking for To go more in-depth, you can look at the courses offered under your intended major, and ensure the courses interest you.
______
Who are you called to be?
Pursue your purpose at PLNU.
______
2. Create your schedule
Next, you will want to create a schedule that works for you. Whether that is studying and doing homework before or after work, you need to know what feels best for you. 
Do you work better in a coffee shop, or at home? Either way, learning to study with distraction or background noise will help you in the long run, in case you need to do a last-minute prep around your kids, pets, friends, or family. 
The most critical step to all of this is staying disciplined. Once you know your study time and location, you need to stick to it. You can optimize your time each day by putting your phone on Do Not Disturb and sharing your study time with others.
3. Lean on your support system
Lastly, you will need a solid and secure support system. As a working adult and an adult student, you'll be juggling a lot. Whenever you can, look to your friends, partner, or family for support and motivation when needed. 
Once you begin your courses and meet your professors, take some time to network with them throughout the school year. Your professors can be your mentors and help guide you to your goal. They can also connect you to someone who might be in your intended field. Also, you can network with your colleagues and lean on them for support. 
As a whole, having a sturdy support system can ease your stress and anxiety. They can help you study and prep, or take care of your kids and pets. No matter the circumstance, everybody needs a support system to make them feel safe, help them flourish, and stay healthy.
How to prep for school again
If you are going back to college at any age, there are steps to help you prep for the first day. First, you will want a functioning laptop to keep up with your Zoom calls, assignments, programs, and more. Depending on your study and work space location, find the best WiFi available, so you can write papers and submit assignments without technical difficulties. 
Consider using programs like Google Docs, which automatically saves your work, even if your internet connection cuts out. In addition, you can use a planner, Google Calendar, or task reminders to keep you updated on all assignments due. Also, since learning can be completely online, you now have multiple study materials, such as reading the textbook, watching videos, listening to recordings, taking practice tests, and more.
The first day of school jitters may arise, and if they do, try not to stress, because you are not alone in this process. You'll be in classrooms with other people around your age trying to finish their college degree too.
The best way to ease these jitters is to start your day doing exciting things. Whether it's going to the gym in the morning, running to get coffee, doing a skincare routine, or having breakfast, do something before class that makes you feel happy and confident. 
Taking the next steps
When you have your goal in mind, everything else will fall into place, and you will find an astounding university that will accept you and help you throughout your journey. Going to college as an adult will always be in your favor, as you will reap the knowledge and benefits of investing in your future. 
At Point Loma, you can start the next steps of your higher education by looking at the Adult Degree Completion Programs offered from business, to education, criminal justice, and more. With eager academic advisors and financial aid officers, you will feel confident in knowing how to navigate college as an adult.