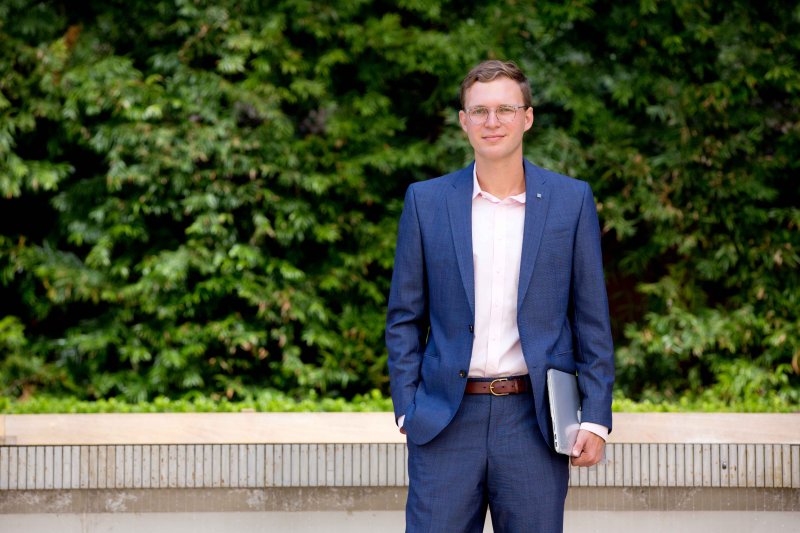 The Bachelor of Business Administration (BBA) is one of the most marketable and in-demand undergraduate degrees. Nearly every form of employment is related to a business organization, and understanding the field of business can be beneficial to your career. PLNU's BBA program is designed to help you learn to make insightful decisions and gracefully lead others.
Here are answers to six common questions about the BBA to help you decide whether a degree in business administration is right for you.
1. What is a Bachelor of Business Administration degree?
Point Loma Nazarene University offers the Bachelor of Business Administration as part of its adult degree completion program designed to help students grow in their practical understanding of the finances, marketing, and management of a well-run business. Students collaborate with colleagues, professors, and industry professionals to develop skills for real-life situations.
2. What is a BBA degree good for?
The Bachelor of Business Administration is ideal for anyone who wants to grow their business career. Whether you're seeking to move up in your company, qualify for a raise, or look for new opportunities, a BBA degree will give you the tools and qualifications to take those next steps.
The BBA is a versatile degree, leading to opportunities in whichever industry gives you purpose. Businesses both big and small, government positions, nonprofit organizations, and graduate programs are all looking for candidates who set themselves apart with a BBA degree.
3. What do you learn in a BBA degree program?
BBA students learn the foundations of what makes a business successful, as well as the essentials of leadership and collaboration in a business setting. PLNU's Bachelor of Business Administration program also has two built-in concentrations: management and marketing. The goal of the program is for you to graduate with all the skills you need to thrive in any position in an organization.
The BBA program includes courses such as: 
Business communication
Business finance
Human resources management
And more.
All these topics provide a well-rounded understanding of how businesses function and how to communicate effectively within them. Whether you're trying to grow your company's profits or improve how you communicate with your colleagues, a BBA will help you make informed decisions to benefit your workplace.
Read also: Should I Go Back to School to Earn My Bachelor's Degree?
4. What salaries and jobs are available for having a BBA?
The salary aggregate website Payscale presents an average base salary of $70,000 per year for jobs requiring a Bachelor of Business Administration. A BBA degree can be integral for job titles like:
Financial analyst
Human resources manager
Project manager
Staff accountant
And many more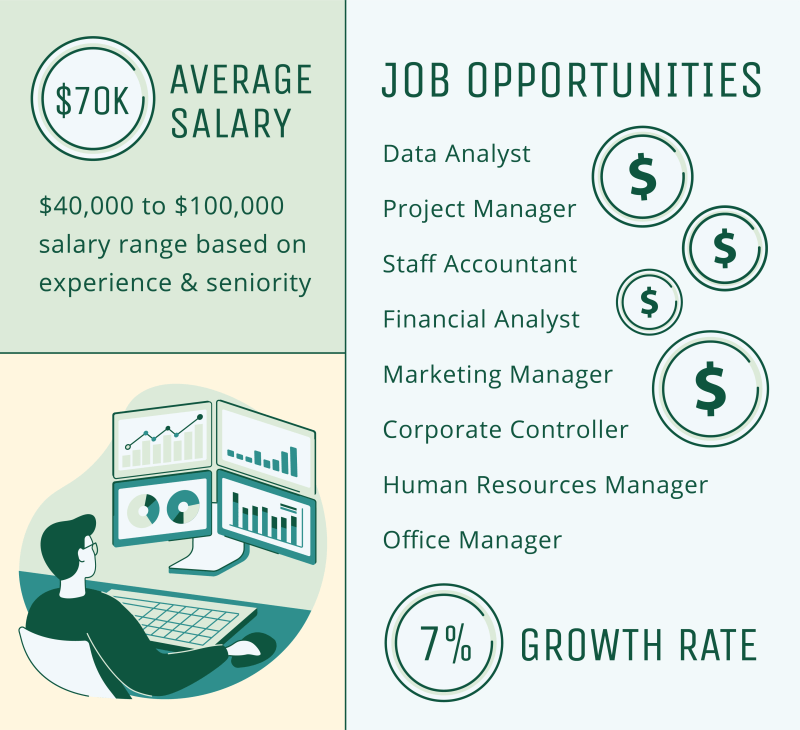 These jobs can range from $40,000 to $100,000 based on experience and level of seniority and have a high growth rate and impressive level of job satisfaction. According to the U.S. Bureau of Labor Statistics, financial occupations are projected to grow 7%in the next 10 years — which is faster growth than other occupations. The best thing you can do is build strong connections with businesses and people you want to associate with. Your perseverance will likely achieve further career advancement!
See more: In-Demand Business Administration Careers 
5. What's the difference between a BBA and an MBA?
You may be considering whether to choose a BBA or to continue on to a Master of Business Administration (MBA). The most significant difference between a BBA and an MBA is in the title: one is a bachelor's degree in business administration, and the other is a master's.
Many students choose to start with their BBA and continue on to earn their MBA after earning their bachelor's. The MBA curriculum is a perfect follow-up to a BBA program because MBA students have the building blocks to continue implementing their knowledge of the business world and business environments. Many MBA programs are geared toward working professionals seeking to advance their career in business.
Other differences between the two degrees are discussed in the Indeed article, "BBA vs. MBA: Which Business Degree is Right for Me?" While BBA programs are strongly informational and lecture-based, MBA programs have a larger emphasis on discussion and sharing professional experience with other students.
Students in BBA programs are generally taking earlier steps in their careers, while students in MBA programs are often currently employed and looking to gain access to senior positions. Undergraduate students will learn basic specializations and begin to choose their career path, while graduate students will be mastering the concentrations they've chosen.
6. Where can I earn my BBA degree?
Earning your BBA online offers you flexible options that fit your current schedule. In addition to a 100% online option, as a university in San Diego, PLNU partners with local community colleges throughout San Diego County to offer a hybrid course with in-person classes two nights a week at MiraCosta College, Southwestern College, and Cuyamaca College.
The hybrid program is also ideal for those who prefer in-person collaboration with professors and fellow students in a location that's best for you. 
The fully online course is ideal for people who have tight schedules or prefer independent learning. The online option also offers six start dates throughout the year so you can truly choose the option that best fits your schedule. 
Learn more about PLNU's BBA program in the video below.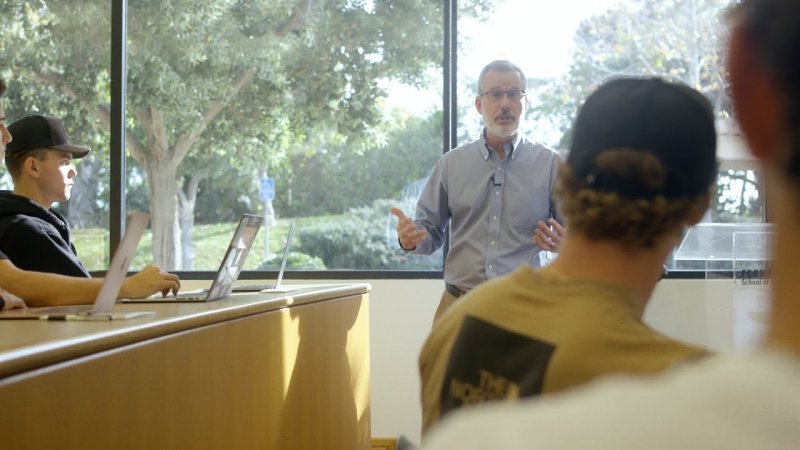 PLNU knows there's more to you than your GPA. That's why, with our BBA program, there's no numeric formula that determines admittance. Rather, a variety of factors is considered to take your broader life experience into account. You're encouraged to apply even if you're unsure whether you qualify. 
Master's programs are more competitive and require: 
A completed undergraduate degree
Strong GPA and Graduate Record Examination score
And other requirements. 
However, PLNU's BBA will more than prepare you to succeed in your graduate business studies. For full information about applying to an MBA program, click here: MBA, Daytime: Program Information and Comparisons | PLNU
Take the Next Step:
With a Bachelor of Business Administration, you'll have the tools to grow your career. No matter where you are in your vocational journey, the BBA program will help you discover how to be an ethical and effective leader.
Take the next step and apply today to start your BBA.
Click here to request information