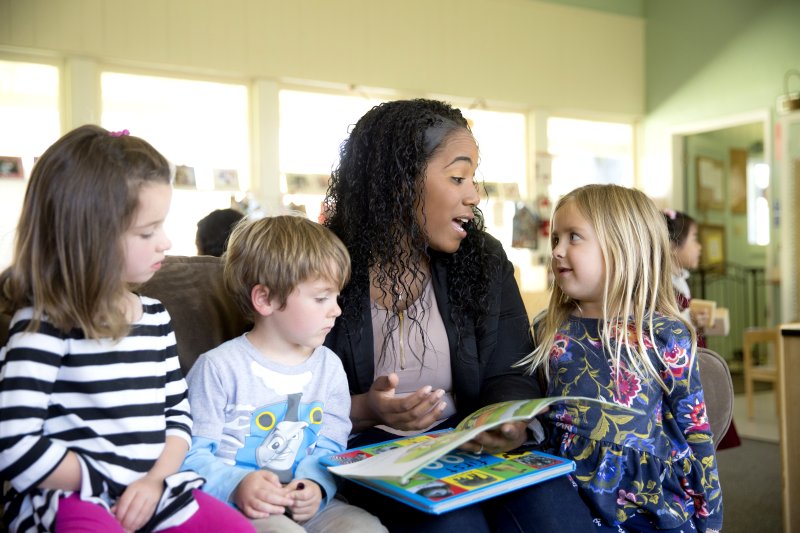 When it comes to the classroom, teachers have the ability to make the learning experience fun, engaging and welcoming for their students. If you prepare for this environment inside and outside the classroom, you can help ensure that students feel safe, seen, and heard.
A welcoming classroom can do wonders for your students and their academic progress. For example, the simple act of smiling and greeting your students at the door can lead to an increase in engagement and a decrease in disruptive behavior, leading to a better academic performance. Not to mention the psychological and emotional benefits of a positive learning environment. 
Here are 10 helpful ways you can create a welcoming classroom for your students: 
1. Let families get to know you outside the classroom
Creating a welcoming classroom starts outside of it. Before you meet your students, it's important to form a positive connection with their families, parents, or guardians. 
Many schools host open house days where teachers and guardians can meet in person. During this time, consider putting together a presentation letting parents and guardians learn more about you and more about what you will be teaching. 
If you can, ask parents and guardians about their child so you can get to know more about your students before the school year begins. Here are some examples of things to ask for:
Proper pronunciation of their child's name 
Preferred nicknames for their child 
Favorite hobbies
Child's learning strengths and weaknesses
Their learning style, etc. 
Ask for additional details that can contribute to you creating a better and more comfortable environment for your students. 
2. Make lesson plans around your students' interests and learning style
This is where that information you gathered from parents and guardians will come in handy! When coming up with lesson plans, seek to blend in relevant facts or interests about your students. 
If you aren't able to gather this information before class starts, be sure to incorporate it into future plans as you learn more about your students throughout the year. 
Consider these questions:
What do my students like to do in their free time?
What sorts of activities do they enjoy?
What sorts of shows are they watching?
What type of music do they listen to?
Is there any way to incorporate these details into my teaching?
You can incorporate these  activities and  interests into your daily schedules so your students can feel understood. 
3. Think about your personality when planning classroom activities 
Although students are your top priority as a teacher, it can be exhausting to do activities that have nothing to do with you, your personality or what you like to do. When it comes to devising activities for the classroom, try to find a middle ground between what you enjoy doing in your own life and what students like. 
For example, are you someone who regularly meditates? Perhaps you can lead your students in a 30-second meditation before class starts. Do you love greeting students at the door or believe that is important? Then go ahead and do so!
Are you a naturally organized person? You can keep your classroom stocked with extra supplies for students that need it — as much as it's financially feasible. Do you like art or enjoy creative activities? You can incorporate these activities into your daily teaching. 
4. Decorate the classroom with welcoming messages and themes
Depending on what grade levels you're  teaching, the classroom is where your students spend most of their time at school. As a result, it's important to decorate in a way that helps them relax, feel welcome and learn more efficiently. 
Here are some things to think about when it comes to classroom decorations.
Decorate your classroom with welcoming messages
Consider creating a collage or poster with a welcoming message for your students. Resources like Pinterest are great if you are looking for fresh ideas. If you have bilingual students, consider writing those messages in multiple languages. 
Be creative and adaptive with your classroom
Adapt decoration choices to your students' ages and subjects you're teaching. It's important that the decorations be relevant to your context. 
Make your classroom inviting for students of all backgrounds
You've probably heard this before, but representation matters. Seeing positive representations of diverse backgrounds and cultures can help your students of color feel seen and heard and it can help other students become familiar with and understanding of cultures that are not their own. 
Create a classroom schedule and put it up where everyone can see
This way, students know what learning activities are planned for the day and will be able to look forward to them!
Put up a bulletin board where students can share about themselves.
As a way to connect your students' real life to your lesson plans, create spaces in your classroom where students can share about their lives. For example, you can put up a bulletin board where students can share what they did that weekend or what sports they like to play. 
Be mindful of the colors you choose for your classroom
The colors you choose for your decorations can help create an inspiring environment for your students. For example,  the color orange is typically associated with "encouragement, optimism and self-confidence" while blue represents "trust, serenity and peace." You can pick the colors that will help your classroom feel warm and inviting. 
Designate a quiet space in the classroom and decorate it accordingly
Some students might need to spend time alone throughout the day due to feeling overwhelmed or overstimulated. If the physical layout of your classroom allows, create a space where those students can enjoy some quiet time when they need a break. 
These are just a few examples of ways you can decorate your classroom to make it more welcoming.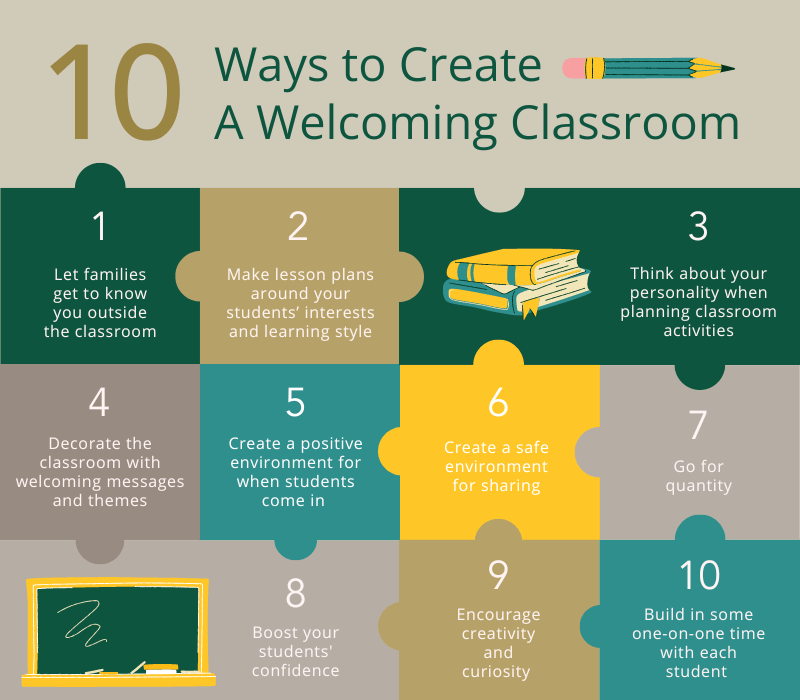 5. Create a positive environment for when students come in 
The first few days of school can feel new and scary for both your students and perhaps even for you! To break the ice, be sure to greet your students every day. If you can, say something positive or complimentary to each student as you greet them. 
If it's appropriate, play some inviting music as students come in so they can feel relaxed and comfortable for their first week of classes. 
Another way to create a positive environment in the classroom is to set clear rules for how students should treat one another and how they should treat you. Outline a standard of respect and goodwill among students and reward those who are kind and generous towards their fellow classmates. This will help your students know what is expected of them as well as what is unacceptable in the classroom environment.
When establishing these rules be sure to couch them in positive language so as not to discourage your students.
__________
Become who you are called to be
Pursue your purpose at PLNU.
__________
6. Create a safe environment for sharing 
If you'd like to help students feel safe and comfortable with you and their peers, you can make an effort to create a safe environment for sharing. 
To that end, give your students a chance to share about themselves to you and their peers (if they want to). Set up a time in the first few minutes of class so students can share how their evenings went, their weekend activities or things that they are interested in at the moment. 
Don't forget to also share something about yourself. Perhaps you've taken up a new hobby or are reading an interesting book that your students would love to hear about. 
7. Host activities so students can get to know each other
In the spirit of the last point, build in additional activities for students to get to know one another. Consider having your students fill out information about themselves and have them share it with classmates or with the whole class. 
You can also schedule activities where students can work in groups and with one another. Not only can activities such as these help students understand themselves better, it might help them make new friends!
8. Boost your student's confidence
When it comes to making your classroom feel welcome, nothing beats positive communication. 
Throughout the school day, let your students know that they are fully capable of learning and growing. Use words of encouragement and positive affirmations. Avoid comparing one student with another. Offer constructive criticism couched in positive language. Let your students know through your words and actions that you are there to help and support them. 
It's also important to allow your students to make mistakes and encourage them in the process. This can help boost your students' confidence and make them feel like they are seen and heard by you. 
9. Encourage creativity and curiosity 
Encourage your students to be curious about life! Provide them with opportunities to explore and discover new things, whether that is through field trips or outside activities. 
Use moments of spontaneity and switch things up a bit from time to time. Be sure to encourage your students to not be afraid to ask questions through positive reinforcement and encouraging feedback. 
10. Build in some one-on-one time with each student 
Finally, if you can, set aside some time to spend one-on-one with each student in your class. This may not always be feasible depending on the size of your classroom, but it's a great way for your students to feel like they are being looked after.
Edutopia offers some great tips for organizing short conferences with your students:
Make sure your students know exactly what the conference will be about and the goals for each meeting
This could be about a project they are currently working on or about any other concerns they may have about the life of the classroom. It could also be a chance to catch up and hear from your students!
Set a time limit for each conference
Depending on the needs of each student be sure to set a time limit for the conference and let your students know how long it will last. 
Allow your student to share about their classroom experience
It may be that throughout the year, students may become distracted by their personal lives or they may be struggling with a specific subject. Allow your students to share freely so you can better support them in their learning. 
Expand your influence with a Teaching M.A.
Now that you've got some tips on how to build a welcoming classroom, consider equipping yourself even further as a teacher by pursuing further education. 
PLNU offers a Master of Arts in Teaching which you can complete fully online through the state of California or in-person at PLNU campuses in Mission Valley and Bakersfield. 
With this curriculum, you can gain the skills you need to live out your calling as a teacher as well as earn credentials so you can become the type of teacher you want to be. 
The courses will teach you how to equip, transform and empower your students and give you what you need for credentials in one of three teaching areas of your choice (multiple subject for elementary school teaching, single subject for middle school and high school teaching, and education specialist for special education teaching). Take the next step in your teaching journey and get started on your Teaching M.A.