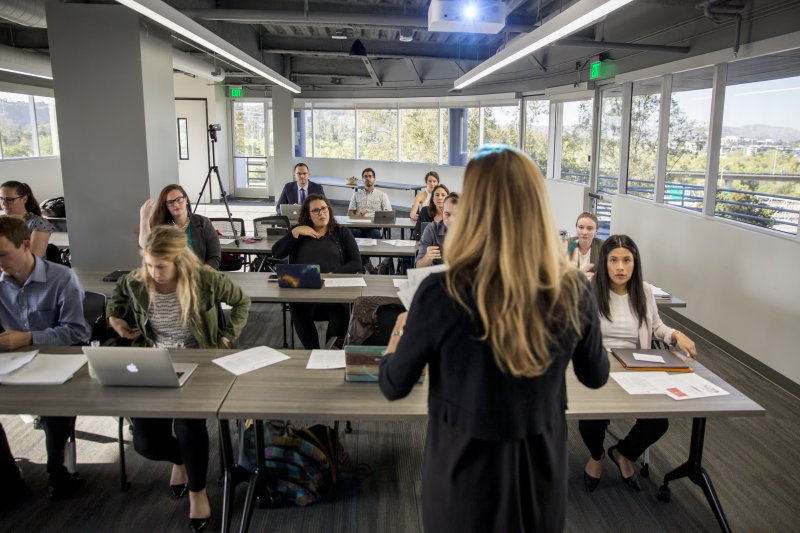 If you love writing and want to turn it into a career, you may have thought about becoming a writing professor. Earning a Writing M.A. can help you gain experience in a variety of writing contexts, build mentorship skills, and qualify you to become a professor for subjects such as:
Creative writing
Journalism
Editing
Business writing
Communications
It can be challenging to know what opportunities are available to you as a writing educator, or how to navigate them effectively. Here is your guide to becoming an adjunct writing professor, and how a master's in writing can help you start your teaching career.
What is an adjunct writing professor?
Adjunct professors are part-time educators who instruct students in their subject of expertise. They may work at community colleges or traditional undergraduate institutions, and can teach both online and in-person classes. 
Adjunct professors are contractual faculty members who work in the same capacity as full-time professors but are not fully a part of the university staff. 
Many adjunct professors actively pursue postgraduate qualifications during employment, like a doctorate-level degree. This can help you to qualify for more senior positions like:
Tenured or full-time professor
Dean of a writing, literature, or English department
Department chair
Why should I be an adjunct writing professor?
Adjunct professors' part-time schedules can allow them to continue their higher education, work at another school or elsewhere, or make time for personal responsibilities.
Adjunct writing professors might spend time on their creative work. Others might use their flexible schedule to spend more time with family — an ideal option for those with young children. 
It's important to note that it can sometimes be challenging for adjunct professors to become full-time faculty members — especially for those who haven't earned a doctorate. There are plenty of examples of adjunct faculty hoping to grow their part-time teaching opportunities into full-time tenured positions, only to feel overlooked in favor of educators with prior full-time experience. 
Because of this, it's important to keep the following in mind to set yourself up for success:
Develop close new relationships while remembering to keep in touch with key contacts:

Professors who have taught you
Fellow classmates who are also pursuing careers in education
Professors and faculty members at schools you're interested in applying to
Professionals at educational or literary/writing conferences

Make a strong, positive impression with students and faculty
Stay up-to-date with news and developments in the world of education
Form a specific plan for improving yourself as an educator and professional writer
_______
Who are you called to be?
Pursue your purpose at PLNU.
_______
How can I become an adjunct instructor?
Preparations
Leading up to your job search, take inventory of your greatest written work. Note all your work that's been published previously, and consider trying to find new places to get published. As a graduate student, you'll be encouraged to start thinking about developing a strong foothold in the publishing world.
Self-publishing is one route, but finding established journals, websites and presses to publish your work can give you more credibility as a writer and writing educator. The thesis project you'll complete during the Writing M.A. should be a great sample of your work.
Certifications
Typically, there are no formal teaching licenses or certifications required for undergraduate adjuncts. 
However, if you're interested in teaching online writing classes, you may consider earning an online teaching certification, such as a Certified Online Instructor (COI) designation. This can give you extra training specific to navigating the differences of online education. 
You should examine job listings at colleges or other organizations you're interested in to see if they have any specific requirements or preferences. Find out what sorts of extra qualifications they value — don't just guess what employers might be looking for. 
Applications
One article posted by Graduate Programs for Educators recommends being specific about your goals within your CV or cover letter. Discuss your intended subject, your specific expertise, and your approach to teaching. 
You could even put together a proposal for a writing course, although this is a practice more suited for professors intending to teach graduate-level programs. It can still be a useful exercise for thinking through what your ideal class would look like. Keep your ideal class in mind during applications and especially during interviews.
What are some qualities that make a good writing professor?
1. Encouraging
A good professor should create an environment where students are excited to write. Providing fun, open-ended writing prompts, talking one-on-one about each student's written work, and finding places students can get published are a few ways to help students feel like their efforts are valid and appreciated. 
2. Motivating
Writing teachers should gauge students' strengths, know their abilities and motivate them to consistently improve. Although every student's skills and strengths are different, no writer should feel as though their abilities are plateauing — especially in undergraduate or graduate-level courses. Not only do writing teachers need good communication skills, but they also need to teach students to improve and promote their writing to a variety of audiences.
3. Discerning
In some ways, what makes "good writing" is relative. However, it's important to be well-informed about the conventions of good writing to help students improve their writing. Part of this is by reading both classic and contemporary literature — especially in your chosen genre — and analyzing what makes them compelling.
4. Forward-thinking
A large part of academia is inviting new ideas and voices to the table. Students may want to be like Alice Walker, Ray Bradbury, Amy Tan, or Joyce Carol Oates — all esteemed writers who have visited PLNU's Writer's Symposium to impart their wisdom to students — but you should encourage them to discover all the things that make their writing voice unique. 
Encourage students to avoid cliches, discover new perspectives, and find their own writing style. This is especially important with the rise of AI writing software. 
Overview of PLNU's Writing M.A. teaching track
PLNU's Writing M.A. offers a graduate teaching assistant (GTA) track for 100% tuition remission. You'll be able to take 6 additional units for a pedagogy concentration to equip you to educate students, and work in the writing tutorial center to help students with their academic writing. You'll also shadow a current professor for in-classroom training. 
In year two of the program, you'll also have the opportunity to apply to be a GTA professor, where you'll teach an introductory writing course — a perfect opportunity to gain experience that will set you apart for future opportunities. Both this and the tutoring positions require 20 hours of work per week. Because the classes and work are a full-time commitment, this track also offers a $10,000 stipend (per year) in addition to the tuition remission. 
If you're interested in becoming an adjunct professor or pursuing other professional writing-related opportunities, consider earning a Master of Arts in Writing. In that program, you'll learn to polish your writing to a publishable level and unlock new opportunities.