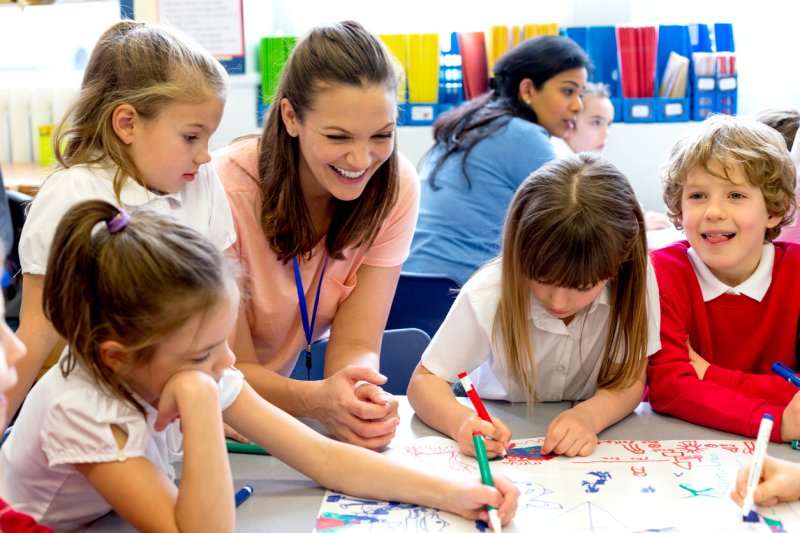 PLNU is committed to forming educators who see their roles as teachers, counselors, and administrators as more than merely a job, but a calling to serve others with their unique gifts and passions.
Deb Erickson, Ed.D., is the dean of PLNU's School of Education (SOE). What has helped her maintain the SOE's status as one of the top producers of education candidates within not only San Diego, but the state of California, is her missional approach to her work.
"The mission of PLNU's School of Education is to prepare educators that are going to make a difference in the lives of the students and communities they serve every single day," Erickson said. "Our mission is to equip, transform, and empower educators. That's why we spend quite a bit of time interviewing prospective students who want to become teachers, principals, or counselors and making sure they feel called to serve. That doesn't mean they have to be Christian — we have students who aren't — but rather that they feel strongly pulled to the work of being educators."
For Erickson, it's this type of philosophy in the SOE that informs its efforts to establish relationships with the San Diego community and explains why it's well respected by the many districts of San Diego.
__________
Who are you called to be?
Pursue your purpose at PLNU.
__________
"PLNU is really good at asking questions and seeking information about what the districts need with its teachers and responding to that information," Michelle Hayes said.
Hayes is the assistant superintendent for personnel services for the Cajon Valley Union School District. She spoke first-hand about working with PLNU.
"I was recently meeting with Deb Erickson, telling her about what our teachers need, and her response was always, 'Yes, and how can we better do that?' And if it's something that isn't already in place then she'll create it since PLNU is responsive," said Hayes.
She further elaborated on how she values working with the school.
"I really enjoy working with the staff of PLNU. Their passion for education and their students, and the work that they're doing is evident in any setting that I've been in with PLNU," Hayes said. "Their commitment to their students and their program is evident in everything they do and I really value the work PLNU is doing."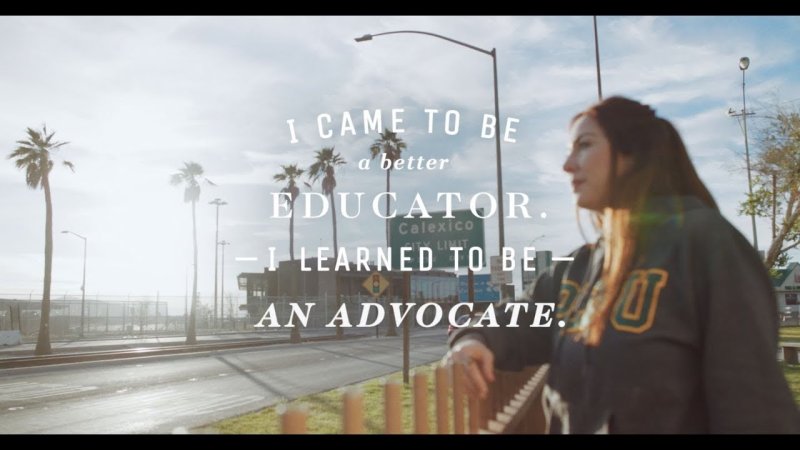 A Commitment to Integrity in Education
Erickson also detailed PLNU's commitment to their students as future educators.
"When we interview candidates, we're looking for people that we would want to be our own child's teacher in the classroom. I'm looking for people who can be the hands and feet of Christ, even in the public setting," Erickson shared. "We can teach people how to teach. We can teach people how to be counselors, but they have to see working with students to change their lives as something in line with their talents and passions."
Chris Reising, the executive director of HR at the San Diego County Office of Education, remains impressed with PLNU's commitment to integrity, forming morally-sound and committed teachers.
"I think that PLNU takes it very seriously when they look at the moral underpinnings of the teaching profession and what we expect of individuals who are working with the most valuable commodity we have in society — our children. The candidates that come out of PLNU are absolutely well trained and are solid individuals," Reising continued, pointing to the collaborative nature of PLNU. "The leadership at PLNU, starting with Deb Erickson, has been collaborative with us for many years. We've done a multitude of things together. In fact, we hold our trainings at PLNU's facilities all the time. We've held our teacher job fairs, which can garner anywhere from 600 to 800 teacher candidates, at PLNU for the last several years."
It's this missional posture that informs the entire school, from the rigorous and in-depth curriculum to the network of PLNU professors and staff who help students as they move through the program.
"We have dedicated faculty who have hearts of wanting their students to do well in the school system," Erickson shared. "Our staff is also incredible in the way they have built support systems for students to ensure they get the right information about the assessments that they need to become licensed teachers and so on."
Jeff Felix, Ed.D., is a professor in the School of Education's master's in education program. Before coming to PLNU, he spent 30 years in the education system as a teacher, principal, and superintendent for various San Diego school districts.
"As a professor at PLNU, I realize that I have to make the classroom very collaborative, so that my students feel like we're in this together," Felix shared. "That's what I try to do as a teacher."
Since starting at PLNU, he has remained impressed with both the character and sheer experience of the professors and staff members he works with.
"PLNU has put together professors who have hundreds of years of collective experience and I think it shows. The PLNU students are getting a quality education experience."
"The people I get to work with at PLNU are a great group of people," Felix said. "There are many retired educators who teach at PLNU, and they have a fount of knowledge and experience, which they are able to relate to the students. PLNU has put together professors who have hundreds of years of collective experience and I think it shows. The PLNU students are getting a quality education experience."
McKayla Carpenter (13), a PLNU alum and teacher at a Chula Vista charter school, Discovery Charter Elementary, reiterated this quality regarding the teaching at PLNU.
"The way that PLNU professors teach is not by telling you how to teach, but by showing you how to teach using the very teaching methods they want you to embody," Carpenter said. "You can be told all day long not to lecture students, but if the person teaching you is lecturing you, you won't learn. Most of the teachers at PLNU were trying to be creative and inventive in how they provided us with the content, so that we would do the same when we were teachers."
PLNU School of Education in Bakersfield
Additionally, the SOE's success within San Diego has been inspired by the example of PLNU's satellite campus in the Bakersfield area (Kern County), where several education programs are offered.
"A lot of the successful ideas we implement also come from Kern County," Erickson said. "Associate dean Jill Hamilton-Bunch is doing a fabulous job of reaching out and partnering with their districts. In fact, she's done such a good job that we no longer have other competing schools in the Bakersfield area. She and the faculty and staff up there have provided a great modeling for us down here in San Diego."
Another example of the SOE's constant innovative efforts to prepare high-quality teachers is Point Loma's Integrated Studies with an Emphasis in Education, B.A. program. The program is designed for students who want to earn a bachelor's degree with a teaching credential in a non-traditional setting, which makes it great for adult students and those who have working or family commitments.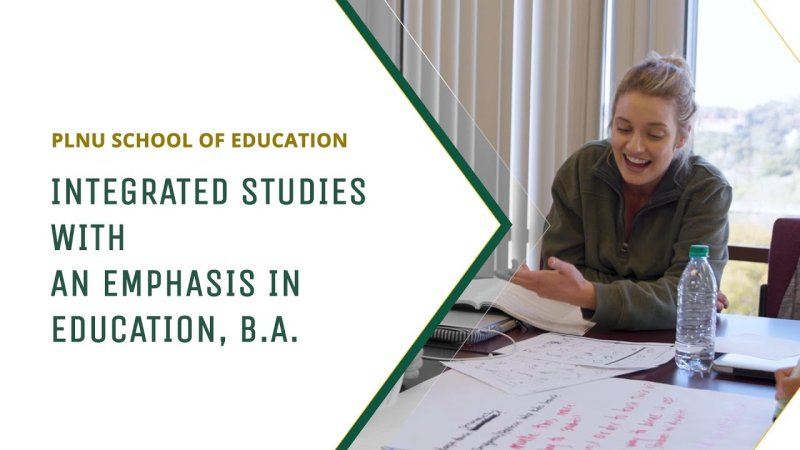 "This degree is perfect for those who might already be working in the classroom as an aide, but don't have a teaching credential or a bachelor's degree," Erickson said. "Maybe they have 40 units of early childhood education from a community college though. We work with them to take the units they still need, if any, or bridge the ones they already have so that they can earn a bachelor's degree and credential."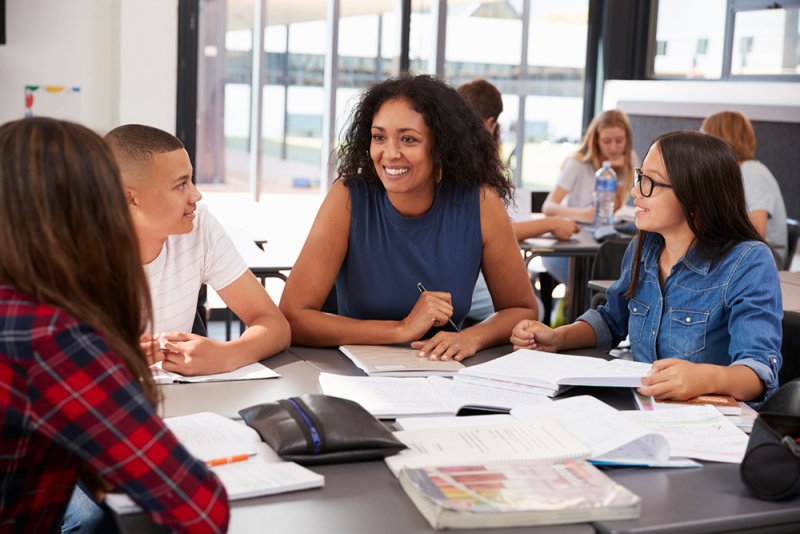 A Reputation for Education Excellence in San Diego
PLNU's effort to work with the districts within San Diego has helped it become one of the most esteemed producers of teachers and other educational professionals within the area.
As the director of Human Resources for Sweetwater Union High School District, Milena Aubry, Ed.D., vets all student teachers for fieldwork and oversees all of the hiring for certificated non-managerial personnel, including teachers, nurses, speech language pathologists, and counselors.
"When we conduct formal interviews with teachers we use a tool called the Teacher Quality Index, a research-based tool, and when we interface with PLNU candidates what I notice is that they are very well prepared in many of the dimensions. Not every university prepares them as well in areas such as planning for instruction, short-term and long-term planning, and implementation of instructional strategies that differentiate for different subgroups of students," Aubry shared. "Another thing that I notice about PLNU candidates is that PLNU does a great job of developing reflective practitioners who really take time to consider what they could have done differently after they teach a lesson, taking ownership and responsibility for the instructional decisions that they made and reflecting about how they could have made different decisions to improve student outcomes."
Aubry provided the specific example of one PLNU student.
"I know there is one student in particular from PLNU that a principal mentioned to me," Aubry shared. "She is a special education teacher, and this principal described her as a 'very masterful differentiator,' that she really considers what strategies each student needs to best support their learning and behavioral development. She really individualizes everything and is passionate about helping every single kid that she interfaces with be successful."
Aubry further explained that it's not just the skills that matter, as important as they are, but also a deep passion for teaching and serving students. Hayes agreed, emphasizing the best teachers aren't only the teachers with the most technical skills.
"And that's one of the things I really do value about PLNU is that we share the same philosophy of it being about the person first, and recognizing people's strengths and the level of support they deserve."
"For us in Cajon Valley, we're really looking at people first," Hayes said. "We know skills like perseverance, drive, motivation, and passion are very difficult to teach, but if candidates have those traits then we can teach them to be exceptional teachers. And that's one of the things I really do value about PLNU is that we share the same philosophy of it being about the person first, and recognizing people's strengths and the level of support they deserve."
It's also an attitude of collaboration that PLNU strives to instill in its students.  
"Most candidates who come out of PLNU understand collaboration, they expect to work with their colleagues, they understand learning never stops," Reising said. "And I've seen a lot of that type of sentiment from PLNU students."
The spirit to serve and collaborate with San Diego districts continues to pay off, with some districts taking the initiative of reaching out to PLNU.
"One district, which we hadn't really had a relationship with, came to us and said we would love to partner with you on this grant and we want to start hosting your co-teachers and your students who are in the counseling and guidance programs," said Erickson. "And another district came to us this past March and said they've looked and talked to representatives from all the different universities and that PLNU is their go-to university. They told us they are going to partner with us because we seem able to be flexible, meet their needs, and help them with problems."
These type of partnering relationships no doubt help graduating PLNU students secure good teaching jobs in desirable San Diego districts. Still, the major strength of PLNU goes back to the missional foundation of the school — preparing teachers who feel a deep calling to serve the students in their communities.
"PLNU really does instill in their students that teaching is a calling as much as a job, that it's more about taking care of these students and helping them have a life and achieve as much as they can achieve, that it's a commitment they are making to impact lives," Reising said.
PLNU Teachers in Their Own Words
McKayla Carpenter has been teaching for five years in Chula Vista. After she earned a bachelor's degree from PLNU in 2013, she enrolled in the PLNU dual credentialing and master's in teaching program, graduating in 2014. She taught sixth grade for four years and now teaches English and Science in seventh grade. She is thankful for the opportunity to have attended PLNU, especially because of the professors.
"I had some great professors. There was one professor at the time, Andrew Troi, who taught my single subject methods course," Carpenter shared. "He was really good about remaining aware of us as people. He emphasized that who we are as people is who we're going to be as teachers, and so he was very concerned about us on a personal level."
It's this person-first focus, in addition to providing the necessary skills, that continues to make PLNU teachers a sought-after bunch.
"My principal at Chula Vista often asks me, 'Do you know anyone from PLNU who is looking for a job and can come over?' Chula Vista asks specifically for Point Loma candidates," Carpenter said. "PLNU just makes really good teachers."
Lorean Molina (17) graduated from PLNU's adult degree completion in 2017. She earned her associate's degrees after high school and spent five years as a paralegal. She always wanted to be a teacher, though, and when she heard a radio ad about PLNU's new adult degree completion program that could provide her with a credential and bachelor's degree in only a year and a half, she jumped on the opportunity. She is now enrolled in PLNU's master's in special education program, and will graduate within the year. She is extremely happy she made the decision to become a teacher.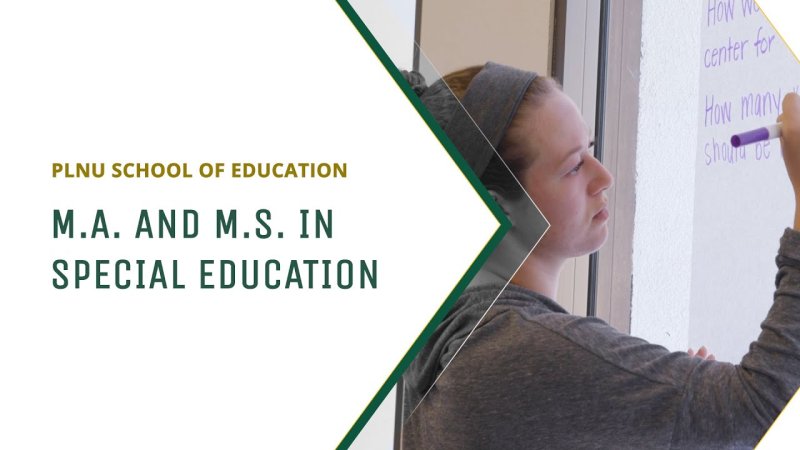 "My whole experience at PLNU was amazing," Molina said. "I feel like it prepared me way more than any other school would have, and I actually just go my annual review last week and my principal's exact words were, 'Sometimes I have to remind myself that you're a beginning teacher, because you seem so seasoned already.'"
She especially valued the supportive and intimate cohort of the program, which turned out to be especially poignant for her during a time of tragedy.
"The cohorts are small at PLNU, and I got to know my advisors on a personal level. I unfortunately just experienced the passing away of my younger brother to cancer. My advisors were there every step of the way with me as he was struggling with cancer and they became family, and they were one of the first people I reached out to about it. Within a couple of days, I had emails even from professors I didn't know. It really is a family, and I think that's what the difference is between going to any other university," Molina continued. "All professors care, but at PLNU, having that faith element to it, there is just an extra connection there that's really helped me and I'm still really good friends with a lot of the people I was in the cohort with and we bounce ideas off of each other professionally. People like Grace Fantaroni, Denise Necoechea, and Conni Campbell were very impactful for me."
"I feel like it prepared me way more than any other school would have, and I actually just go my annual review last week and my principal's exact words were, 'Sometimes I have to remind myself that you're a beginning teacher, because you seem so seasoned already.'"
Molina had originally wanted to be a kindergarten teacher, but after taking a course with professor Denise Necoechea, Ph.D., and being exposed to special education, she felt this was where she was being called instead.
"Professor Necoechea's love for children with special needs just motivated me," Molina shared. "I also have a brother with special needs, and I felt like this is what I'm supposed to do. Professor Necoechea told me, "You can't teach the heart, and you have the heart.'"
After she graduated, thanks partly to meeting someone who worked in Chula Vista's HR department at a PLNU-offered workshop for students, she was hired in the Chula Vista Elementary School District.
"I'm an upper grade mild-to-moderate special education teacher, and since PLNU has a really great reputation, I definitely think it helped me as a first-year teacher and having that on my resume," Molina said.
Advice to Aspiring Teachers
The field of education continues to be a dynamic one that offers a lot of opportunity for those passionate about teaching and education.
"It's a great time to get into teaching in California," Reising said. "It's a very stable, long-term commitment. And when considering the pay, if you include the high-quality benefits and the pension, it's really more than competitive with the private sector these days. The job market is open, especially since there are an enormous number of retirements happening."
The best teachers will be the ones that are able to address the shifting landscape thanks to technology and better theories around pedagogy.
"I think education will continue to move toward a personalization of services for students," Felix said.
This means gaining the skills through a school that is helping instruct teachers to wield these skills will increasingly be important. Still, the major attribute needed to be a great teacher remains a passion to serve others in the classroom out of love.
"I would tell anybody considering teaching to get as much experience as they can by volunteering in schools, coaching, or working with students to make sure that they have the heart and the passion," Aubry said. "It's an extremely rewarding career, but you do need to have the right attributes — you have to be adaptable, a good communicator, be willing to take risks, and collaborate with a team."
"For me, teaching is my daily way to give back, and I feel that we're here on this earth to be of service to others."
But for those who do feel the desire to serve others in this rewarding and valuable capacity, Molina offered some advice.
"It's never too late to really do what your heart desires and be obedient to God," she said. "For me, teaching is my daily way to give back, and I feel that we're here on this earth to be of service to others."
Carpenter echoed this love for teaching, especially when she sees transformation occur with her students.
"What I love the most is learning with the kids," Carpenter shared. "There is that moment when I'm teaching them something and they take it further than where I took it, and they end up teaching me something. Seeing that level of excitement with the world around them in a way that they might not have previously grasped makes them realize there are other things they can do with their lives. Those are my favorite moments."