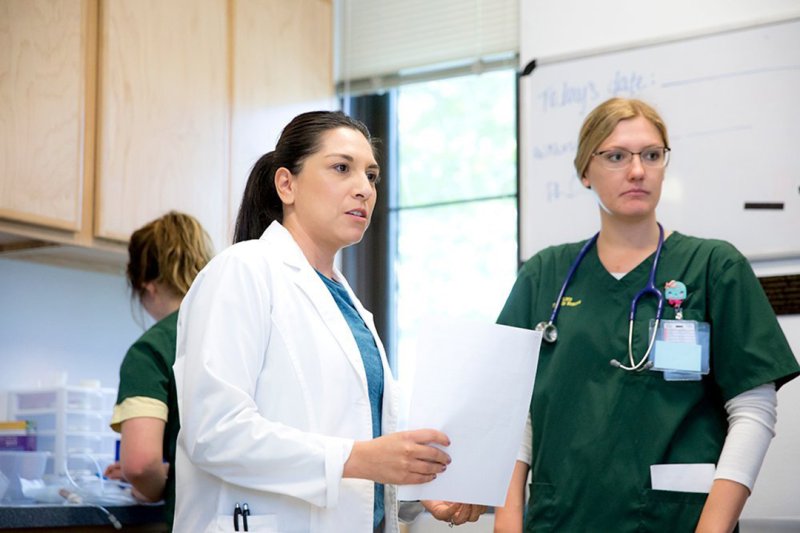 The push for nurses to advance their education and earn doctorate degrees has grown substantially. While there are certain clinical nursing roles that don't currently require an advanced degree, that trend is changing. Additionally, nurses who already have a doctorate will only continue to have an advantage in the healthcare setting.
Whether you already have your master's degree, are currently working in a nurse specialty, or are considering enrolling in a graduate degree program, it's worth thinking about whether a terminal degree makes sense to further your career as a nurse. 
Ph.D. vs DNP in Nursing
There are two doctorate pathways nurses can take to earn a terminal degree — a Ph.D. in Nursing or a Doctorate of Nursing Practice (DNP). A terminal degree refers to the highest academic credential for a given discipline.
What is a Ph.D. in Nursing?
The Ph.D. stands for a doctorate of philosophy, which is primarily a research doctorate. You're probably familiar with the Ph.D. because this is what most professors at four-year universities have. It's a terminal degree for those focused on researching and adding new knowledge to a specific discipline. 
A Ph.D. in nursing is designed for those who want to research and find new knowledge within the field of nursing. With a Ph.D, you can conduct research in different areas of the healthcare system — from clinical, educational, policy, and more.  It's also for those who specifically want to teach at a major research university (although you can still teach with a DNP at some smaller universities). 
What is a DNP?
In comparison, the DNP, which stands for Doctor of Nursing Practice, is focused on clinical practice rather than research. DNP programs are typically modeled after and have a similar structure and style as other clinical practice doctorates like the medical doctorate (MD), occupational therapy doctorate (OTD), or pharmacy doctorate (Pharm.D.).
At PLNU, you can earn your DNP in three different specialties:
Which Degree is Right for Me?
|   | Area of Focus | Ability to Teach  |
| --- | --- | --- |
| DNP | Nursing practice either through hands on, administrative or leadership positions | Possibly at a smaller university. It is more challenging to earn a tenured track with a DNP |
| Ph.D. in Nursing | Nursing research  | Yes. You can teach at a university and earn tenure with a Ph.D. in nursing |
Choosing the right nursing graduate degree depends on your long-term goals. Once you understand what you want to do, you can then forge the path toward how to get there. 
Do you see yourself in a classroom educating future nurses? 
Do you want to perform research? 
Do you picture yourself applying research findings by working hands-on with patients? 

Do you prefer to step into a leadership role and make decisions regarding your healthcare team's protocols, etc.? 
While you can find a full-time job teaching at a smaller university with a DNP, there are many universities that don't offer tenure-track positions to nursing faculty unless they have a Ph.D. A tenure-track position within higher education is a position that, after a few years of being reviewed for research production and teaching competence, you are guaranteed a full-time job at the university until you retire. 
__________
Who are you called to be?
Pursue your purpose at PLNU.
__________
How Long-Term Goals Can Help You Decide Ph.D. or DNP
Ph.D. in Nursing 
If you're considering a Ph.D. or DNP, it's important to envision your end goal. If you love research and are committed to growing knowledge within the field of nursing, then the Ph.D. is probably the better choice. Additionally, if you're committed to teaching at a larger school as well as doing research, then, again, the Ph.D. is going to be the better option for you.
Doctor of Nursing Practice
Yet, the DNP is the better option if you see yourself staying within the clinical setting, even as an administrator one day. A Ph.D. conducts comprehensive and original research, and DNPs use that research and apply it to a clinical setting to improve healthcare.
Use Your Passions to Drive Your Nursing Career Path 
Ph.D. vs DNP
Michelle Riingen, DNP, RN, CNS-BC, the Dean of PLNU's School of Nursing, earned her DNP instead of a Ph.D. because she wanted to enhance her clinical expertise in nursing.
"I became a nurse because I wanted to provide care for patients," Riingen said. "My heart has always been at the bedside, and I wanted to get my advanced degrees so I could be a better nurse as well as work with other nurses in taking care of their patients." 
PLNU alumni Lindsey Ryan (05, MSN 10), on the other hand, opted to go for a Ph.D. instead of a DNP.
"One of the things I really felt passionate about was generating new knowledge, and that was what the Ph.D. program was all about," Ryan said. "The DNP-prepared nurses translate the evidence. The Ph.D.-prepared nurses are creating it. I felt very comfortable in my role with translating some of that research and implementing evidence-based practices, but I wasn't knowledgeable about creating new evidence, and that seemed really exciting to me."
"I love innovating. I love asking questions. So the Ph.D. route really gave me a platform to ask the questions, ask them in a scientific way, and use different methods to answer those questions."
Start Your Advanced Nursing Degree
Healthcare continues to expand and nurses make up a major part of this industry. Are you ready to advance your career in nursing?