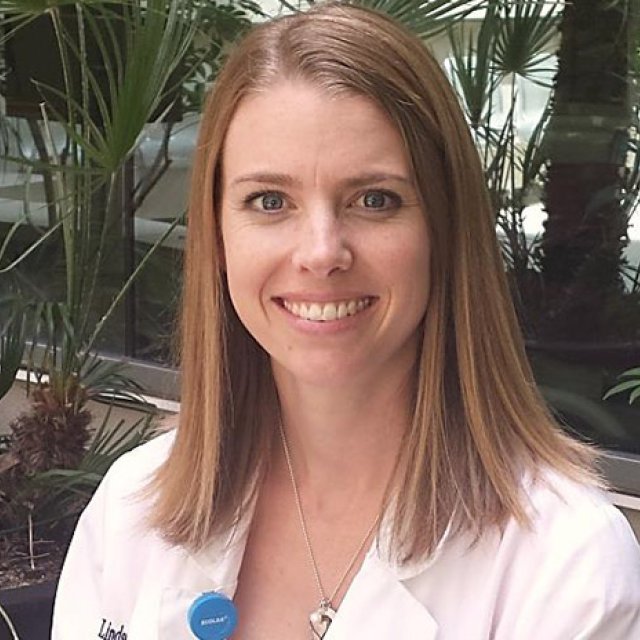 Lindsey Ryan, MSN, RN, ACNS-BC, CCRN-K, has made it full-circle within the PLNU nursing program. From her first nursing job as a student nurse technician at the VA San Diego Healthcare System, to guiding and hiring newly graduated PLNU nurses as a nurse residency program manager, Lindsey has a wide variety of experience in the nursing field.
Lindsey (BSN 2005, MSN 2010) is the manager of education and professional development at Sharp Grossmont Hospital in eastern San Diego County. She has been in this position since 2015 and prior worked as a clinical nurse specialist at Sharp Grossmont Hospital.
Her role in managing the nursing education and professional development department involves overseeing unit-based nurse educators, onboarding new team members, providing inservice education, competency evaluation, implementation of new processes and products, and collaborating with the academic nursing faculty to provide clinical training for nursing students.
One of the most rewarding aspects of Lindsey's current role is the ability to serve as a nursing career coach. Lindsey enjoys sitting down with nurses, listening to what inspires them about the nursing profession and co-developing an individualized career path.
"The MSN builds on the foundation of the BSN degree," Lindsey says, "and takes the nurse's knowledge to the next level offering a focus on the educational aspect of nursing and the consultation, treatment and management of patients and populations." The MSN program also advances evidence-based practice and administrative skillsets that are used in the development and implementation and evaluation of programs and processes, she says.
The program's leadership training is something that stands out to Lindsey. She says the leadership skills she learned at PLNU have been invaluable throughout her career, from caring for patients in the ICU, to her current management role. Overall, the skills she cultivated from her PLNU nursing programs have given her leverage to provide the best care, and advocate for, the patients within her organization.
Lindsey says one thing that drew her to PLNU was the great reputation the nursing program has within the San Diego region. She also sought a small school with Christian values and wanted to feel she was part of something bigger. "Point Loma is very welcoming, faculty and staff embrace and inspire their students, preparing them for successful transition into the real world," she says.
Lindsey says she has always been interested in health care but upon starting college was not certain of the role she would take within the field. When she transferred to PLNU her sophomore year, she started taking pre-nursing classes and learned what it really meant to be a nurse, from there she was onboard to make a difference.
To complete the circle, in January of 2016 Lindsey was presented with the Robert Wood Johnson Foundation, Future of Nursing Scholar award in collaboration with the University of San Diego and Sharp HealthCare.  In September of 2016, she began working towards her Ph.D. in nursing research at the University of San Diego, which is preparing her for a long-term leadership career, advancing science, strengthening nursing education, and furthering transformational change in nursing and health care.