You're committed to protecting and meeting the needs of others, preventing the wide-reaching effects of crime, and bringing justice, healing, and restoration to your community — from within neighborhoods to prisons to schools.
A Restorative Approach
PLNU's hybrid criminal justice program focuses on community relations and restorative justice in addition to traditional criminal justice practices. Restorative justice seeks to not only protect the community from crime and hold offenders accountable, but also to heal those wounded by its effects for the purposes of fostering lasting peace and equity in our society. Restorative justice practices center on respecting and serving all involved in the justice system — victims, offenders, and the surrounding community. 
Hybrid learning for rising professionals
Through this flexible hybrid program, you can learn at your own pace while becoming an influential and responsible leader. Classes are taught by experienced criminal justice faculty and industry leaders.
Criminal Justice courses at convenient, familiar locations
The quality of PLNU education without the hassle of long commutes.This program features one in-person evening class per week, with the rest of the classes online. Rather than feeling like you're starting a new program, you can continue your education in the environment that's most comfortable and convenient for you. PLNU has partnered with MiraCosta College and Southwestern College to bring our quality education and mentorship to excellent, convenient locations across San Diego.
Learn to foster justice in your ideal learning environment
This program's hybrid structure gives you the flexibility to learn when and where you want. You can complete coursework in the comfort of your home, favorite coffee shop, or local library while choosing a study schedule that works best for you. Having one in-person class per week will help you to build a routine that keeps you motivated without interrupting your weekly schedule. 
Engaging community and experienced mentorship
A key advantage to having weekly in-person classes is the ability to enjoy PLNU's tight-knit community in person. You'll be able to form meaningful connections with fellow students as you learn and grow together in your leadership expertise. 
You'll also have access to top-tier mentorship from professors and advisors. They'll help you to leverage your strengths to expand your connections and career opportunities. You'll be able to access resources tailored to you and your career goals. 
Save time for your personal and professional commitments
Learning shouldn't prevent you from doing what you love. Coursework is designed to be flexible to your needs and help you balance your other life commitments. 
While completing this program, you'll still be able to continue spending time with family, thriving at your full- or part-time workplace, or leisure time.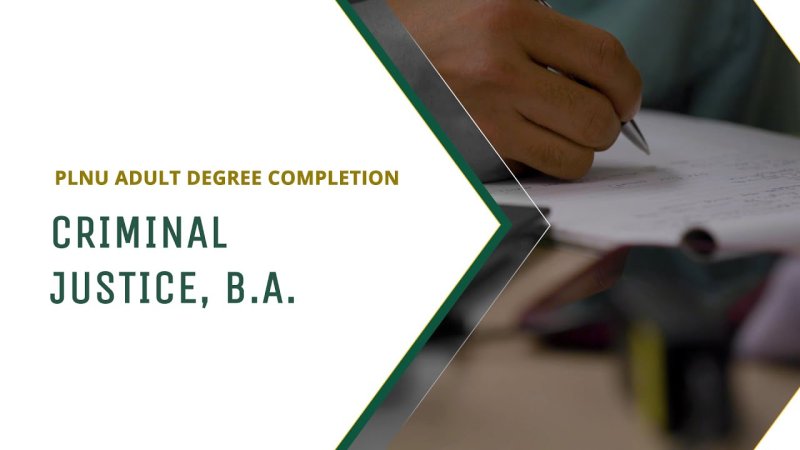 A seamless transition from your previous experience
A counselor and coordinator will work with you through every step of your journey to complete your bachelor's, from helping you transfer previously-earned credit to working alongside you with care and encouragement as you earn your degree. You won't feel like you're starting a brand-new program — rather, it will be a natural continuation of your previous education experience.
For the Criminal Justice hybrid format, the second 60 semester units of coursework are available through PLNU.
Which program is right for me?
You might be wondering whether the hybrid or fully online criminal justice program is best for you. Here's a quick overview to help you connect with your ideal learning environment:
 

CJ, Hybrid

Who is it for?

Those who enjoy in-person learning and cohorts.

Busy working adults who prefer independence.

Program start

Fall and Spring
Six start dates year-round

Program Structure

Face-to-face one night a week with online coursework.
100% online and asynchronous

Location(s)

MiraCosta College
Southwestern College

Online — flexible
"The criminal justice system provides a unique arena to ensure justice and facilitate restoration. At PLNU, we intend to train our students to see opportunities for transformation in every situation, becoming agents of hope in communities they serve."

Kevin Modesto, Ph.D.
Chair, Department of Sociology, Social Work, and Family Sciences