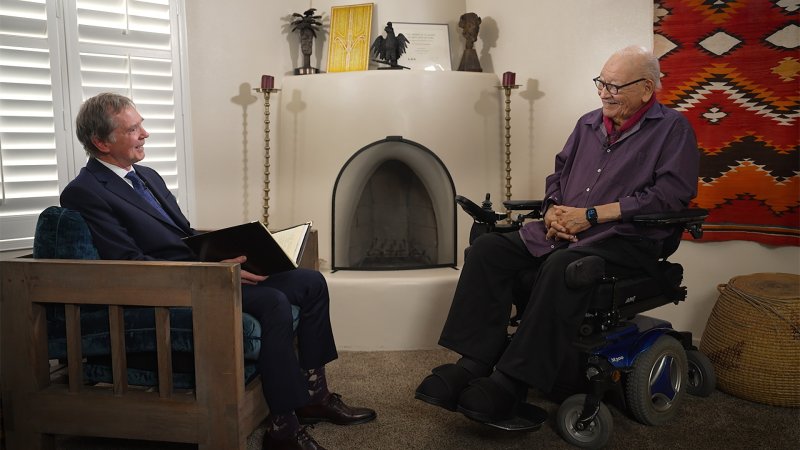 N. Scott Momaday was interviewed by Dean Nelson as part of the 2023 Writer's Symposium by the Sea, Writing That Celebrates. Since the revered writer N. Scott Momaday was unable to travel to San Diego for the interview, Dean Nelson traveled to New Mexico to capture this conversation.
Navarre Scott Momaday received a Pulitzer Prize for his first novel, House Made of Dawn. His books include The Way to Rainy Mountain, In the Bear's House, In the Presence of the Sun: Stories and Poems, 1961-1991, and The Gourd Dancer. He is author of several other novels, prose collections, the children's book Circle of Wonder, and the play The Indolent Boys. He is also the editor of various anthologies and collections centered on his Kiowa heritage.
Momaday's honors include the 2019 Ambassador Richard C. Holbrooke Distinguished Achievement Award, awarded by the Dayton Literary Peace Prize Foundation to celebrate lifetime achievement in literature and to remind the world "that peace can be forged with words." He has also received the 2019 Ken Burns American Heritage Prize, the Golden Plate Award from the American Academy of Achievement, an Academy of American Poets Prize, an award from the National Institute of Arts and Letters, and the Premio Letterario Internationale "Mondello," Italy's highest literary award.
Thanks to UCSD-TV for capturing this conversation. For this recording and all archived interviews from the Writer's Symposium by the Sea, visit: https://www.ucsd.tv/writers/