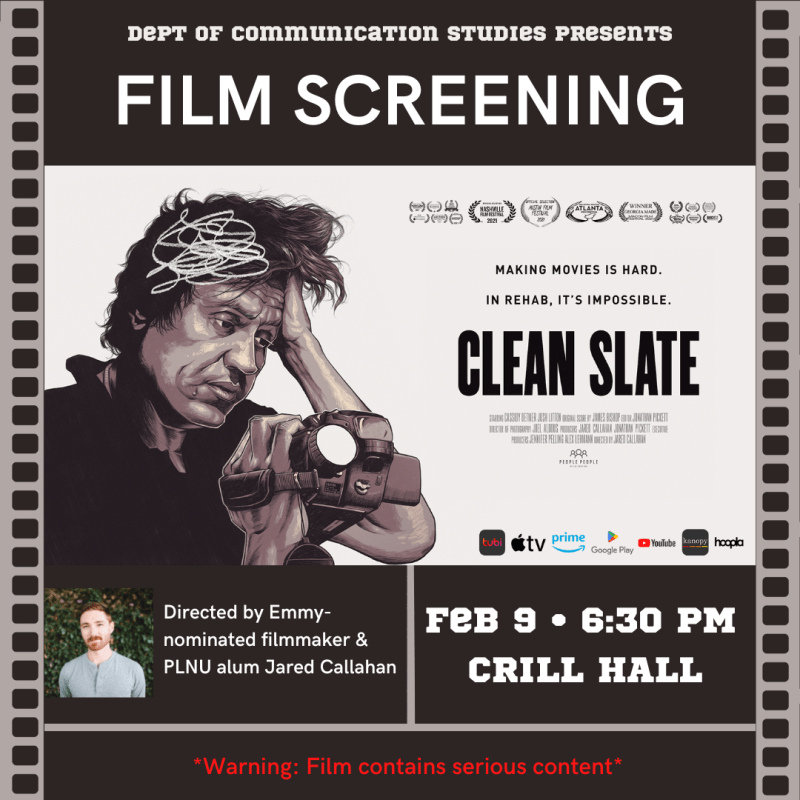 The Department of Communication Studies in partnership with Writer's Symposium by the Sea will host a screening of Clean Slate, a documentary directed and produced by PLNU alum Jared Callahan, on February 9 at 6:30pm in Crill Performance Hall. The film screening will be open to the PLNU community and guests (no ticket required). Callahan will also be the featured guest director/producer as part of PLNU's Student Short Film Festival on February 20.
Clean Slate follows the story of two friends in a Southern drug recovery program who struggle to come to terms with their addiction and mental illness by making a short film about the pain they've caused their families. *Note: Film contains serious content.*
Callahan said about the film, "Clean Slate is a feature-length documentary that provides an immersive, verité look into the world of recovery amid the biggest drug epidemic in American history. Everyone knows someone who's in recovery, or someone who should be. In following Cassidy and Josh as they attempt to make a short film, our goals are to give viewers a space to empathize with those who struggle and to show how the creative process can be a lifeline to those in crisis. Although most everyone knows someone who's in recovery or should be, many well-meaning people fail to understand the complex imprisonment that comes with the disease of addiction. Rather than preaching statistics, Clean Slate gives viewers an intimate window into the lives of two filmmakers and the relationship between creativity and recovery."
Click HERE to watch the official documentary trailer. 
Documentary Synopsis: Striving to stay sober, best friends Josh and Cassidy write their traumatic life events into a short film screenplay. The project is jeopardized when Cassidy relapses and has to leave their Southern, faith-based recovery home. The aspiring filmmakers struggle to restore faith in their friendship, their families, and themselves, all while making their short film about the turbulent road of recovery.
Director/Producer Bio: Jared Callahan is an award-winning, Emmy-nominated director / producer. He founded and runs People People Media, a production company based on a 95-acre farm in the San Francisco East Bay that specializes in personal and unique stories that help amplify voices and increase empathy. His work has been released through The New York Times, PBS, GQ Magazine, The Atlantic, ALTER, NoBudge, Short of the Week & Vimeo Staff Picks. He's had projects premiere at the best film festivals in the world, including Sundance, SXSW, Tribeca, Austin, Nashville, Palm Springs, Aspen Shortsfest, DOC NYC, and more. Jared served as one of the Atlanta Film Society's Filmmakers in Residence and has directed three feature documentaries, including Clean Slate.