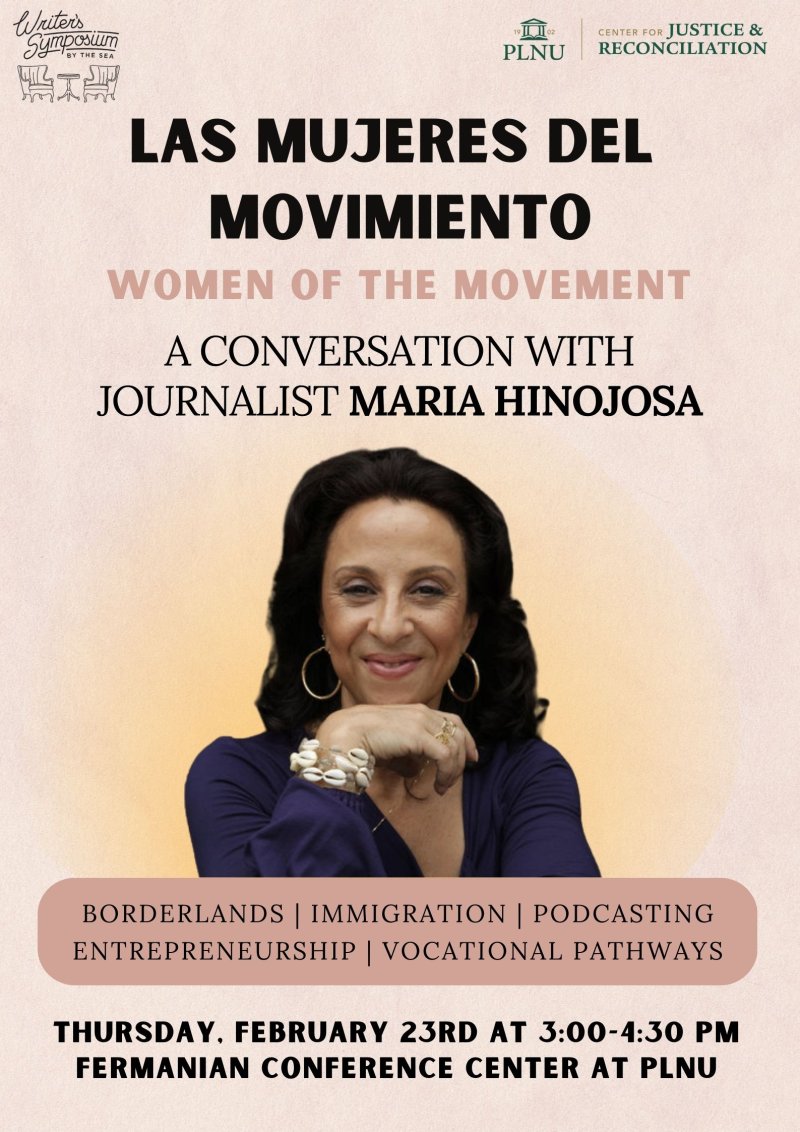 In partnership with the Center for Justice & Reconciliation*, PLNU Writer's Symposium by the Sea presents Las Mujeres del Movimiento (Women of the Movement), a sobremesa conversation with Latina author, journalist, podcaster, and media entrepreneur Maria Hinojosa.
This afternoon event will be held on Thursday, February 23 at 3PM in Fermanian Conference Center. Attendance is free and open to the PLNU community and guests. No tickets required, but seating will be limited to 80.
The conversation with Hinojosa will include Latina panelists Ana Cuen, PLNU Association of Latin American Students (ALAS) club president and Diversity Leadership Scholar; Jennifer Guerra Aldana, adjunct professor in the School of Theology and Christian Ministry; Jacque Mitchell, professor of Spanish; and Liliana Reza, adjunct professor in the School of Theology and Christian Ministry. The panel will cover topics related to Hinojosa's advocacy and career, including borderlands, immigration, podcasting, entrepreneurship, and diverse vocational pathways. 
As a Mexican immigrant and the first Latina reporter in many newsrooms, Hinojosa dreamt of a space where she could create independent, multimedia journalism that explores and gives critical voice to the diverse American experience. This dream—and sense of responsibility—drives Hinojosa's reporting and storytelling.
"I want to make sure that I can pitch a story about anything, from baseball, to Wall Street, to politics," Hinojosa said in a PBS NewsHour. "But my secret sauce, what I know best and what I'm going to bring into the newsroom, is the life that I live and I know."
Not only did Hinojosa create space for these stories in existing newsrooms, such as becoming the first Latina to anchor a PBS FRONTLINE report that was the first to explore abuse at immigration detention facilities ("Lost in Detention," 2011), but she also created her own nonprofit media group, Futuro Media, with the commitment to tell stories and report on issues often overlooked or underreported in mainstream media. Futuro Media Group includes multiple projects that span across audio, visual, and digital media, including Peabody Award-winning show Latino USA, Pulitzer Prize-winning podcast Suave, and award-winning independent digital media site Latino Rebels, among others. The media group also mentors the next generation of diverse journalists to delve into authentic and nuanced stories. 
Maria Hinojosa is a featured Pulitzer Prize winning writer as part of the 28th Annual Writer's Symposium by the Sea: Writing That Celebrates. You can learn more about Hinojosa and purchase tickets to her 7PM evening interview here. 
*This event is also held in collaboration with the School of Theology and Christian Ministry, ALAS, MOSAIC, and the Department of Literature, Journalism, Writing, and Languages.